Internet Modeler : Features : Armor
RSS News Feed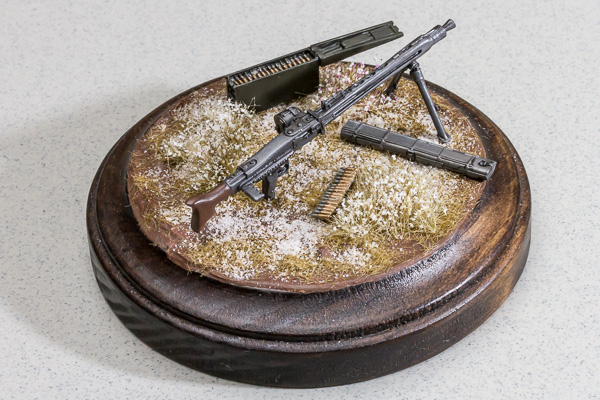 Building Verlinden's 120mm MG42 Machine Gun
Overview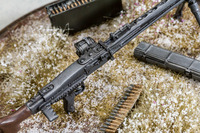 The MG-42 was one of the most feared German weapons of World War 2. Its distinct sound made every Allied soldier duck for cover.
The Kit
Verlinden made a great replica of this weapon in 120mm scale. The kit is fairly simple with only a half dozen resin parts. The barrel was somewhat warped so I had to heat it up in warm water and carefully straighten out. Once this was done and all the parts were glued it was time to paint this kit.
I airbrushed Model Master flat black over the entire model and once this dried, I airbrushed Model Master silver color. I allowed the silver color to dry for good 48 hours before I used dark gray pastels to infuse the pigment into the silver. Once this was done, I used a graphite pencil and went over all the surfaces. I used a cotton bud to further infuse the metallic sheen with the pigment of the pain and pastel. I was very happy with the end result.
Once the model was complete, I placed it on a simple winter-themed base to depict a "Battle of Neretva" setting. This battle took place in Yugoslavia at the beginning of 1943.