Internet Modeler : Features : Armor
RSS News Feed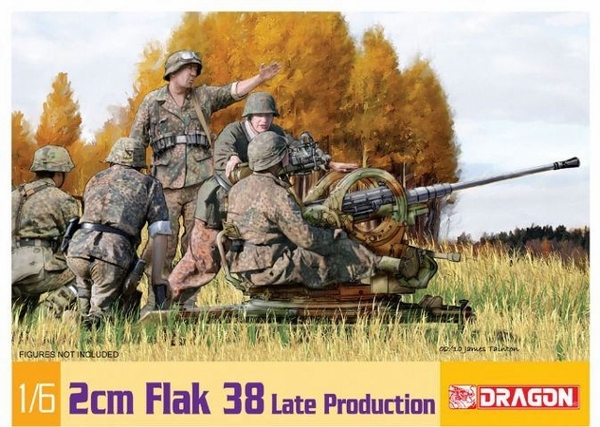 Dragon 1/6 2cm FlaK 38
Kit# 75039
MSRP:  $69.95 USD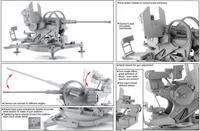 The box art for this kit, which this reviewer believes to be a re-issue, is the same as that in the re-issued 1/35th scale version.  I was initially excited to be able to build this kit, but my ardor soon cooled as construction proceeded.  If the kit parts have been scaled up from 1/35 to 1/6, then so too have the flaws, seams, misalignments, divots, etc.  The cradle halves, receiver halves, main frames A and B, all needed extensive filling and sanding to smooth out joints, mold seams, and dimpling where the plastic was extra thick.  Virtually everything that comes in 2 halves needed lots of work. The pivoting ring sight shown on the box art is not included, instead the box-like computing sight is provided.  I opened that up, as well as drilling out the telescopic sight, so that clear sheet with etchings could be inserted.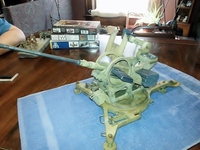 The large size is one of the advantages of working in this scale.  Various size nut and bolt castings were added to pivots, tightening handles, wherever one should be.  For example, when the two large side frames are built, there are two holes left in the forward face.  This is where the supports for the armor shields bolt on.  Since it was not provided, I covered those holes with nut castings.  In Step 2, part F-26 is misidentified as F-30.  Also there is a part number mix-up in Step 4, but the diagram is correct.  I had some trouble getting the gunner's shield (Assembly "F" from Step 4) to fit with the right side frame and the elevating gearbox.  By far the most vexing issue was the elevating linkage in Step 9.  I feel the drawings as printed are confusing, and although I did succeed in getting the gun sight to elevate with the barrel, I had 2 parts left over (F-8 and F-17).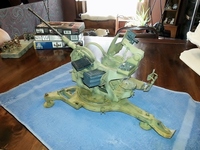 The turned aluminum barrel is beautiful; however it lacks the hexagonal fitting at the breech end. I added it with a shaped piece of .080 sheet stock. Two muzzle brakes are provided, which look identical.  I did not need both, but was a comfort to know it was there while drilling out all the holes and slots.  No other build issues were encountered.
All spray painting was done using Floquil paints, various washes and inks for shading were used later.  Painting was done in stages, as there are places that would be very difficult to reach when fully assembled.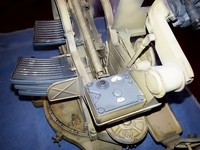 Sub-assemblies were pre-shaded with a dark brown or brown/dark grey mixture.  (Roof Brown and Grimy Black)  Next, the dark yellow color was added using Floquil Mud, with Antique White slowly added to lighten certain areas.
The metal barrel was primed with Tamiya Clear Metal Primer; then coated with Floquil Grimy Black lightened with Antique White.  When cured, it was given a thorough rub-down with powdered pencil lead, giving a nice treated metal look.  This powder was also rubbed on a few high-wear areas.  Be careful, it's easy to overdo this step.  Vallejo Sepia wash was applied in several coats, more on the base than further up the gun.  Pin washes of oily black were applied to pivot points, nuts, hinges, etc.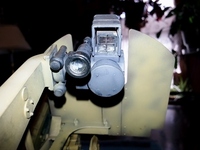 This kit builds up into a big, impressive piece.  Careful building and seam work, followed by realistic painting, make it transition from large toy to faithful display replica.  Despite the amount of sanding and filling involved, I'm very pleased with the final result.  I do plan to try to scratch-build the empty shell catcher, and maybe even the armor shields.  I have my doubts about the trailer, although...
My sincere thanks to Dragon USA for supplying this review sample.  Happy modeling!