Internet Modeler : Features : Armor
RSS News Feed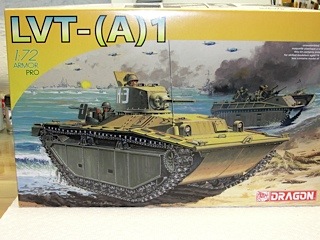 Dragon's 1/72 LVT (A)-1
Introduction
Normally I am a 1/144 scale modeler, but.... like most of us, every so often I grab something else just for something "Different". This particular time I noticed Dragon's new LVT-(A)1. As an avid reader of WWII history, these tracs came into their own during the Pacific campaigns. Now obviously I'm no armor expert, so I advise any of you really interested in the history of these vehicles to do what I do...suffice it to say..."Google" is your friend. But there were several most interesting facts I learned during the build of this kit and my research for the build. The early Amtracs (Amphibious Tractors) were extremely prone to break down. For example, Tarawa was the initial deployment of the personnel tracs, 135 were alloted for the operation. At the end of the operation, approximately 3 days, only 35 were still operational. Granted these were not all breakdowns, the Japanese 47mm antitank guns and mortars took an extremely heavy toll, but even so, that's some heavy odds folks. The Amtank as it was better known, came after Tarawa. The Marine Corps wanted the landing troops to have some heavy weapon support as they arrived on the beach-head, and not to have to wait for the normal Shermans to be off loaded. So essentially an armored cover was installed over the crew compartment with the turret from an M5A1 installed. The main gun was the 37mm, with a coaxial .30 Cal also mounted. Behind the turret were 2 open-topped turrets with .30 cal machine guns. Although this may not have been "heavy" arms, it sure helped when you had nothing else. The mechanical reliability of all these early LVT's left a lot to be desired. But for the time it was to be expected. For instance, the motors installed were rated for 200 hours of operation prior to overhaul. Well, we all know how that goes in a combat zone - if they ran, they went. Another extremely interesting fact to me was the usage. I had assumed the Marine Corps would have had the lion's share of the production...not so! There were actually 510 Amtanks (-1) completed, of these the Army took 328 while the Marine Corps took 182 copies. The actual combat debut for the Amtank was in February 1944 at Kwajalein for both the Army and the Marine Corps. The -1 Amtank was replaced in service by the -4 - but that will be another time.

The Kit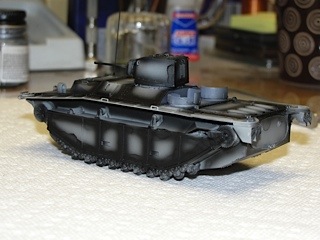 This kit consists of approximately 71 styrene parts and 4 soft plastic track pieces. The main hull assembles very quickly. Usually the armor kits, even in this scale have enough small  parts to make it a basic pain to achieve the final desired results. But Dragon managed to get this one detailed without artificially running up the parts count. The detail (to my eye anyway), is sharp and crisp. I can also see where Dragon will get the LVT 2 (Troop carrier that the (A)-1 is based on), plus the (A)-1's replacement, the LVT(A)-4. Speaking of which, this kit was just released a few weeks ago with the M-8 Howitzer turret. So Dragon has an extremely nice little series starting out. Plus they are also starting to release some of the Japanese armor that went up against the LVT's. Plenty of diorama material here folks. The main assembly went together with very few problems. Filler wise, there were only a few spots I felt needed it, particularly around the top decking and aft end piece. But in all honesty, this may have been more to my poor fitting technique than a cast parts problem. But even as a small scale modeler, I do have to pass on a warning. The small towing rings you definitely need to be careful with, they can and will break extremely easily. I just replaced the kit parts with small diameter brass stock cut to size and formed accordingly.  I was determined not to go AMS on myself with his one, pretty close to "out of the box". The tracks are an interesting sidebar to this kit. As an old time modeler, I remember the old 1 piece rubber tracks you could never glue together or tighten up.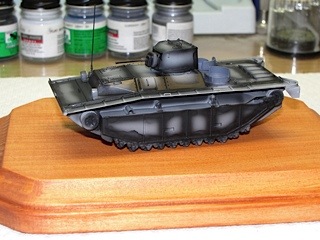 But Dragon has come up with a new formula for these. They appear to be the same type as before, but definitely are not. These will glue together and hold!  (I use Tenax 7R as my brain damage of choice!) Which is a good thing, because Dragon split the tracks on each side into 2 pieces. I have absolutely no idea why. But I have to admit, they work and look pretty decent to me. Several photo etch pieces are included in the kit. The main parts are gun shields for the aft mounted .30 caliber machine guns. A very nice addition which enhances the look and sit of the guns quite a bit. I also added a radio rod antenna from brass stock, and now we are ready to get into the meat and potatoes of an armor kit...the finishing paint job with highlights and various washes.
Painting and finishing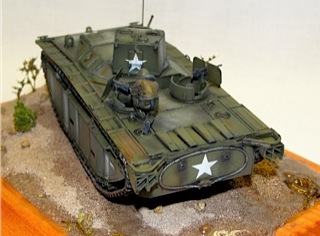 In my opinion, now comes the "make or break" of an armor model - the finishing.   While the "run of the mill" LVT(A)-1 did not have much of an exciting color scheme, therein lied the challenge. To make a single color scheme "come alive" is the desired result. I had decided to go with a generic Army scheme. Not for any particular reason, just to see what I could do with it. The base color was Olive Drab, preceded by a session of preshading. The base color was sprayed on extremely thin to let the preshade show through,plus I knew there would be several following layers of weathering.  Once the base coat was dried good and hard, I sprayed a lightened shade in the center of the larger areas and panels. The next step for this model was highlighting with Artists Gouache. I really love this product for weathering. It gives you the ability to lay it on heavier, lighter,or barely a hint, it's all your choice and actually how much of the tone you remove. After this was dried, I came back with some light dry brushing. This was accomplished to add just a hint of tone, plus a little rusting. The rod antenna was added for my finishing touch. But while looking at the final product I decided it just had to have a little story with it. So....... a CMK submarine figure had a helmeted head attached, was painted, highlighted and attached. The idea was the trac just landed and broke down, the action has continued on, and a crew member is preparing for dismount, or the recovery team to arrive and get her running again.
Summary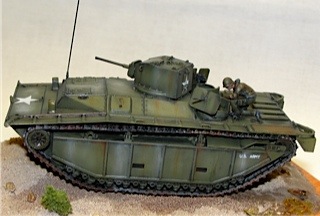 I found this to be an extremely interesting model for WWII armor. Something a little different. With the ever increasing prices, I feel 1/72 armor will be on the rise. Between Dragon and Revell of Germany there are quite a few choices already available at decent prices. Plus the aftermarket folks are starting to take the 1/72 armor quite seriously. It really was a very enjoyable project. I realize the true armor modelers probably can see tons of problems, but for an average modeler, I'm happy with it. Any and all critiques are very welcomed, so don't be bashful, folks. 'Till next time..................