Internet Modeler : Features : Armor
RSS News Feed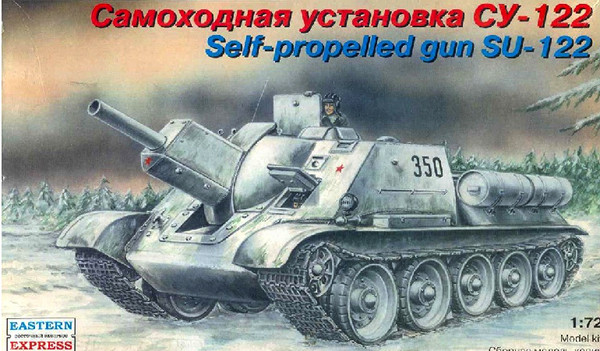 Eastern Express 1/72 SU-122
A fine in-box review by Stephen Brezinski can be found at:
https://www.planetdiecast.com/index.php?option=com_myblog&show=building-two-soviet-su-122-tank-models-in-1-72-scale-kit-review-part-1html&blogger=Tank%20Whisperer&Itemid=2435
Stephen also reviews and builds the Unimodel kit as a means of comparison. The On The Way" page also has a nice in-box review and comparison with other kits:
https://www.onthewaymodels.com/reviews/EasternExpress/eeSU85122prev.htm
The Eastern Express SU-122 kit is decent. It has a few issues that I discuss below but it has the potential to be built into a really nice model. The instructions are a little sparse but if you stare at them long enough, you will be able to follow the steps, and with the assistance of build-up articles on the Web, it should be not too difficult. Stephen's article was most helpful to me.
The plastic is not too soft but easily sanded and you will need to clean up most of the pieces when you cut them carefully off the sprue. I needed to replace a few of the handrails that had no chance of making it off the sprue with its rather thick attachment points. Armor for me is a bit of a sideline – an interesting distraction from my primary area of interest (biplanes) but one thing I've noticed about armor kits: you need to repeat the same thing numerous times. There are ten identical wheels, several dozen similar track pieces of varying size, four barrels, and so on. So you get to do a number of things many times – it's a bit like assembly line work.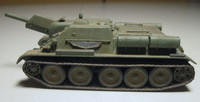 You can start by dividing the build into sub-assemblies. First, the tracks need painting – I used leather brown to start as a base, then brushed on Engine Grey. When that lot had dried, I gave it several burnt umber oil (Turpenoid) washes, all while the track parts were on the sprue. It's easier this way and then you can do touch-ups when the tracks are attached to the wheels. Next, the hull. Now, the Eastern Express kit is a bit deficient here but don't fret, the solution is straightforward.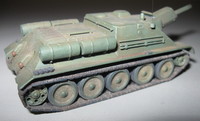 The problem is that when you glue the top part of the hull onto the lower part, there is a big old 0.5 cm gap along either underside edge. Now, if you are never going to look underneath the model, this might go unnoticed behind all the running gear, but all you need to do is get a strip of plastic card, cut it to size and glue it in the gap. Then apply some of your favorite filler and sand it down – it's not a hard job. What I don't recommend is trying to ram a whole tube of filler in the hole because you're too lazy to get out the plastic card; such a method is unlikely to end well. You will also need a couple of strips of plastic to fill the upper edges of the lower hull; nothing too terrible though. Also, at the front edge of the hull, I added a plastic strip to fill that gap and literally, round things off there.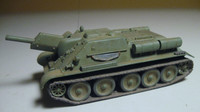 At this point, once you have added the various small details to the hull, it's time to paint. I used a slightly lightened Russian Armor green. I painted the wheels the same color and the tires with Engine Grey. I also drilled out the spokes in the idler wheels. When all this was dry, I glued the wheels onto the completed hull including the rear idler wheel but not the front one, which I left off until the last piece of track was glued and I moved the front idler accordingly to ensure the tracks fit correctly. A couple of things are worth mentioning here: the barrels are not that great. I added handles to them but the ends of each barrel should really have rims (not a feature of this kit) but I suppose you could buy some aftermarket replacements. Or you can leave them off and just have the barrel mounts. Also, when you glue on the wheels make sure they line up, or else the tracks won't attach properly. I use a metal ruler edge placed in the gap between each pair of wheels, all in a row, to make sure they are glued in a straight line.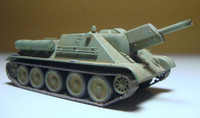 Once all this was completed, I added the tracks, which are excellent. They are hard plastic link- and-length. I glued on those tracks as per the kit instructions but found that I wound up with an "odd" pair of tracks on one side (the tracks are mated male and female) so I sort of cut off the track edges from one track piece and glued them on. Maybe I lost my concentration and made a mistake or perhaps there is an issue with the kit. I tried to assure that the final track link went around the front idler wheel and then glued that wheel into place so that the tracks fit. Once I finished this step I touched up the tracks to rectify any problems that occurred during the gluing process, and used a soft lead pencil to highlight their raised areas.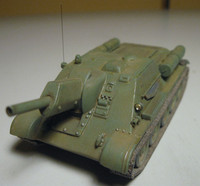 I used a bunch of different things for weathering. I tried oil paints and used 4 or 5 different colors brushed into the panels to add variation which took ages to dry. Several weeks passed before I was certain I could move onto the next stage. I added a few rust spots using methods described in my MIG techniques book: you paint tiny marks of a lightened base color (light green in this case) and then in the middle of those you add a rust color. I liked the effect and I applied to it along a few edges and on some sides of the hull. I sprayed on a coat of clear flat acrylic and next gave the whole thing an oil wash. After that was dry I sprayed another coat of clear flat acrylic and added MIG pigments rather than pastel chalks. I like these pigments but they are expensive although you do not need to use too much of them. I didn't have the MIG fixer (again, expensive) so I fixed the pigments by spraying Turpenoid (really inexpensive) and that worked. I used a soft lead silver pencil to highlight the edges and bolts. Finally, I added an MV lens and a thin wire for the antenna. My kit had no decals; perhaps I lost them but I am not certain.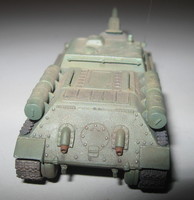 In conclusion, I can recommend this kit. It is detailed, fairly accurate and builds into a decent model. Looks nice next to the Eastern Express "1942" T-34 I built several years back.