Internet Modeler : Features : Armor
RSS News Feed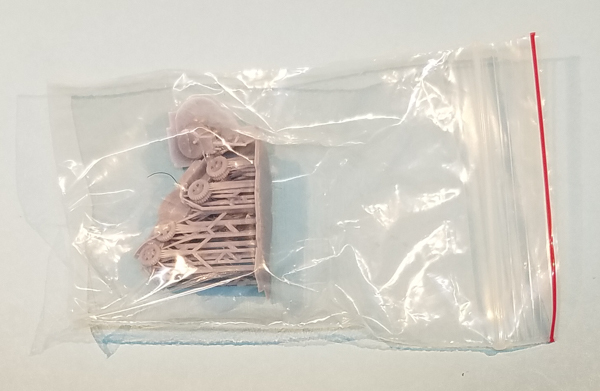 Grey Ice Miniatures 1/144 BA-10
Introduction
Taken from Wikipedia:
"The BA-10 (Russian: Broneavtomobil 10) was an armored car developed in the Soviet Union in 1938 and produced through 1941. It was the most produced Soviet pre-1941 heavy armored car – 3311 were built in three versions. These versions were the BA-10, the BA-10M (improved version with new radio), and the BA-10ZhD (equipped for dual railway/road use). The basic BA-10 design was developed from the BA-3 and BA-6 heavy armored cars. It had an improved GAZ-AAA chassis and improved armor (up to 15mm at front and turret). It was intended that the BA-10 would be replaced in 1941 by the BA-11 with diesel engine and more sophisticated armor design, but the outbreak of war prevented BA-11 production. The BA-10 was in Red Army service until 1945. Significant numbers of captured BA-10s were used by Finland (at least 24), Germany and other Axis powers in Europe."
The Kit
Grey Ice Miniatures is a new company to me. It appears they started out making 3D prints of figures, but have lately turned their attention to 1/144 armor and vehicles, and we're better off for it. As you can tell from the images there are only two parts to the BA-10 kit; the majority of your time will be removing the parts from the sprues and cleaning up those areas. But once clean, construction will be quick. The detail on this kit is outstanding. Indended front bumper? Indented gun (giving the impression of it being hollowed out)? Hollowed out wheels? Indented vision ports? Yes, all this is contained with this model and more. It's stunning to know the level of detail you can have with a 3D print, even in 1/144.
Construction
There isn't a lot to the kit since there are only two pieces: a one-piece everything-connected hull and the turret with everything on it as well. Clean up both pieces and you're on your wait to painting.
Not only did I use typical model nippers to remove the parts from the sprue, but I also used a new-to-me knife blade from flashmasterhobby.com. The blade is flexible, very sharp, and is meant to remove flash and other items from models. A full article on using the blade is forthcoming, but it played a good part in reaching some of the sprue attachment points nothing else would.
Now that both parts were separated from their sprues and cleaned up, it was time to paint. Thankfully Vallejo makes a Russian 4BO primer so that's what I used for both primer and paint. Once dried I painted the guns "gunmetal" and the tires dark grey. It was now time to weather.
Lately I've been experimenting with items from True Earth, and this was no exception. I brush-painted their Filter & Wash, Light, Desaturation & Fading 1 onto the high areas of the kit, and then used Filter & Wash Neutral inside the crevices and around parts that stand proud of the surface. Finally, I used their Dust Wash Dull Earth around the bottom of the car - wheels, body undersides, etc. - to make it appear dirty. Believe it or not, the pictures don't do justice to the weathering accomplished.
Conclusion
My plan is to use this in a display/diorama with the North Star Models 1/144 Yak-1 in some way. I do have a couple of ideas to play with, but first I need to finish the Yak-1 and go from there.
Huge thanks to North Star Models Partners for the BA-10 to review.