Internet Modeler : Features : Armor
RSS News Feed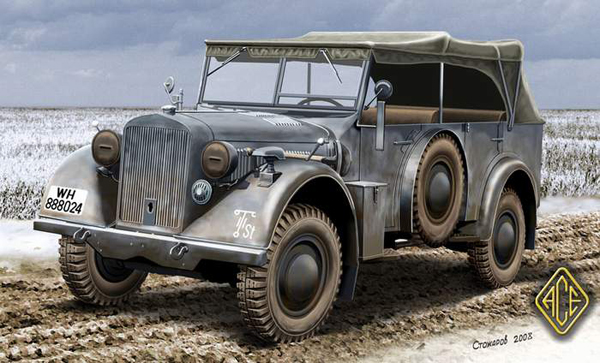 ACE 1/72 Kfz 15 Horch
History
Developed in 1934, the Kfz.15 was built by the Horch company to fill the German military's medium personnel carrier role. In an effort to increase production, the vehicle was also manufactured by Wanderer and Opel. Universally known as the Horch, the Kfz.15 was an all wheel drive vehicle capable of carrying 4 soldiers, as well as towing light artillery. Its primary use was as a Staff Car for officers. Powered by an 80HP V8 engine, the Horch was well received by commanders who used it to travel throughout the battlefield. From its initial production in 1937, until the final vehicles rolled off the line in 1940, over 12,000 units were produced.
The Kit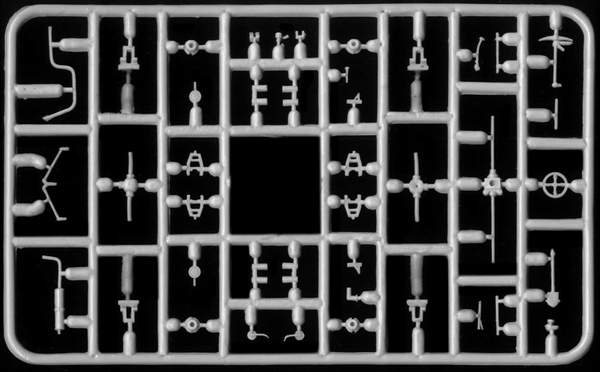 Ace's 1/72 Horch comes in a very colorful box with a rather nice [frameable] painting of the Horch in Winter. The kit comes in light gray plastic on four small sprues. Also included is a nice set of decals for four different units, including one for Reichsmarshall Goering. Bearing in mind this kit is a limited production, as are all Ace kits, the detail is slightly on the soft side. Several of the pieces are grossly out of scale such as the tool handles, suspension arms, and suspension springs.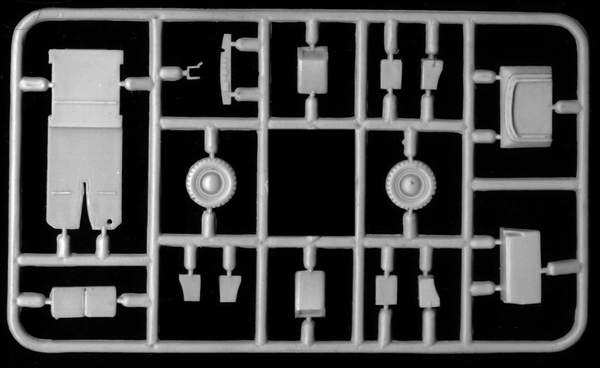 Additionally, several pieces were heavy with flash and various "blisters" and bubbles. The worst of this was a couple pieces for the suspension which needed to be carved out of the plastic to match the instructions. Speaking of instructions, they give you a good layout of the parts for easy identification and great decal placement references, however the assembly instructions were hand drawn 3/4 views which made precise part location very difficult at times.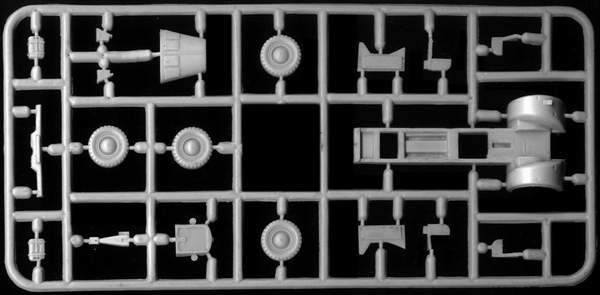 The kit does not come with clear pieces for the windows, however the instructions do include templates to cut the windows out of clear acetate [I used a clear packing tape]. The decals are well done, with little carrier film, and although they went on with little problem, even with Solva-set they ended up with a light silvering [even going on over a gloss coat].
The Build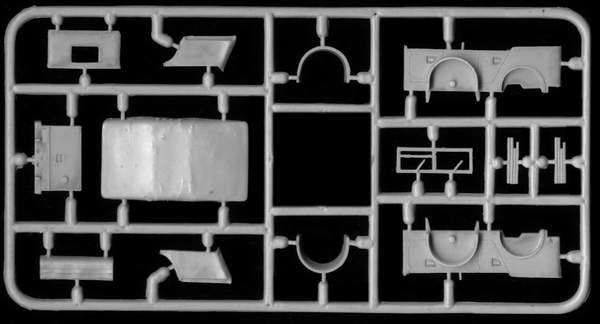 First and foremost, I will tell you to stock up on sandpaper and sanding sticks. I recommend 400 and 800 grit. Additionally, make sure to have your favorite putty on hand and probably some extra stretched sprue. Construction starts with the chassis, which although it is one piece to help with alignment, it took about 15 minutes of sanding to clean up the flash and mold lines. The suspension is multi-part and very complex. I recommend getting all the pieces cut off the sprue and cleaned up before you start gluing.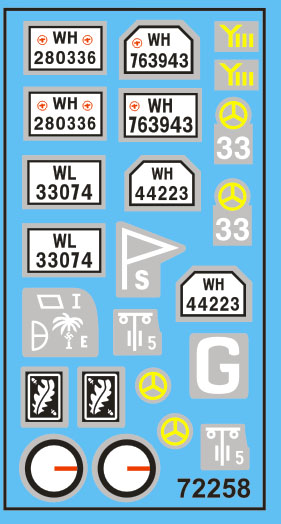 I used Tamiya's Orange top glue because it takes longer to cure. This allowed me to get everything on, flip the chassis right side up and place it on a flat surface. I then added some weight to the top of it which squared everything up to ensure all four wheels hit the ground later on. After curing a couple days, I continued with the interior, which is rather sparse. But then again, the real car didn't have much of an interior either.
The two problem areas were the front end and the roof. Starting with the front end, the sides of the engine housing require some minor surgery to fit properly. Adding to this, the hood is not straight. This required me to cut off the front of the hood and add a stretched sprue shim to the rear. After some careful filling and sanding, the hood looks like it belongs.
For the roof, get your sandpaper ready. This was the worst part for flash and plastic anomalies. I started with automotive 200grit sanding cloth and knocked down all the plastic blisters. I then smoothed it all out with 400 grit, 800grit, and then added some texture with 600 grit in a criss cross pattern. Paint was very easy...the whole thing is German Grey. Just joking, there are some details to be painted like tools and the wheels, but overall it is just gray. Some light weathering and dirt and I was ready to add the decals and the clear windows. Overall, the build took me about 3 days to complete.
Conclusion
I must admit, originally I planned on just doing the in-box review for this one. But if I had, it might not have received the credit it deserves. Yes, it is a bit rough, however for a limited run, 1/72 kit of a subject that is otherwise not available in this scale, I think it builds up rather nice. Keep in mind, it does require a bit of work, but that's what this hobby is all about. Overall, I would recommend this kit. For the price, and a little extra work, it builds into a very nice addition to any 1/72 armor collection. I'd like to thank Scale Model Kits for providing the review sample.