Internet Modeler : Features : Automotive
RSS News Feed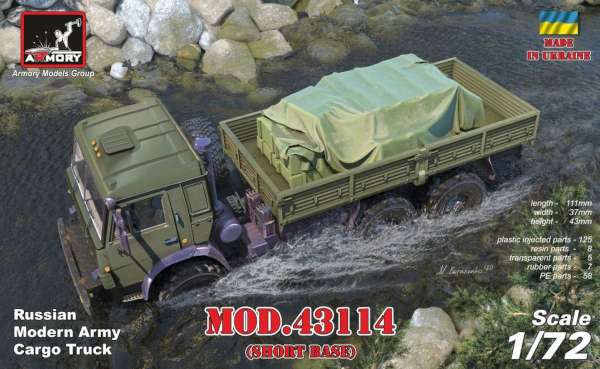 Armory 1/72 Russian Modern Army Cargo Truck
The Truck
The Kamaz Mod.43114 is an all-wheel drive truck which was in production between 1996-2009, when production was decreased in favor of the Kamaz 5350, a similar but more modern all-wheel drive truck. The Mod.43114 had a payload capacity in excess of 6 tons. It was powered by the 225 horsepower 740.31-20 diesel engine and used a 10 speed transmission.
The Kit
Armory's Mod..43114 is a multimedia kit composed of 223 parts. 133 of these are injection molded plastic on 6 sprues, 14 parts are resin, 74 parts are on 3 photo-etched frets plus you get a decal sheet and a small acetate sheet for the windows. The injection molded parts include the cab, chassis, suspension and truck body. The engine, transmission and some other small parts are resin.
The injection molded parts are well done. They have very fine surface detail, raised or recessed as appropriate. The sprue attachment points are very small so the parts will be easy to remove from the sprues and there is a minimal amount of flash. The windshield wipers, license plates, mud flaps and many other small parts are photo-etch.
This is quite an impressive kit. You can tilt the cab to display the highly detailed engine, and if you're handy with a micro drill you can make the front wheels steer and articulate the rear suspension.
The decals are a mix of the specific and the generic. They include Russian, Ukrainian and United Nations markings. They are printed by Dekograph of the Ukraine. They are crisply printed, with excellent colors, opacity and registration. The instructions are excellent. They include a parts map, a well illustrated and logical build sequence and one full color profile.
The overall impression of this kit is that it oozes quality.
Conclusion
Armory's Mod.43114 is a superb kit aimed at the experienced modeler. It is accurate and well detailed. Although boxed as a military vehicle it would be easy to modify into a civilian or United Nations version. I would like to thank Armory for the review sample.
References
https://stuklopechat.com/avtomobili/148-kamaz-43114-opisanie-tehnicheskie-harakteristiki.html