Internet Modeler : Features : Automotive
RSS News Feed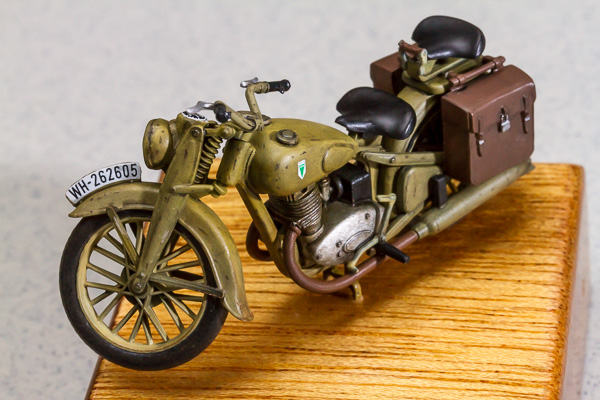 Building Tamiya's 1/35 DKW NZ350 Motorcycle
Overview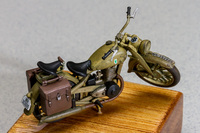 The new NZ series of motorcycles was announced with two new models, a 250cc and a 350cc, for the first time in the DKW dealers bulletin of 28 December 1937. In the bulletin from 28 March 1938, the factory once again announced the launch of these new models, with the first NZs leaving the factory in November 1938.
In early 1941, the production of the NZ250 stopped. The NZ350 continued to be built for Wehrmacht use only (from VIN 595200 onwards only NZ350s were built). At the same time, the gearbox was reinforced and the gear ratio was changed to facilitate driving at low speeds in a convoy. The reinforced gearbox can be identified by the letters VG "verstaerktes Getriebe" on the engine case from engine number 1180601.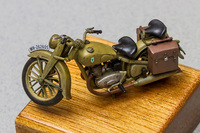 During the war, the production of the company was restricted from the spectrum 125 - 500 cc of different types to just two models - NZ 350/NZ 350-1 and RT 125. The NZ 350 was adopted for army service and became the "middle-class 350 cc motorcycle" in the Wehrmacht's catalogue. In the company's catalog it was known as NZ 350-1.
The Kit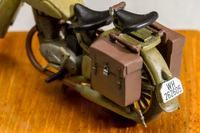 The NZ350 I built came in the box with the Tamiya 1/35 King Tiger model. I set the King Tiger aside and wanted to finish something rather small, something different than what I am used to building, plus I also wanted to try using new Vallejo Air colors.
The assembly of the model took probably around an hour. It would have taken even less if I did not have to do some sanding to remove the seam lines and wait for a putty to dry prior to another coat of primer. Luckily, it worked the first time so I went straight to painting.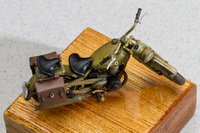 I was surprised with the Vallejo Air colors as they dried almost instantly and my fingers left no marks as I handled the model during painting. This was one of the main reasons (toxicity too) why I wanted to try the acrylic paints instead of enamels.
The model was finished with AK Interactive Brown Wash, and I also used a brown pencil for dents and scratches. The engine was weathered with AK Interactive Engine Grime Wash and the exhaust pipe with some brown pastel.
Conclusion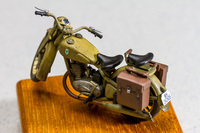 I spent around five hours on this model. Most of the time was spent trying to adjust my airbrush to work with the Vallejo air acrylics (being that to date I exclusively used Model Master paints). It is lots of fun to throw in an odd subject like this into my modelling queue, it sparks my interest in modeling and makes me think outside of the box.