Internet Modeler : Features : Automotive
RSS News Feed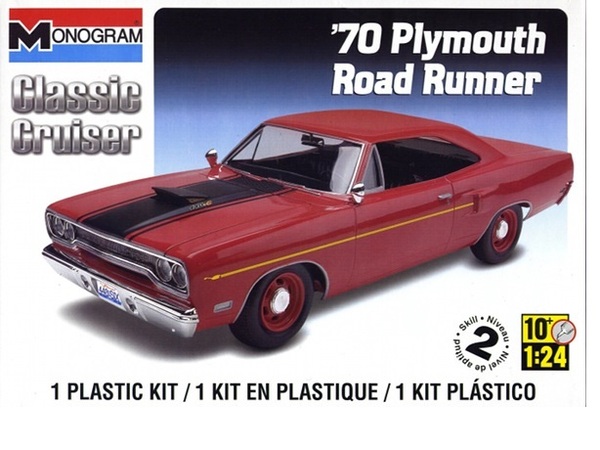 Monogram 1/24 '70 Plymouth Road Runner
The Car
Plymouth offered the Road Runner, a low-cost high performance muscle car from 1968 to 1980. The muscle car craze that had helped create icons like the Chevrolet Camaro, Ford Mustang and Pontiac GTO was wearing thin on consumers.
The traditional muscle car recipe called for a cheap car with the biggest motor that would fit and make it fast. But manufacturers were offering more options and luxurious amenities that drove up the price and added more creature comforts than muscle car buyers wanted.
Chrysler and its Plymouth division picked up on this and they set out to create a car from the original recipe. Their goals were simple: a car that could run 14 second quarter miles at the drag strip and cost less than $3000. The Plymouth Road Runner was the result. The 1970 model had a great looking body with a fantastic choice of colors.
It was offered with the 440 cubic inch V-8 and the iconic "Six-Pack". This set of 3 two barrel carburetors on top of the 440 produced 390 horsepower and a staggering 490 pound feet of torque. The car had a quarter mile time in the mid 13's at 102 mph. The younger car buyers loved the idea, but Road Runner sales began to decline in 1970 and the rest is history.
The Kit
This is a kit from Monogram's Classic Cruiser Series. The kit contains 77 pieces, and is rated a Skill Level 2. It is molded in white plastic, with 2 chrome trees containing 2 sets of wheels. The instructions are clear and easy to understand and they include a paint guide. I prefer instructions that include the part name and number. This has helped me to understand more about cars over the years, and the Road Runner kit includes such a list. There is a good decal sheet, but I didn't use all of them.
I had a lot of fun building the Road Runner. I was excited to build a classic muscle car and to use Bare Metal Foil to show off some detail. There are a lot of chrome pieces for 1970s car models. The 2 chrome sprues include bumpers, grille and wheels, mirrors and small detail parts. The engine has chrome valve covers, alternator, and an air cleaner that I left that plated, in keeping with the classic look.
The engine bay is big and it needs to be, to fit the 440 cubic inch V-8 engine. Subtle extras include painting the battery and brake master cylinder for added detail.
I tried a different paint for this kit. I typically use Tamiya paints which have served me well in my modeling adventures. I have been hesitant to use other brands, because I have had experience with low pressure and some paints just kind of "spit" out, as opposed to a nice, uniform spray.
However, while roaming my local hobby shop (LHS for those on message boards), I saw that Model Master (Testors) made "Plum Crazy" paint. Model Master offers many colors that resembles actual manufacturer colors. These include "Hemi Orange", the "Grabber" colors from Ford, and many Chevy colors as well. Now, I wasn't sure if the 1970 Road Runner was offered in the "Plum Crazy" color, but I purchased 2 cans anyway and started to research Mopar paint.
To be honest, I didn't determine whether or not 1970 Road Runners came in Plum Crazy, but I found a few "Plum Crazy" Road Runners in the course of a Google image search. I loved the look and this was enough for me. The body, chassis, and engine bay were all primed with Tamiya primer and then painted with the "Plum Crazy".
I was pleasantly surprised to find that the can had high pressure, which produced a very nice spray and uniform coverage. In fact, one can was enough to put 3-4 coats down on the larger parts with minimal orange peel.
After the paint was dry and cured, I polished it with Tamiya polishing compounds and I love the finish. The interior was primed as well and I painted it with Tamiya TS-29 Semi-Gloss Black, which I feel gives it a vinyl interior look.
Some of the details on this kit include Bare Metal Foil for the trim, a black-washed grille and a set of MRC Mickey Thompson wheels and tires. You may have noticed the stance, and this is a result of the tires themselves. I did not make any suspension modifications, but I do enjoy the drag race style stance of the car.
The grille is entirely chrome, and I did need some reference pictures to see how it should look. I took a few drops of flat black paint, and diluted it with some thinner to make a "Black Wash." The paint mixture settled in between the grille display and gave it depth and detail.
The first coat was very light, and to match. the pictures I had seen online, I needed to add more black to the wash. The result is a very dark coat. I carefully applied this wash around the Plymouth logo in the grille, which helped make the detail stand out. I used Bare Metal Foil around the windshield and windows, which always looks good. Bare Metal Foil is such a fantastic product!
Conclusion
This kit was a lot of fun to put together. It was nice to learn a little history about the car and and to learn how it came about. The kit went together very well overall. There were some mold lines of course, that needed to be sanded out, but you see that on every kit. I had a great time with this build and I recommend it highly. I also now highly recommend the Model Master paints to those like me who don't have an airbrush. I would like to thank Monogram for providing the kit. I would also like to thank my editor Jacob, who has great patience, as all modelers must have. Thanks for reading, and happy modeling!