Internet Modeler : Features : Automotive
RSS News Feed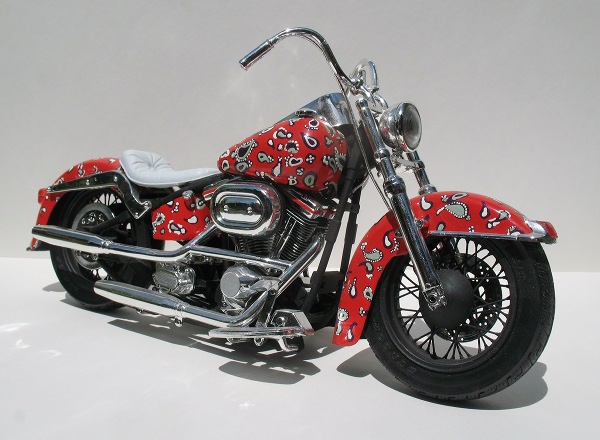 Protar 1/9 Harley-Davidson FLSTC Heritage Softail
This is the Protar Harley-Davidson FLSTC Heritage Softail in 1/9. It is a very nice kit, that required glue and some screws for assembly. The tires are made from soft rubber. The kit also included some rubber hoses, which needed to be cut to the length given in the instructions. The parts also are nice and don't require too much clean up, other than where they are attached on the tree.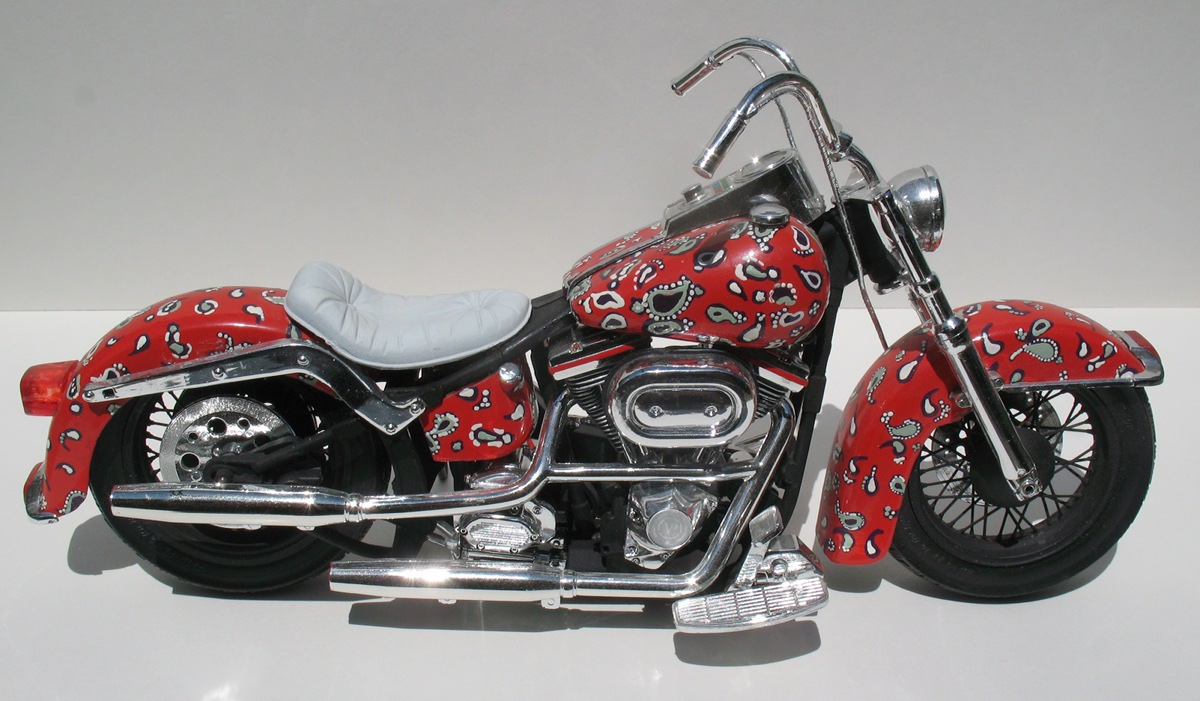 Protar made a lot of nice, detailed model kits, above all the big scale kits. But Protar was well known for their great motorcycle kits. Protar's founder Provini Tarquinio (which is where the name of the company originated, Pro – Tar) was a motorcycle driver who raced all around the world. He had to retire from racing in 1966 after breaking his back. His passion for motorcycles was so big that he started to make model kits of his, and his competitor's, motorcycles. Protar later sold the model kit parts to Italeri. Today, Protar only produces project kits for others.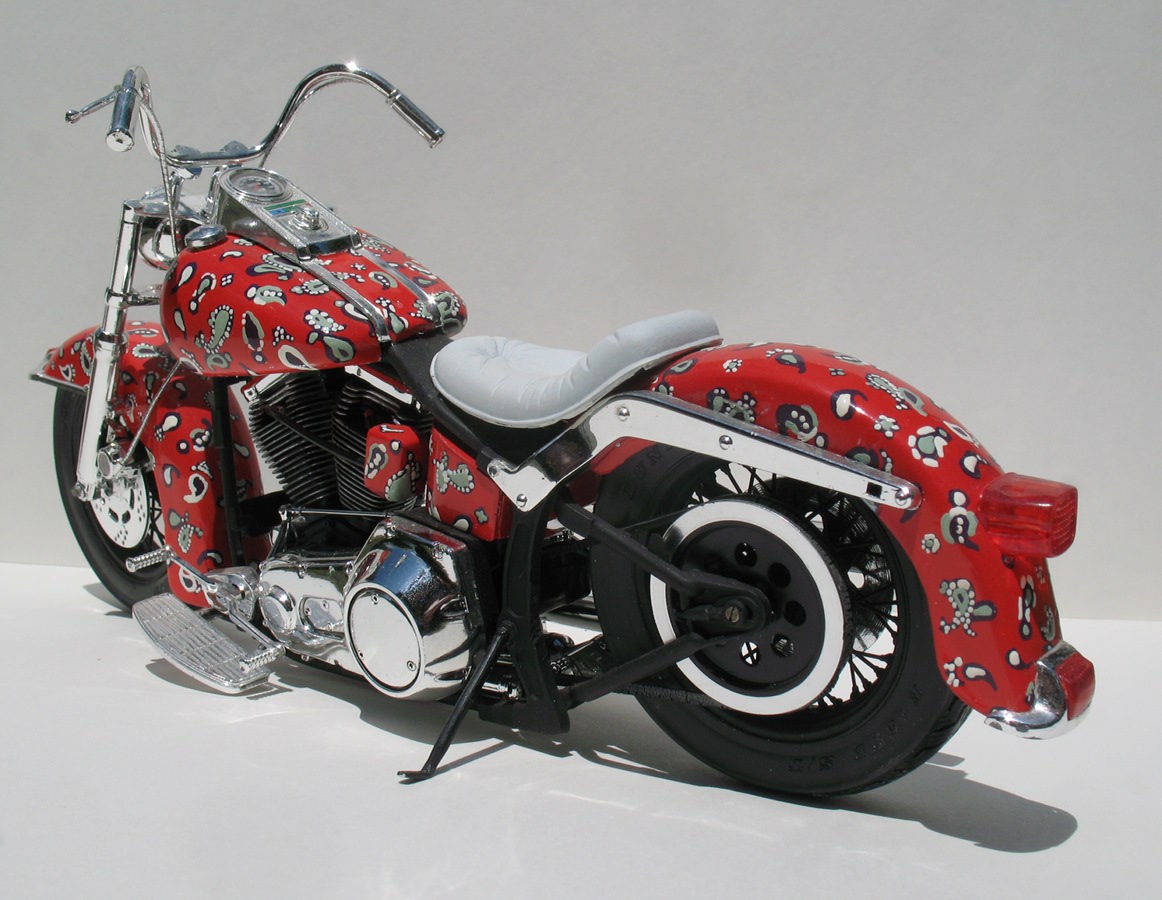 I'm very fond of this Harley, because it is one of my oldest models, that is still around (I built it when I was a teen. It has a kind of interesting story ...
I bought this kit back in 1996. I was very into motorcycles at the time, above all Harleys. I mostly built it straight from the box. I painted it with a brush, using a Humbrol color to match the picture on the box, in a metallic light blue, with white decals on the fenders and gas tank, white seats and bags. The only problem I had was with the gas tank decals: they needed to be cut to allow them to follow the gas tank's curvature. The next year while looking at the model in its stock colors, I remembered that one of the nice things about Harleys is that you can customize them.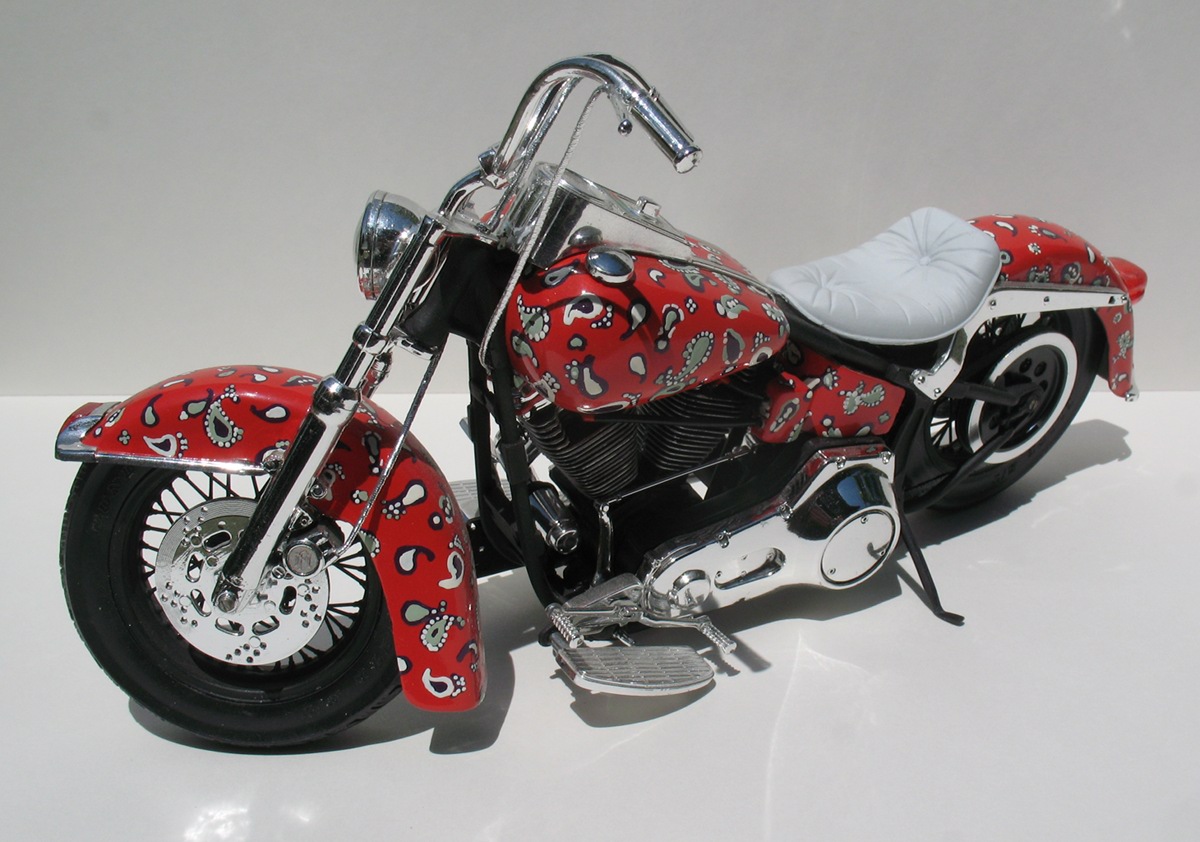 A few days later, I saw my mom's watch (Swatch brand), that had an interesting color on its rubberized band. So, I went back to my room and started to disassemble the Harley, and started to sand off all the color. I repainted it in red, always with a brush, but this time using Testors enamel. After it was dry, I completed it with Humbrol colors. It was a very long process to paint. I remember coming home from school and painting it, with a tooth pick, until dinner was ready. I did that for almost two weeks, counting at the end a little over 150 hours. But I really enjoyed it.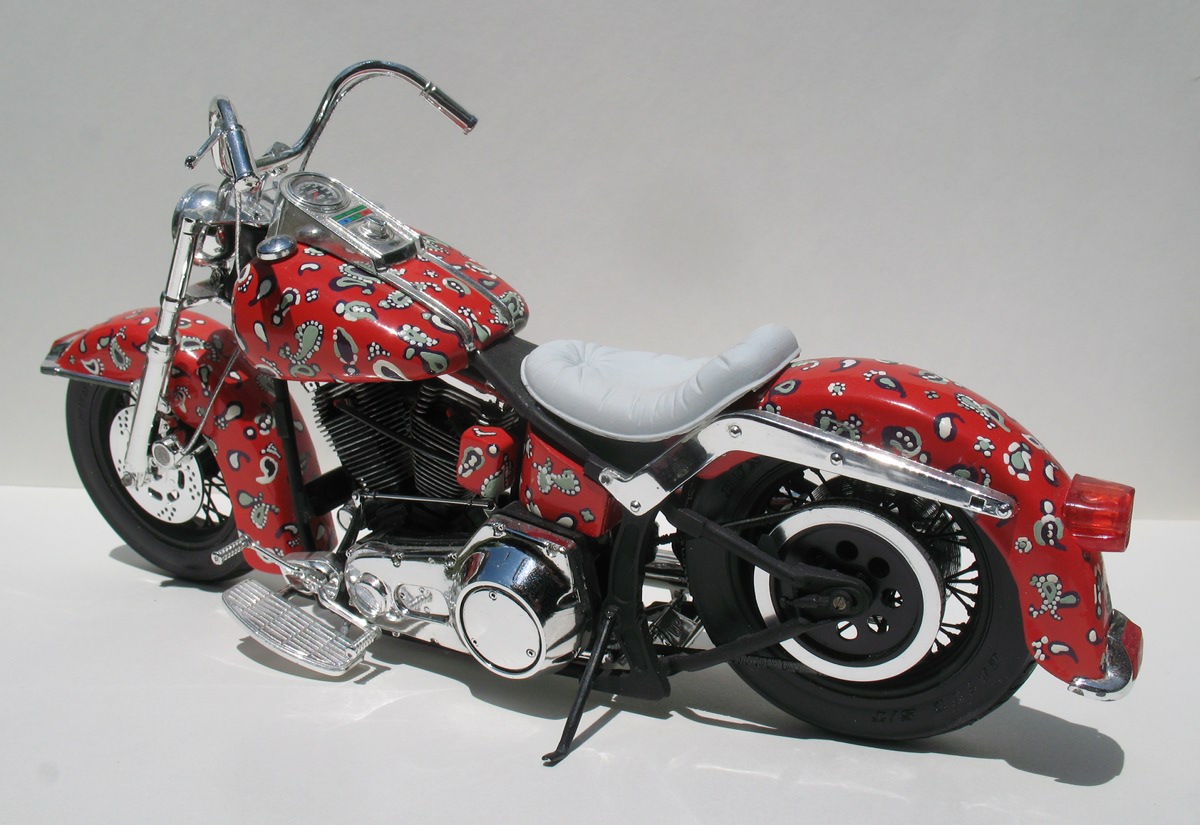 The shortened front fork is from a Protar Softail; the rear end was also lowered. The shift gear pedals for it and other parts like the headlight, were changed - using other Protar Harley parts. The side stand was moved back - to give it a clean look to the front.
I kept this Heritage Softail, with three other Harleys, in a display case with other model cars and motorcycles, for a while, until I had to put them carefully in a shoe box, with foam, to make space for other models.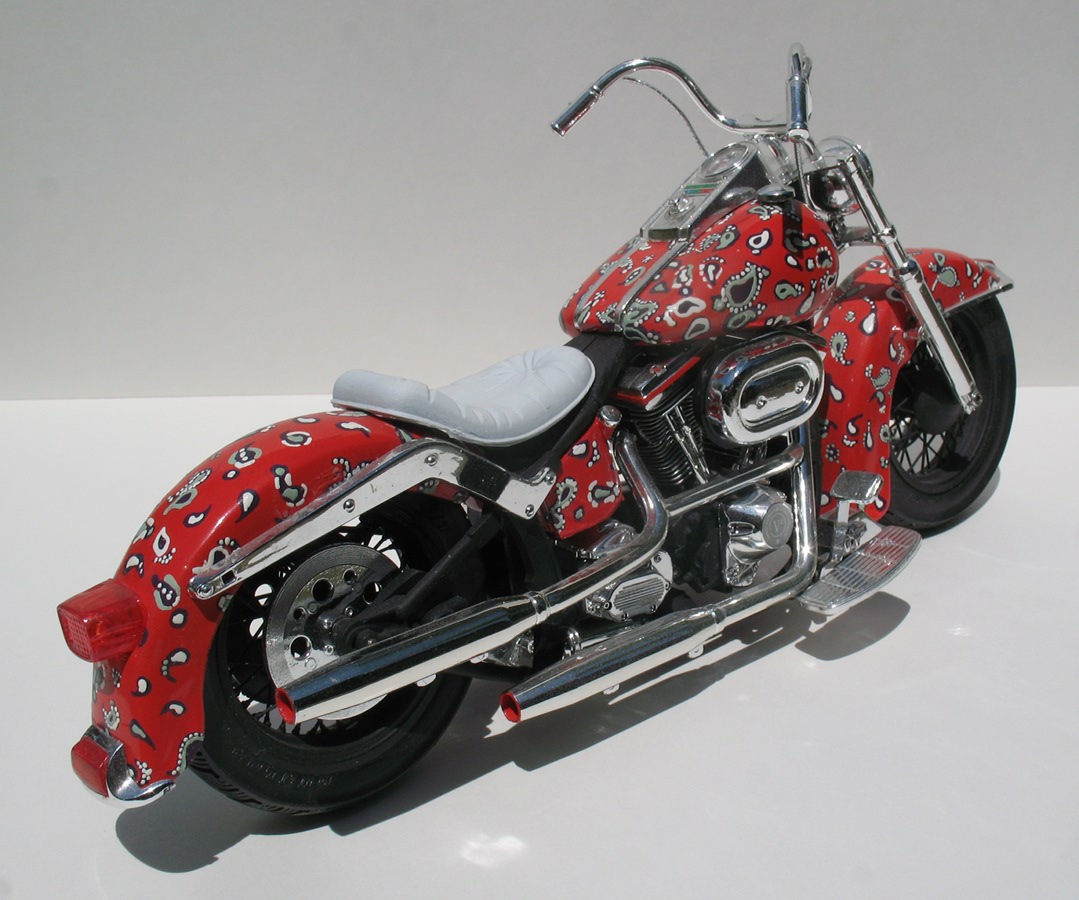 Last year I had it, and 3 other Harleys, shipped to the US, where I live now. The box with the Harley was pretty safe - it had a lot of foam between it, plus the shoe box was inside a big box, and very well insulated. When you ship something, the risk that some pieces get broken is very high. In this case it went a little differently. Italian Customs opened the box to check it. They put the models back in the box without the foam. Mostly it looked like they had to press the Harleys in the box, to make them fit. When I received the package, I couldn't believe that all the Harleys were mutilated ... forks, pedals, wheels, handlebars, levers were all loose in the box. I wanted to cry and trash all the models.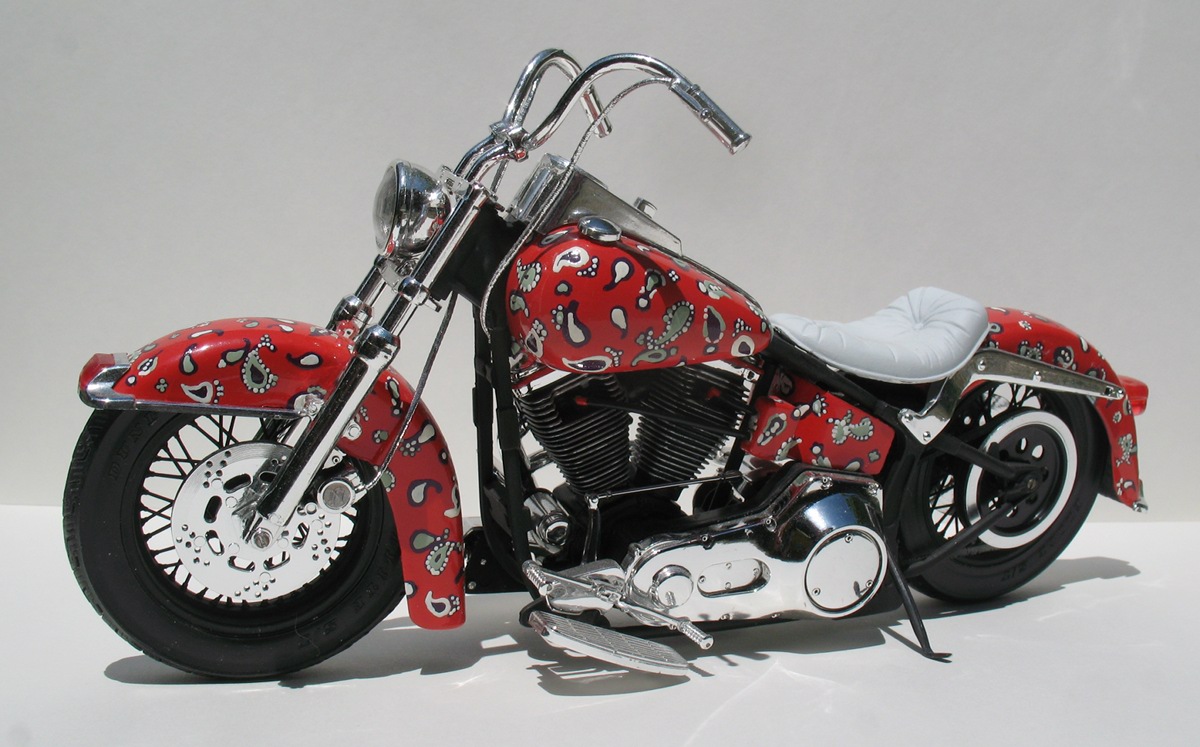 A few days later, I started to look again at the box ... taking out all the bodies, trying to remember which parts went with which Harley. Fortunately, this Harley and another one had the paint in good condition. The other two are scratched, and are on the repair list.
Like I said, I'm very fond of this Harley, so it was the first one I started to repair. I didn't want to upgrade it or add any details to it. I wanted to repair it and keep it like it was. The only modification I made was to paint the spoke wheels black.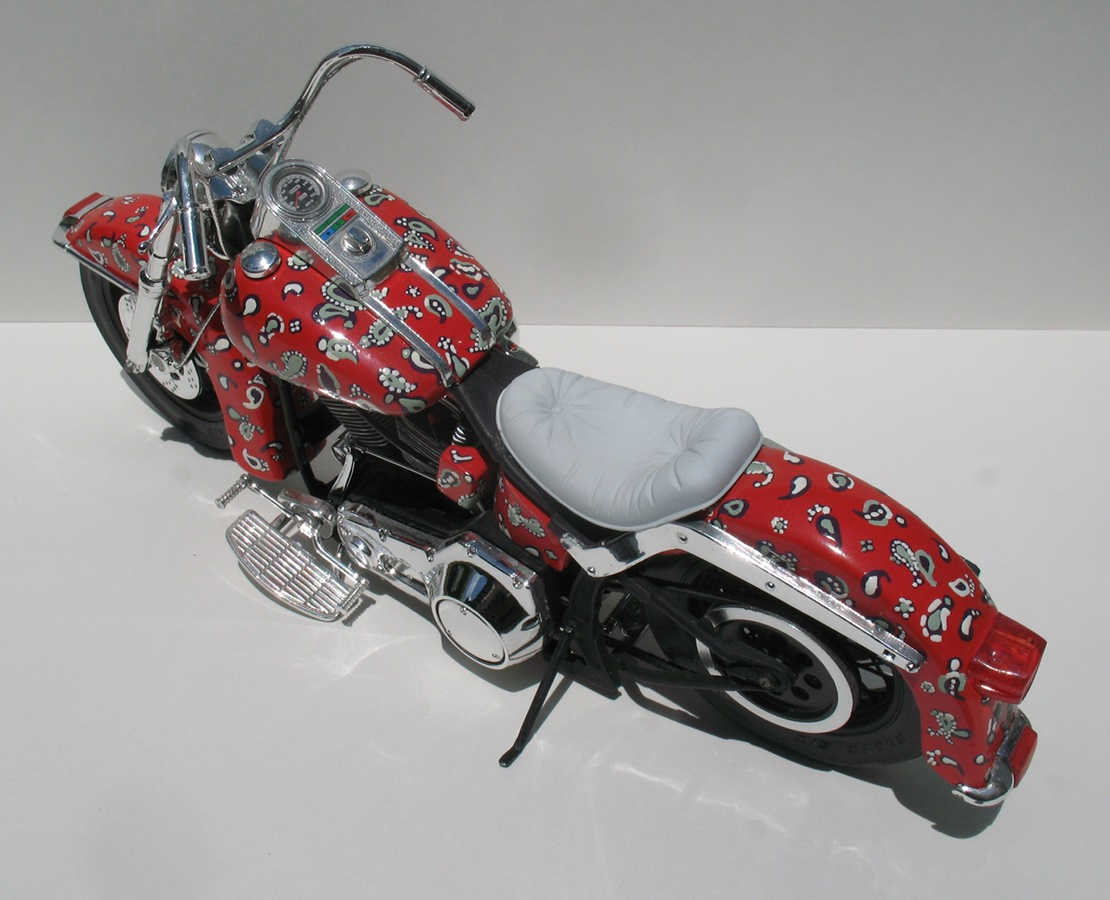 I'm very happy that I was able to restore it, and every time I look at it, I can still feel the emotions ... the excitement I had the first time I built it.