Internet Modeler : Features : Aviation
RSS News Feed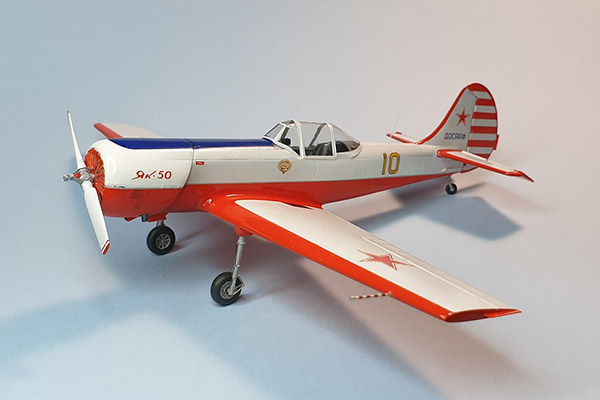 Building the AModel 1/48 Yak-50
few months ago, I placed an order with ModelsUA for a few kits, including AModel's 1/48 Yak-52. Unfortunately, they shipped the Yak-50 instead. Easy mistake to make, and Models UA made good on the error.
So, I ended up with a Yak-50 in the stash!
Not one to let a kit go to waste, and as it fits in with my civilian fleet, I thought it'd be a fun quick little build.
After a looking at pics of the real thing, I wasn't happy with how the kit depicted the rear cockpit coaming. So that was duly modified.
| | |
| --- | --- |
| Before | After |
With the cockpit opening more, uh, opened, it looked a bit bare. Nothing some plasticard and wire can't fix.
So far so good.
The kit canopy was slightly wider than the fuselage, so I made a plaster mold and vacformed a new one.
I wanted to try something mentioned on the ScaleModelPaintMask forum, using the Cameo cutter to cut Bare Metal Foil.
Success!
| | |
| --- | --- |
| | Here are the settings I used |
Finally, the Cameo came out to again to make paint masks.
Painted with MRP White and Signal red.
Kit decals were used, and they're perfectly adequate.
I found the kit supplied wheels looked far too large, so I subbed in wheels from a 1/72 P-51. After that was the usual little details like rudder trim tab, brake lines, pitot and antenna etc.
And she was finished!