Internet Modeler : Features : Aviation
RSS News Feed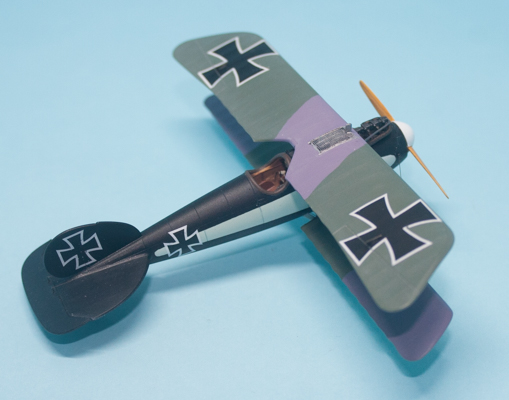 Eduard 1/72 Albatros D.V
Introduction
Twenty-one years. That's how long it has been since the WWI email-list had decided to do what we called a "Cook Up", what others now call a group build. We decided on Albatros being the theme so list members took off and started work on whatever Albatros type they were going to build. Including me.
I decided to model a plane by a not-so-well-known flyer, Lt. Victor Schobinger of Jasta 12. The blue flash on the side of the black fuselage was really striking, so why not?
Well, 21 years later I finally finished the model.
Construction
Unfortunately I can't remember much of construction. I know I was given the photoetch from a Profi kit (Eduard didn't release their photoetch separately, initially) from Barry of the now-unfortunately-closed Rosemont Hobby. I'm pretty sure I received the kit from Hobbyshop.cz for review. But other than that the mind is sketchy.
I've mentioned it a few times, but my biggest complaint with this kit is the in-accurate control column and lack of radiator pipes that lead from the engine to the upper-wing radiator's underside. Other than that it's a great kit and with the addition of the photoetch turns it into a stunning model.
Since at that point I tended to only use Polly Scale paints I'm pretty sure that's what I used, matched to typical German colors of the era. Although I do think I used the underside blue from Mister Kit as I had to touch-up some parts for the end of the build and that's the paint I used, and it matched the airframe already painted.
I had the majority of the airframe all together when it went on the "shelf of doom" (or in my case, the "totes of doom" as I have that many in-progress kits). It stayed there for quite some time, unfortunately, with me never getting back my WWI-modeling mojo until recently.
So in recent time, I finally put it all together, losing the struts at one point (to which those WWI email list members came to my rescue!) and then once "recovered" built the model to completion. Rigging was done with .005" nitinol wire. Nice stuff!
The last act was spraying a Vallejo Satin coat over the whole thing.
Conclusion
I am not one to throw away a model (okay, maybe if it's a model by Beechnut) so am definitely glad I hung on to this. It just took a little while to finish.
I did start another Albatros at the same time, thinking I would build both of Lt. Schobinger's mounts, a D.V and a D.Va. However, in the passing of time - and having a bunch of other D.V/Va markings I want to finish - I'll find another scheme to put that one in. It didn't get as far as this one just finished, though, having only the photoetch cockpit pieces put together (and which now the leather seat has to be re-sprayed as the paint has flaked off). So, some day. Hopefully it won't take another 21 years!