Internet Modeler : Features : Aviation
RSS News Feed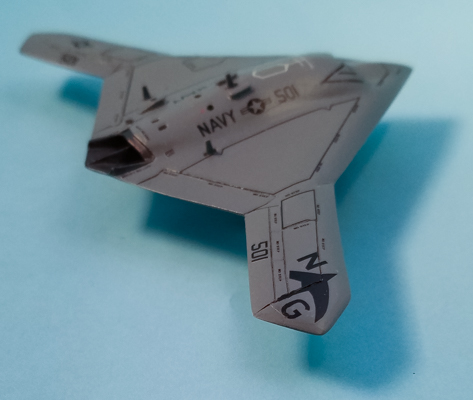 FOX ONE 1/144 X-47B
Introduction
In my First Look - many moons ago - I outlined the kit's contents. Not much to the kit, to be truthful, and if I didn't run into issues that took my motivation away for the build it could have been finished in a weekend at the longest. But while rummaging around my in progress storage containers (yes, that's a plural <sigh>) I re-discovered this kit almost finished. All it needed was another coat of paint on top, re-decaled and it would be finished. So, since 2020 was the year of rediscovering my modeling "mojo" I decided just to finish the kit and have it out of the way.
The Build
The build wasn't difficult as the separate pieces (the wings/fuselage was one piece of resin) only numbered twelve so it was easy to put most parts together. I do remember I did paint things separately (white on the undercarriage and wheel wells as well as the jet intake) and then assembled them together. I also remembered starting to decal but deciding after I started adding them the finish was less than stellar. So the sandpaper came out to remove the paint blemishes. Thankfully FOX ONE sent me replacement decals so I did have what was necessary to finish the kit.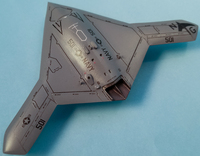 The decals are ALPS-generated and quite thick. I must not have put the right amount of Future on the surface because all decals show their edges and my typical trick of hiding them wouldn't work with the ALPS-generated decals. What I usually do is flood more Future on then sand that Future (after it cures, of course) from just the decals to even everything out. ALPS decals are far more fragile so I knew it wouldn't work, and just have to live with what's there.
Conclusion
It's far from a perfect build - even close to being unacceptable - but it is finished and ready to sit next to its brother. FOX ONE re-molded the X-47B into a much finer kit so this particular release (which I call the First Generation) isn't even available anymore. I believe the Second Generation (the newer kit) still can be purchased from FOX ONE.
Huge thanks to FOX ONE not only for the review model, the review Second Generation kit but also for the replacement decals for my muck-ups.