Internet Modeler : Features : Aviation
RSS News Feed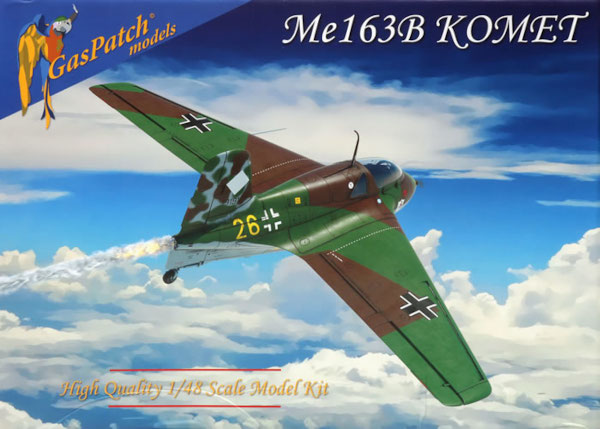 Gaspatch Me163B Komet
The Plane
The Messerschmitt Me 163B was a rocket powered point defense interceptor. It was the only operational rocket powered fighter in history and the first piloted aircraft to exceed 620 mph in level flight. In early July 1944 an Me163B piloted by Heini Dittmar reached a speed of 700 mph, a record that stood for over a decade. Although more than 300 were built the Me163 was a relatively unsuccessful plane, shooting down 10-18 Allied aircraft against 10 losses. The Me163B also was deadly to its pilots during testing and training: its volatile T-Stoff propellant was corrosive and many aircraft blew themselves and their pilots to bits during take-off and landing.
The Kit
This is Gaspatch's new 1/48th scale Messerschmitt Me 163B Komet kit. It consists of 91 parts. 61 of these are injection molded plastic on 5 sprues, one of which are clear. A single brass fret contains 23 photo-etch parts. And there are 4 tiny 3D printed resin parts, a vinyl mask set and 2 decal sheets.
My overall impressions of this kit are very positive. The plastic parts are molded to a high standard. They have no flash and feature fine recessed panel lines and raised rivets where appropriate. The sprue attachment points are small and well located so the parts will be easy to remove from the sprues.
| | |
| --- | --- |
| | |
The cockpit is a very detailed assembly that will look great with an oil wash and careful detail painting and dry brushing. The instrument panel uses individual decals for the instrument faces; take your time and you will be happy with the results. The instrument panel and cockpit use a combination of injection molded and PE parts. Most of the cockpit was painted RLM 66 Dark Gray. Check your references carefully: there was more than one shade of RLM 66 and these shades could appear in the same cockpit so here's a chance to enhance the detail by varying the cockpit colors...The ammo compartment is directly behind the cockpit and will really stand out with an oil wash, dry brushing and careful detail painting.
The landing skid features neat detail and it can be posed extended or retracted. The MG 151/20 cannon have individual 3-D printed shell ejection chutes which greatly enhance their detail; they will look great within the wing's open gun bays.
The clear parts are well executed and crystal clear and distortion free. The mask set caters to the armored glass and canopy and aft windows and that will nicely speed up this important step: poorly masked glass stands out like a sore thumb!
Gaspatch's decals are crisply printed with bright colors and good registration. The decal sheet includes 6 different aircraft options and all of them are in late War RLM 81 Brown Violet /82 Light Green splinter upper surface camouflage with RLM 76 Light Blue lower surfaces:
"Yellow 26", W/Nr.191916, JG 400, Brandis, Germany, April 1945. The fin and rudder were RLM 76 with large mottles of 81/82. The forward nose was RLM 04 Yellow.
"Yellow 15", W/Nr.191659, JG 400, 1945. The fin and rudder were RLM 76 with large mottles of 81/82. The forward nose was RLM 04 Yellow.
"White 14", JG 400, Brandis, Germany, February 1945. This Komet had an overall RLM 76 fuselage with a very heavy mottle of 81/82 over the entire fuselage. The wings had an RLM 81/82 splinter camouflage pattern. The forward nose was white.
W/Nr.191477, EJG 2, Spring 1945. The fin and rudder were RLM 76 with large mottles of 81/82. The forward nose was RLM 04 Yellow.
"Yellow 13", W/Nr.310061, Air Ministry. This Me163B was captured by the RAF. The fin and rudder were RLM 76 with large mottles of 81/82 and the German national insignia were over painted with RAF roundels.
Cartograph of Italy printed the decal sheet. The colors are crisp and bright with excellent legibility and registration. The instructions are up to Gaspatch's high standards. The instructions include a parts map, a well illustrated and logical build sequence and full color profiles of all 6 decal options. My overall impression that this is a top shelf presentation.
Conclusion
Gaspatch's Me163B Komet is an outstanding kit. Dragon's Me163B was a great kit for its time but the Gaspatch Komet supersedes it. It's accurate and well detailed right out of the box. I recommend this kit and I would like to thank Gaspatch Models for the review sample.
References
Print:
German Jet Aces of World War 2, Osprey Aircraft of the Aces 17, by Hugh Morgan and John Weal, Osprey Publishing, 1998
Wikipedia:
https://en.wikipedia.org/wiki/Messerschmitt_Me_163_Komet#Specifications:_Me_163B-1a