Internet Modeler : Features : Aviation
RSS News Feed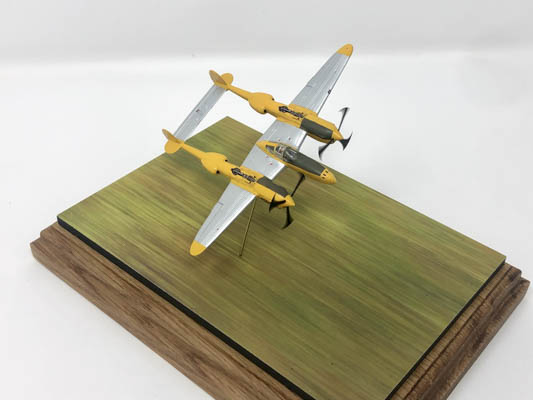 Racing a 1/144 P-38
I have recently been scratching my head over what to do with older kits in the stash which have been replaced by newer, better ones. I was also in need of a bit of modelling therapy - happy go lucky, easy building.
Last year I built up an old Crown P-51D Mustang kit as a race plane using decals from DrawDecals. If you haven't come across DrawDecals, definitely check out their range of race plane schemes - some very colourful and fun options to choose from. Greg at DrawDecals has also started releasing Red Pegasus' range of race plane decals recently too, so expect to see more such releases.
Anyway, I so enjoyed myself with the Mustang that I did it again, and really wanted to build a Lightning which I thought would look fantastic gear up and going flat out. I considered using the old Crown P-38 but it's such a terrible shape and the Minicraft repop I have is so tired-looking that I decided not to. My previous Crown P-38 builds have been wholly unrewarding experiences, I'm afraid to say.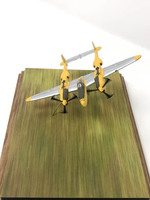 I have a number of the Fujimi Lightning kits which are fantastic - but I'm saving those for wartime schemes. The Bandai Gashopon kit came to mind - I had a couple at the back of the stash. The more time I spent on the old Bandai kit the more I appreciated how good it was. The surface detail is fantastic. Not a single access panel is missing and the cockpit detail would shame most modern injected kits. It also comes with a separate nose cone for a recon variant (which I've saved to use with the Fujimi kit). The drawbacks are that it requires quite a lot of filler to blend in the nose, booms and engine nacelles. The props are pretty horrible (not an issue here) and the canopy is not brilliant, marred by a big chunk missing where it was removed from the sprue. Still, overall, a good model and it now seems not to cost the earth (strangely these were phenomenally expensive a few years ago).
On my Mustang build I left the prop naked. This time I tried using PropBlur etched replacements. These don't look great in photos but actually look fantastic where it sits on my mantlepiece, from a normal viewing distance and in normal lighting. I added a few other bits - a Heroes Models pilot you can barely see, craning his neck upwards as he goes into the bank, a pitot and the red horn balances on the tailplane. I highlighted a few panel lines with a wash but didn't do any real weathering.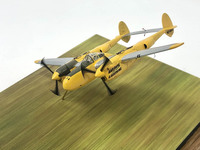 Painting was simple - I sprayed this SMS Trainer Yellow - a very good brand of Australian lacquers which goes down beautifully and has really good colour density even on tricky colours like yellow and white. The DrawDecals instructions suggest grey for the wings, but I think painted aluminium is more likely and frankly just looks better. Bardahl Lightning was flown in displays during 1968-9 in this scheme, but crashed in the early 1980s and was destroyed - sadly killing the pilot in the process. The decals themselves worked fine - all four of them!
I mounted this on a base from Heroes Models - which I really like. (Actually just totting it up - kit from Japan, bought from and eBay seller in Mexico, paints from Australia, decals and PropBlur from the US, pilot and base from Italy, assembled in the UK. Hooray for globalisation.)
You may wonder, as I did, why more Lightnings did not appear on the race circuit immediately after the war, during what must be air racing's Golden Age. A handful did, but barely a handful - and these were largely in the immediate post-war period - it was rare to see them after 1950 or so by my reckoning. Objectively by any measure the Lighting was immensely fast and powerful, among the fastest prop aircraft of the war even at low level.
From what I can tell, part of the answer is straightforward availability - the P-38 was retired at the end of the war and most were scrapped, whereas Mustangs, Corsairs and even King Cobras could be picked up relatively cheap for years afterwards.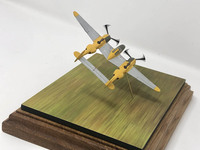 The other part of the answer is the complexity of Lightning. Tellingly, most of those Lightings that were raced had the turbo-superchargers above the wings removed and faired over. For the pilot, it was not straightforward to fly. A wartime saying has it that, if bounced by enemy fighters, the Lightning pilot had so many knobs to turn and buttons to press that he would be shot down before he could fight back. It would have taken more skill to race the Lightning flat out than its competitors. Equally, maintenance-wise, a Lightning would have been more difficult and expensive to stable than a Mustang - plus Allison spares would have rapidly dwindled after the war whereas Packard Merlins were more freely available. But this is my guesswork - I have not been able to find any other answers really and would be interested if anyone knows more.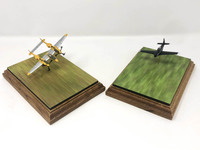 Finally, here they both are together. I'm really enjoying these race builds. They are good therapy - and I particularly like the finished look of this Lightning. I feel that it really captures the sleek lines and massive power of the aircraft. I can practically hear the engines howling (this may have done a few flypasts of the workbench...!).