Internet Modeler : Features : Aviation
RSS News Feed
Red Jet: Czech Model's 1/48 Yak-15
The Airplane
By 1945, the United States and Great Britain were far ahead of the Soviet Union in developing jet-propelled aircraft, and Germany was ahead of everyone. Red Army units entering Germany had found aircraft and engines scattered on airfields and sent them home. Josef Stalin ordered the Red Air Force to develop this new form of aircraft which potential enemies were obviously working on, with new aircraft to be delivered as soon as possible.
In February 1945, Alexsandr Yakovlev's design bureau began development of a straightforward adaptation of the Junkers Jumo 004 turbojet that powered the Me-262 to the airframe of the successful Yak-3U fighter. Yakovlev used the Yak-3U wings, landing gear, tail (with a larger rudder to offset increased forward fuselage area) and most of the aft fuselage. The RD-10 engine was mounted in a new lower fuselage bay, with nose-mounted intake and exhausting below the center fuselage. The aircraft was armed with two NS-23 23mm cannon with 60 rounds per gun. A little over a year later, the first prototype Yak-15 was ready for flight. The prototype's rubber tail wheel soon gave way to a stainless steel wheel due to its proximity to hot exhaust gases.
The Yak-15 was by far the most primitive and conservative adaptation of the jet engine to fighter design of any aircraft developed by the competing air forces during this period, yet it provided the V-VS with the experience of jet flight and operations without imposing development costs the Soviet Union was unprepared for. Approximately 300 Yak-15s were produced in 1946-47 before production was phased out in favor of the Yak-17 (see Chris Banyai-Riepl's review elsewhere). While the airplane only saw limited service, it is historically important, and an appropriate subject for a limited-run kit.
The Kit
Czech Model's Yak-15 is a standard limited-run injection-molded kit, with two sprues on which are found a total 30 parts. A True Details resin cockpit with additional resin parts for the intake, front section and rear section of the engine, as well as weighted main tires, is included, with two super-clear Falcon vacuform canopies, and a very nice decal sheet providing the necessary markings for the three aircraft detailed in the instructions, as well as numbers sufficient to do other aircraft if the modeler is so inclined. So far as quality is concerned, the surface detailing of the injection molded parts is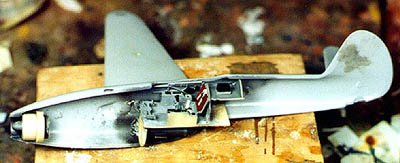 petitely-engraved, while the True Details parts live up to TD's reputation. It you think of this as an LTD kit with a better interior you will know what you are dealing with.
Construction
The instructions are easily followed. After painting and detailing the cockpit, I assembled it and set it aside. I then took the fuselage halves off their sprue and cleaned them up, sanding the central joint to thin the trailing edge of the vertical fin and be sure of a good fit. There are no locating pins in this kit, which is not a problem for anyone who has ever built a plastic kit. With the fuselage parts ready, I inserted the cockpit and engine parts, using cyanoacrylate glue to fasten them in place, then glued the fuselage halves together with Ambroid ProWeld. I used rubber bands to hold everything together while things set up as the interior provides a tight fit even pre-fitted and sanded.
I then assembled the wings and sanded their butt joints to provide proper dihedral, and did the same to the horizontal stabilizers. Once the fuselage had set up, I glued wings and stabilizers in position and put things aside to allow the joints to set. Once this was done, I puttied all joints with that good old standby, Bondo auto detailing putty, available at Pep Boys in large tubes for low prices, and far less liable to shrinking and cracking than any other modeling putty I have used. When this had dried overnight, I sanded all joints smooth and rescribed the petitely-engraved lines where necessary.
Painting
I knew at the outset I was going to do the flight demonstration team aircraft, since I love red airplanes (pun intended). I sprayed a light coat of Tamiya flat white overall as a base coat, did refilling of joints as necessary, re-sanded and re-shot the base coat. Once that was dry, I shot the airplane with Gunze-Sanyo H-86 "Red Madder" (whatever that means), a bright scarlet gloss red. After it dried thoroughly overnight, I shot three light coats of Future to give a high-gloss finish.
Decals
The decals went on easily and snugged right down with a bit of Micro-Sol. Once they were fully set and I had washed off the model to get rid of any solution remaining on the surface, I shot a final coat of Future.
Final Assembly
I painted the landing gear and inside of gear doors and gear wells with Model-Master non-buffing Aluminum (the gear wells before painting the rest of the model), painted the tires and gave them a light brushing of brown paint to simulate mud (Russian airfields were still mostly grass until the Fifties) and bring out the nice detail in the True Details wheels. After assembling the gear, I cut the beautifully-clear vacuformed canopy from its backing and attached it with white glue. The canopy is so clear, I decided to keep it closed, since there is no problem looking inside to see the cockpit detail and it keeps the sleekness of the airplane's form. I used spare gun barrels from an Me-410, rather than the kit-supplied items.
Overall Assessment
If you have yet to build a limited-run injection-molded kit, this simple model would be a good one to start with. The result is a good-looking airplane, and a worthy inclusion in any collection, particularly now that we are being given every version of Yak fighter made, thanks to ICM, Accurate Miniatures, and Eduard.
Now then, if they would just make the Yak-23...