Internet Modeler : Features : Aviation
RSS News Feed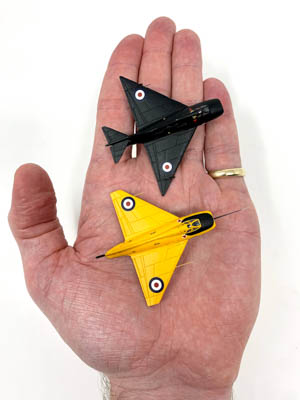 Yellow Peril and Black Widowmaker in 1/144
Overview
Boulton-Paul Aircraft Ltd. had a pretty short but fascinating lifespan which produced a number of novel designs. I recently built 144th.co.uk's exquisite kits of the company's final two aircraft – two tiny little delta testbeds, the P.111A (in yellow) and the evolution of this, the P.120 (in black).
The Aircraft
Sort of resembling a giant triangular catfish with that gaping mouth, they were designed as the smallest possible airframes into which you could cram the fairly powerful Rolls-Royce Nene (used in the Vampire, under license in the Grumman Panther and definitely not under license in the MiG-15). Both were used to evaluate different delta wing configurations at various speeds and would have a profound impact on Britain's understanding of delta wingforms.
The P.111 first flew in 1950 with test pilot "Ben" Gunn at the controls. Gunn was a Spitfire and then a Tempest pilot during the war and shot down the last V1 of the war over the South Downs so knew his onions and looked a tough cookie (to mix catering metaphors). Also - somewhat unusually for a test pilot from the 1950s - he lived to the ripe old age of 76. He wrote a memoir which I'm trying to track down.
Gunn described the P.111 as 'flying like a razor's edge' and 'touchy'. 1950s British understatement for completely and utterly lethal, I suspect. Part of the problem was the hydraulically-powered controls which gave very little feedback but were extremely sensitive. Some but not all of those problems were ironed out in the redesign that led to the P.111A, which first flew in 1953.
While it still remained a very challenging aircraft to fly, 'The Yellow Peril' was pretty fast for its day and flew on until 1958, after which it resided at Cranfield before going to the Midland Air Museum in Coventry.
The P.120 was developed in tandem but with a different tail configuration and a tweaked wing design, first flying in 1952. It had a short life, crashing three weeks after its first flight. Fortunately, Gunn managed to eject safely first (in the process gaining the dubious honour of becoming the first person to successfully eject from a delta wing aircraft). Unaffectionately, it was known as the Black Widowmaker.
The P.111's problem of control feedback was sort of resolved in the P.120, in which the controls were spring-loaded. It was a bit more docile but retained some unpredictable handling quirks that could not be ironed out. In preparation for the 1952 Farnborough Airshow this was repainted from a natural metal finish to this sharkish black and yellow livery, though it crashed and was destroyed before the airshow took place.
The Build
These are the 144th kits and they are little beauties. The two kits are clearly very similar and share most parts. The main difference is the tail assembly, wings and in a few minor details like the parachute housing on the P.111A.
They are easy to build and very enjoyable, nicely detailed little kits which clearly Brian of 144th put a lot of passion and thought into. Resin and removing the parts from the casting blocks takes a bit of time and care, but the overall fit is really good. These were 144th's very first kits, released in 2016 and came with solid but separate canopies. Brian tells me that they hope to source thin resin or vacform canopies for these in future.
So I did do some work to refine the kit. I smash moulded the canopies (a bit of a menace to blend in but better than not doing it at all, I think). I thinned the main gear doors and replaced some of the other doors with plasticard.
The main probe on the Yellow Peril was a bit of a challenge. I started out trying to stretch sprue in such a way that I got the right taper. But this proved really tricky (and fragile). So I used a Hawker Hunter Master 1:72 probe which was about the right dimensions. - ish. All others are wire or sprue.
Of the two, the P.111A was a slightly more challenging build than the P.120, largely because of the yellow finish. Yellow is a tricky shade to apply anyway, and also shows up all sorts of flaws far more readily than the silky black finish of the P.120. I hosed this down with SMS lacquers which have the best coverage of any yellow paint I have yet come across.
I did absolutely no washes or weathering on either as the panel lines are very pronounced anyway.
Decals are truly outstanding and worked really nicely. A joy to do. I think they are printed by either Cartograf or Fantasy Printshop and are very sharp and vivid – and comprehensive. Lots of stencils and even a detailed wheel hub. Not sure I'd apply the stencilling if doing it again - it's a lot more pronounced than on the real deal. But oh well.
Conclusion
A quick couple of builds that I just took an appallingly long time over for no particular reason (summoning the courage to do the canopies was the main thing).
And that's it. Pretty small really.