Internet Modeler : Columns : Editorials
RSS News Feed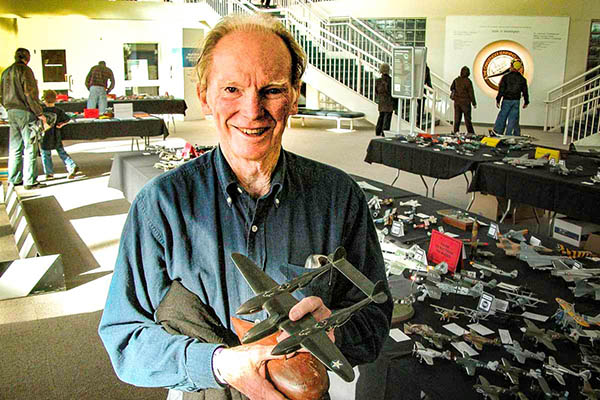 John Alcorn 1932 – 2017
John was born on February 29, 1932 and passed away peacefully on August 27, 2017.  In his mind he was only 21 real years old!
John was not a complicated person, his interests included his artistic renderings of the Geoffrey Chaucer and the Canterbury Tales and his pen and pencil sketches of architectural scenes from around the world, fine music, DVR recordings of favorite movies, fine wines and being at home with his wife Francie (she pre-deceased him) and his many friends.
He was a proud graduate of Rice University in the NROTC program and briefly served aboard a U.S. Navy destroyer, the USS Craig (where he indicated he had to carry a bucket around as he was usually sea sick and was known to fill it often).
After the 1992 IPMS-USA Convention in Seattle, he and Francie had acquired a taste for the Pacific Northwest, where his two sons Stewart and Pete lived. They moved here in 1996.
His professional life was as a mechanical engineer where he worked primarily for the U.S. Department of Energy at the National Accelerator Laboratory (SLAC) at Stanford University.  It was there that he met and became life-long friends with George Lee. He also worked for a time in both La Jolla and Williamsburg, Virginia.
For those of who were privileged to share some of his life, we primarily knew him through his modeling efforts.  His early accomplishments included building solid models from various woods leading him to his building scale model kits.  With his keen interest in both the mechanical engineering and model building, his interest was quickly drawn to the aspect of modeling that he was largely known for, scratch building.
To say that John Alcorn was a truly gifted model builder is an understatement.  He authored and co-authored two books on scratch building (The Master SCRATCH BUILDERS, 1999; Scratch Built!, 1993, both books published by Schiffer Military/Aviation History and are both currently available from Amazon and other book sellers).
In his book, The Master Scratch Builders, he enumerates and describes most, if not all the skills and techniques required to successfully master the art of scratch building.  Though it is a complicated and arduous task, it is quickly becomes clear that it is also truly an art.  Local members who have not read Jim Schubert's excellent article, can read the September, 2000, article in which he describes John Alcorn's completed Vought O3U-3 Corsair, in which he took over the task of completing George Lee's scratch built effort.
John's greatest gift was his ability to guide other builders in our efforts.  He took immense pride in his craft and art.  He left all of us richer in our knowing him and deeply saddened by his passing.