Internet Modeler : Columns : Industry News
RSS News Feed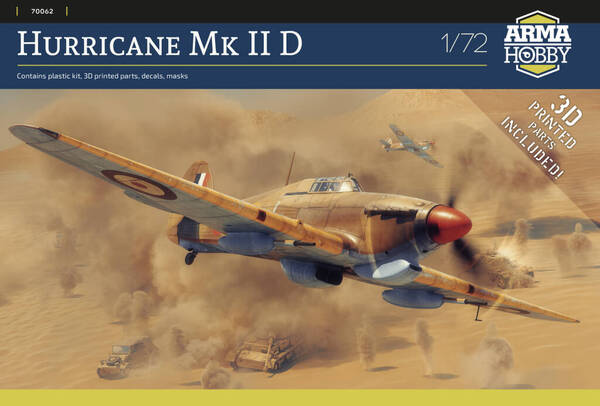 Next Announcement from Arma Hobby
Pre-orders have started on the next release from Arma Hobby, the 1/72 Hurricane Mk.IID. This kit will be released this coming January, 2023.
This time Arma Hobby has taken their Hurricane Mk.IIC kit and added 3D printed parts to not only include the underwing cannons but also the exhausts, mirror and templates for scribing inspection panels on the wings.
Arma Hobby has done their research and includes markings for this specific version of the Mk.IID without the added armor (later in its development the IID was given the same armor that was added to the MK.IV). There are decals for five aircraft:
BP158/JV-I, No. 6 Squadron RAF, airfields: Shandur and L.G. 89, Egypt, autumn 1942
KW704/R "Christine", No. 6 Squadron RAF, Gabes, Tunisia, April 1943. Pilot F/O A.H.M. Clarke2
HW721/BR-J, No. 184 Squadron RAF, Colerne, England, spring 1943. Pilot S/Ldr Jack Rose.  Aeroplane funded by Woolwich Aircraft Fund


KX229/H "Cheeta", No. 20 Squadron RAF, Nidania, Burma, February 1944



HW874/X, No. 20 Squadron RAF, Monywa, Burma, spring 1945

Pre-order now so you won't be dissapointed later.