Internet Modeler : Columns : Now and Then
RSS News Feed
Christmas Presents: Past and Present
Along about this time of year back Then, all I could think about was what I'd get for Christmas. I'd have had nothing to build. Six months would have passed since I'd assembled everything I'd gotten for my birthday. And after Thanksgiving, I couldn't afford even one 39¢ Hawk or Airfix kit: I had two parents and three siblings to buy Christmas presents for!
Still, not having anything to build was tempered by other enjoyable holiday preparations. Early on, Mother taught me how to wrap presents, and I'd help her wrap for other family members. (She and Father took great care to conceal anything bought for me, though. Only once did they slip up: exposing for a moment a kit box for a 'Korean War Jet Fighter'. This drove me nuts for a month till Christmas morning, as I wondered if it would be a Sabre or a MiG...)
Also, the luxury of having a stay-at-home mom included homemade Christmas cookies, and I helped here, also. Not that I did much selecting or measuring of ingredients, but I could mix on demand, then lick off the spoons and beaters before putting them into dishwater. Also, I coated stuffed dates and shortbread nut balls with sugar, applied sprinkles to cookie-gun extrusions, and colorfully frosted flat cookie-cutter Santas, reindeer, and Christmas trees. That didn't require great artistic talent, but recall I would've had precious little practice painting my model airplanes. Back Then, all I ever did was put a bit of brown on the pilot's suit, silver on landing gear and other fittings, and black for wheels, guns, exhausts, prop blades, and anti-glare panels. The most 'artistic' decorations were maybe painting wing tips and tail feathers with red or orange.
But if only I could hold out, following these diversions, Christmas would produce the yearly high point of my model kit acquisitions. Between parents, Santa, (yes, I did understand the relationship) and grandparents, I might look forward to acquiring as many as half a dozen kits. There's a whole WEEK of solid building right there!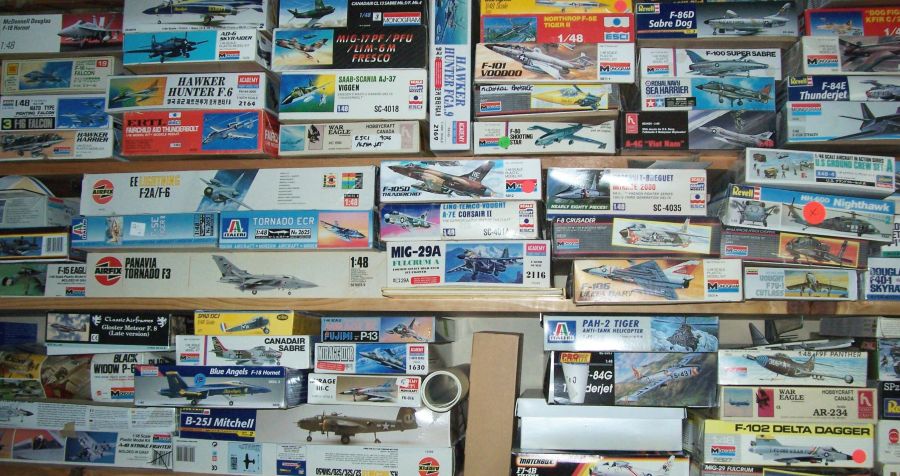 Now, at Christmastime, at most I can expect one kit, and that would be from Ken Murphy, who I met way back Then and again shares this hobby, since we emerged from the Dark Ages nine years ago. He knows my kit stash, as I know his. He never misses an opportunity to put in a dig about how ridiculously large my collection is. (Nearly 400, while his is "only" about half.) "Let's see. At a build rate of roughly one per month, you're going to run your kit stash out along about April of 2042..." Nevertheless, he adds to it! He occasionally comes up with something I'd like but somehow hadn't acquired, like the year before last when he gave me a Chinese kit of the Chinese Nancheng A-5 attack jet. There's no possibility that anyone less familiar with the current state of my hobby could possibly find anything appropriate, and I've told my wife to not even try. She provides other nice things I want...
As Then, I still have much to do with Christmas preparations, and model building pretty much grinds to a halt. I have those same three siblings and two parents, and though we no longer exchange the great volume of presents we did back Then, whatever 'slack' there might have been is eaten up on new relations. I have two nephews and two nieces, and I found a way to accumulate a whole bunch of other relatives: just "marry well"! Since I married Sandra, her three daughters have also married and now I find myself with eight grandchildren. That ought to keep Grandpa Scott busy for a few decades!
So Now, as back Then, I'm not doing any building right now. What's different is I can't bemoan having nothing to build. My stash sits neglected but is still pretty impressive. From it, a remarkably large number have already been started.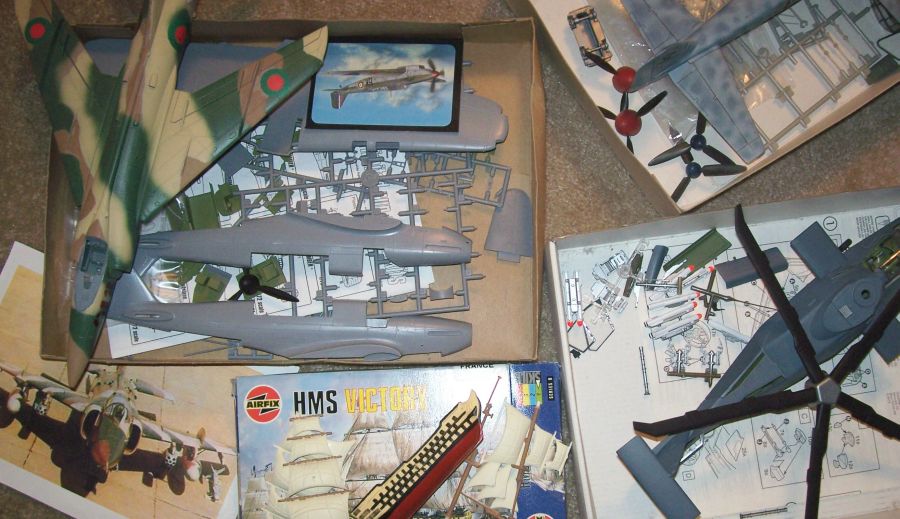 Even if I didn't have those, I'd still have a kit Now that's going to have to wait a bit. It's a 'gift', but certainly not from a Magi. Matt Bittner of this Internet publication gave it to me in his quest for another kit review.
Back Then, the best kit I was ever got for Christmas was a one-quarter-inch scale Hawk Lockheed Starfighter, the coolest jet fighter that EVER was. Now I have to build what some people, particularly a certain English expatriate I know, and other Anglophiles, assert is the coolest: the English Electric Lightning. The Hawk kit back Then was already finished with "Authentic Chrome Plating". This Eduard kit cries out for Alclad: more work that I can only hope turns out well.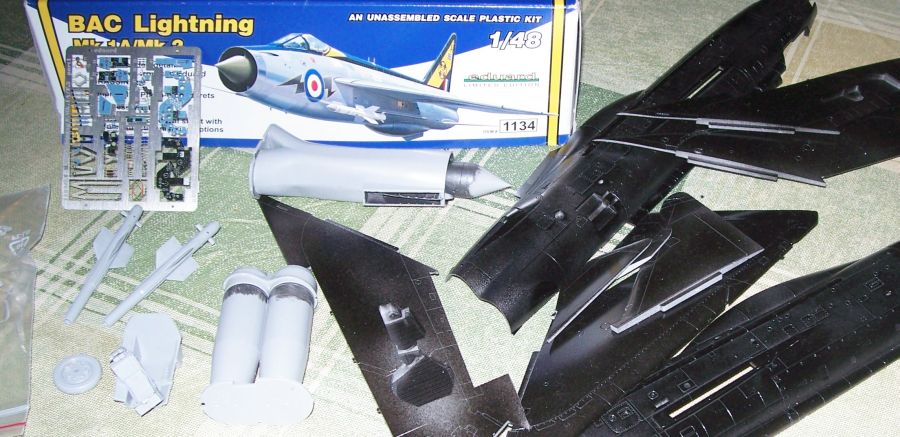 Each in our way are trying to get on Santa's 'Nice' list. Surely you readers are. (You might want to carefully consider what Santa must think about "giving" kits to satisfy ulterior motives... putting on airs claiming your smaller kit stash somehow makes you more frugally virtuous than your friends... or even refusing to admit the Starfighter's ordained place in aviation history as the coolest jet fighter that EVER was... On the other hand, writers whose only calling is to Higher Truth are automatically marked 'Nice'...) If doing Santa's Helper work is keeping you from building at the moment, look forward to the day after Epiphany, when the Season is over and we can resume our philosophy of
Build what you want, the way you want to, and above all have fun!