Internet Modeler : Columns : Now and Then
RSS News Feed
It's All The Same... Except For What's Different
Modeling Now and Then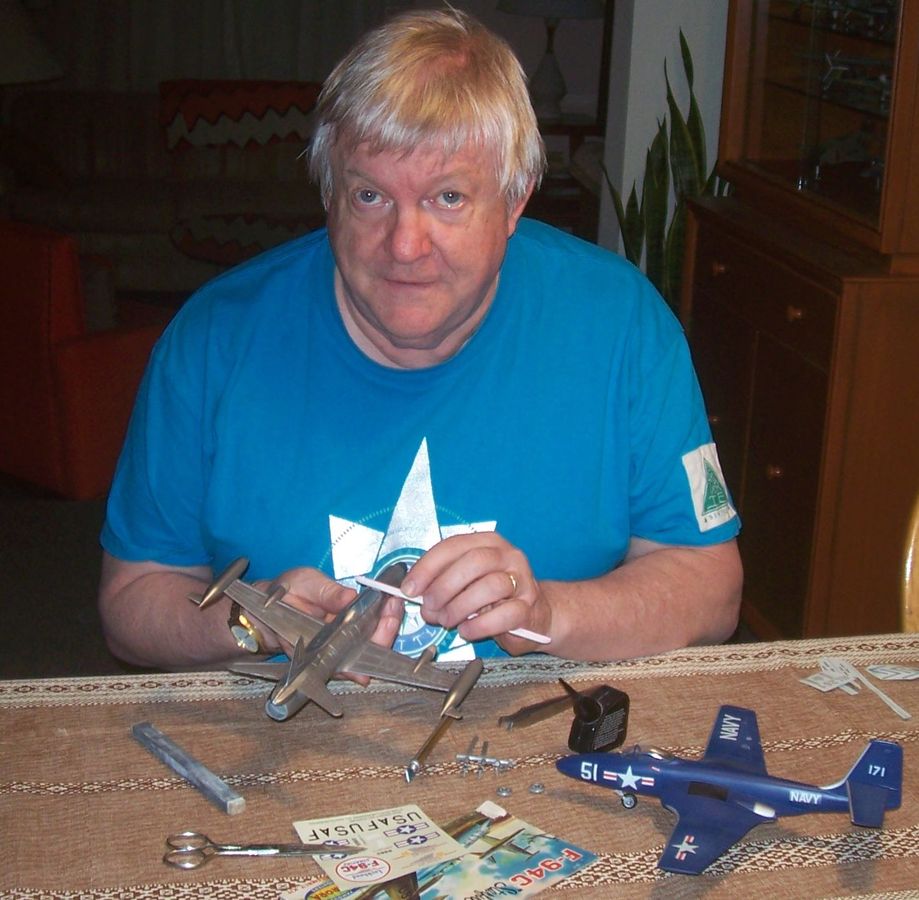 It's All The Same... Except For What's Different
I was riding my bicycle home from work a while back.  I pay close attention to every movement on the road, to survive.  I never worry about being blown up by Al-Qaida terrorists—having never been near any—but I do fear what I encounter all the time:  large SUVs careening around with their dear fellow American drivers yakking away on cell phones.  Only on quiet stretches of road, without traffic, can I think about the Meaning Of Life.  That part of bicycling clears my head.
A thought came: how different my life is than before! Immediately followed by: no, it isn't!
When I was modeling way back Then, I would bicycle home from Meridian Junior High School, thinking through my assigned household chores and homework, before I'd have time to build models.
Now I was bicycling home from work, mentally working out the various Happy Homeowner chores and bill-paying I'd have to do, before I'd have time to build models.
"If you remember the 60s, you weren't there."  This is variously attributed, often to Robin Williams or Grace Slick.  If it was Ms. Slick, her autobiography Somebody to Love? makes it all too clear why she wouldn't be able to "remember the 60s".
I never played with weed, mushrooms, powders, or pills.  I can't say it's because  my morals and ethics are so pure.  It's really just cowardice.  I feared then—and still fear—that the price for those substances is too high, and not just in dollars.
In staying away from all those things, money and health were preserved- and my memory.  They weren't the "Psychedelic 60s" for me.  Young people in the media told the rest of us not to place reliance on those past their third decade, so as to avoid massive journeys.  Instead, we were to attend occurrences that were slotted, remote, and/or invisible, and needed to learn where each was located, because we wanted to go low and excavate.  None of this made much sense, but then, no one had to tell me I wasn't part of the comely crowd.  Maybe my vocabulary's a little off...  what with my bike riding, attending school, and modeling, I believe I was every bit as nerdly Then as Now.
Back to monetary considerations, such as not throwing way precious dollars in unhealthy diversions like drugs, instead of spending it on essentials like glue, paint, and kits.   Way back Then, my income was modest.  The first supplement to my allowance came from babysitting, then a paper route.  Finally, at age 16 I got a job at Safeway working as a 'box boy'.  That's the term we used: at the time, all box boys were male.  The last summer I worked there as a night stocker.  Big bucks, by the standards of the day; but already most of it was going to Green River Community College expenses and a half-share (with my father) in a Rambler American sedan.  Then it was off to the U.W., and for all practical purposes, I was completely run out of money and time.  Settling in at McMahon Hall I built one last model, an AMT 1/72nd scale Ju-88A4 bomber, and then I entered my Dark Ages.
Eventually I graduated, with ghastly timing.  I entered the job market about the time the billboards said "Will the Last Person to Leave Seattle Please Turn Off the Lights?"  Between the economy, a disastrous first marriage, and paying off my student loan, there was no money for modeling.  Worse: I'd lost time and motivation, forgetting how much modeling meant; how much value it added to my life.

Two builds 40 years apart...WAY too long!
Fast-forward to Now:  observe that no matter how high income goes, relative to the past, expenses rise to meet it.  Even discounting large sudden drops in income (as 'hiccups' in the economy result in loss of particular jobs) being a typical suburban American Happy Homeowner means paying lots of loans, taxes, repairs, utility services, and all the other expenses.  I suspect this is not news to most of you readers...
So my income was low back Then, with little left to spend on modeling, and Now income is higher but matched by expenses, leaving little to spend on modeling.  Much the same?
Not quite.  I had no kit stash back Then; I do Now.  It's ridiculously large, around 500 kits… I don't even know the exact number!  But from talking to my fellow NorthWest Scale Modelers and Seattle IPMS members, and participating in that major study, the Jim Schubert Kit Stash Survey/Compilation, it seems my stash is only of respectable size, not at all remarkable.  Let me apply economic analysis, as I learned to do in so many classes at the U.W:  people tend to find ways to spend money on what they want.  What a revelation!
Only a modest stash, by my club's standards!
Beyond the existence of kit stashes, there's a bigger change from Then.  My judgment is better Now.  I've been through a lot of ups and downs, and having emerged from my own Dark Ages fifteen years ago (it should have been sooner) I won't stop modeling again.  Certainly not for financial reasons: outlays for our hobby may sometimes seem excessive or frivolous... needing circumspection around our loved ones, and a source of merriment among ourselves.  But modeling is a good value; a worthwhile use of our time and treasure. Now we're serenely confident of our principle:
Build What You Want, the Way You Want To...and Above All, Have Fun!