Internet Modeler : Columns : Now and Then
RSS News Feed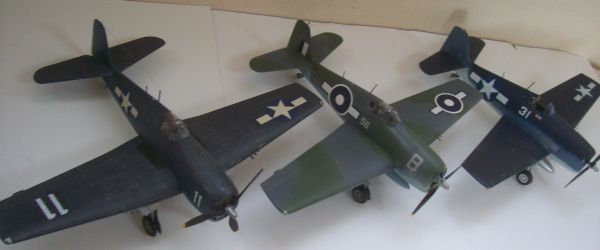 Old Kits Must Be Disposed of?
Virtual meetings are the only kind our model club members been able to have with each other, till quite recently. We're still having such, in-between now newly-rescheduled monthly get-togethers.
In the course of one such virtual get-together, the matter of kit disposal came up. A very large collection of old models came to our IPMS Chapter President from the widow of a modeler we didn't know. The conglomeration was mostly aircraft models in 1/72 scale: perhaps a grand and a half boxes, some of which had more than one set of sprues inside. A handful may have some value to kit collectors, but the vast majority were from the common run-of-the-mill period, when kits were mostly intended for young boys to put together. That used to be an extremely common hobby...before the advent of video games. The estate collection had no desirable, expensive modern kits at all. The discussion revolved around whether it'll be possible to even give away so many old kits, recognizing it would be quite impossible to sell them. The ugly word 'landfill' came up more than once...
Newer kits are orders of magnitude better than the old ones: dimensionally more accurate, with finer detail - augmented by photoetch and resin parts far tinier than can be produced even by advances in plastic injection-molding technology. Parts fit is better, sometimes so superbly done with the help of CAD/CAM that even a thin airbrushed trifle of paint prevents parts from fitting together as they ought. Panel lines are now always recessed. Often, equipment is detailed for use in bays normally covered by access panels or engine cowlings. Representational decals are gone, replaced with well-researched, highly detailed marking sets for particular aircraft in particular times and places, in particular service units, and sometimes as flown by particular pilots! There may well be not one, but several such decal sets in a modern kit. Unimaginable back Then.
All well and good...and priced accordingly. Back Then, commonly-scaled kits had to sell for a dollar or two, but now we Aging Baby Boomers have enough liquid assets - or at least credit cards not yet maxed out - to enable purchases of multitudes of $30-$100 'gems'.
While all this was discussed, a participant referred to the old kits - specifying Airfix and Monogram by name - as being 'shoddy'. Actually, he used a different word, implying that the old kits were waste material that were best disposed of immediately, with nose pinched tightly shut, washing hands thoroughly afterwards. But we'll use the less extreme word 'shoddy' here...
It's certainly true that some of the older kits had actual conspicuous flaws, that at least would frustrate young builders back Then...when glues were marginal, at best, with few of the tools we take for granted now, and perhaps no hint putty and filler might be available. But were they all 'shoddy'?
I've built a bunch, and have a large number of unbuilts in my stash. As a whole, in general, I find the old kits quite good, and certainly easily buildable. Fit is nearly always just fine, needing little or no filler, even with the far higher build standards and expectations I have Now. Quality of the details molded-in are entirely adequate, given the skills of its intended builders and the financial constraints of mass-marketing back Then. Pictured are some of my builds in the Now, from old kits, and while all have all the limitations I describe a couple of paragraphs back, once built and put on the table top, they do a reasonable job of representing the originals. OK: I admit to being a 'hack' builder, entirely without the ambition to win First Place trophies in highly-contested categories at major IPMS contests. But sometimes I pull an old kit from my stash, and build it just to have a good time...which I do!
Some clarification is in order here. During that same virtual meeting, following the comment about old 'shoddy' kits, I ventured to observe that many of us - perhaps most - built plastic model kits for quiet relaxation and satisfaction. Others - and I don't know what proportion of us we're considering - actually have the 'hobby' of trying to win awards in contests. Those two motivations are not at all the same thing, do not entail the same effort and expense. The former requires only devoting such time as the builder wants. The latter requires serious devotion and determination to triumph in the eyes of other modelers and contest judges.
I'm not criticizing the latter approach here. To the contrary, I can admire the really good, dedication perfectionist modelers' work at contests...they nudge me towards improving my own modeling skills. That's a good thing. What would not be a good thing for me: to lose that satisfaction and relaxation; the joy of just building for its own sake. I know where I'm comfortable in this hobby, and intend to stay there. Others may do as they feel compelled...but I'm not obliged to follow their lead.
Worth repeating is that slogan I inherited from the former writer of this column at Internet Modeler:
Build What You Want, The Way You Want To, And Above All, Have Fun!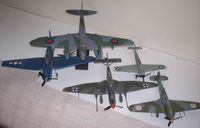 Ancient Monogram TBF Avenger, DeHavilland Mosquito, Messerschmitt Bf-109E, Junkers 'Stuka' JU-87G, Hawker Hurricane Mk.II. No putty or filler; fit on all 3 was fine. Maybe not contest winners, but no 'shoddy' qualities on any of these, either. See text for why modern kits are better... but old ones are still OK and fun to build.