Internet Modeler : Columns : Now and Then
RSS News Feed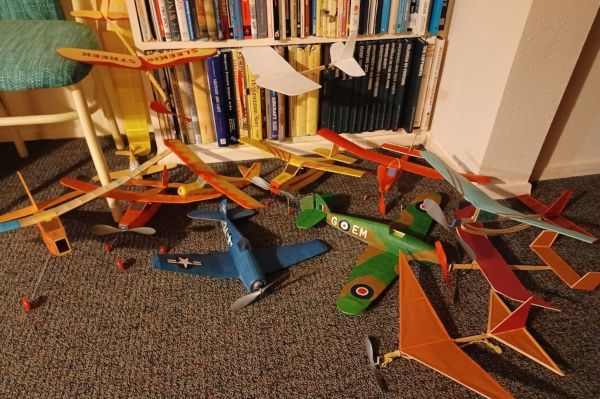 Some Things (not all!) Have Gotten Better
X-Acto's #1 knife, fitted with a #11 straight-taper blade is, of course, our 'Weapon Of Choice': I just poked myself with it. Not for the first time...nor is this accident 'news' to any of you modeling readers...Making a virtue of necessity, I'm letting the freshly-bandaged little slice knit as I write this article. (Wait! Don't I need that same poked fingertip to use on my keyboard? We'll come back to that.)
Meanwhile, it resurrects an ancient memory. When he realized my modeling was getting serious, Father let me use the #1 knife from his own classic X-Acto knife set: 3 different sizes, assortment of blades, all held in the classic wooden storage box. (As I write this, a nearly identical set is still readily available, the only major difference being that the case is plastic instead of wooden.) His set was seldom used, brought out only for the odd utility-type job around the house.
Bear with me while I explain that at the advanced age of 11, I was sometimes left to babysit my two younger brothers, on short parental trips into the Outside World. Parents among you will sympathize with their giving me such vast authority, at least for very brief times, to avoid the logistical nightmare of trying to get three boys caught, organized, jacketed, and safely installed in the car for an errand. Anyway, Chris, five years younger than me, came quietly up while I was concentrating on painting my Monogram B-58 Hustler ('With Authentic Weapons Pod Drop!'). He picked up Dad's knife, examined it carefully, and cut himself with it.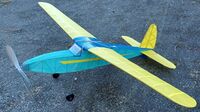 I got in trouble when our parents got home, but after they understood the situation accurately, absolved me of blame, and let me get on modeling with Dad's knife. But we agreed that a closer eye would be kept on both brothers: exceptional vigilance to keep that sharp cutlery from their clueless handling. Whatever the dominant factor in his mind: the painful prick, the Band-Aid I put on him, the brouhaha when Mom and Dad got home... Chris didn't repeat the mistake of playing with that particular 'toy' again.
Since that incident at 11, my tool collection's gotten steadily larger, with more mayhem potential, but so has my degree of care. That #1 X-Acto knife, however, being wielded so often, still manages to prick me. I'm resigned to the occasional interruption of my work for an "Ow!", a quick cold water finger rinse, and application of a small bandage...which I make a point of always keeping in quantity in my medicine cabinet.
Back to my starting this article: don't I still need that fingertip for poking the keyboard? Actually, not so much nowadays. I've been writing articles for this Website and for my modeling clubs' newsletters for some time not by touch-typing, but by yakking. I CAN touch-type, but have never been very fast, and my thoughts run so much faster than my fingers, reports and papers in college were discouragingly time-consuming. But then, with the advent of IBM's 'Via Voice' software for personal computers, and its successor, Dragon Naturally Speaking, my ability to get thoughts down on distributable media really took off. I still have to edit and correct my deathless prose, especially looking out for homophones that voice-recognition software can't possibly always select from accurately: "I want to paint two plane models not too plain..."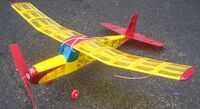 Right now I'm using my enhanced volubility to comment on some other things that are way better Now than Way Back When. Specifically, trying to get stick-and-tissue rubber-powered Free Flight models together,covered, and finished.
Way Back Then, I tried build with kit pieces of 'die-mashed', or just cut from printed sheets, balsa weighing 7 to 11 pounds per cubic foot. (That density is perfect for WWII-era ship-borne balsa life-rafts, but can't be made to take wing...but how would I have known that? – I knew NO other modelers!)
Those I stuck together, after a fashion, with that awful so-called 'model airplane cement'. Then I'd try to stick the low-quality kit tissue to the overweight balsa structure with 'model airplane dope', then after the tissue was water shrunk,stabilize it with more of the same. The glue was expensive, flammable, odoriferous, poisonous, and stainer of clothing and every surface it came in contact with – according to Mother. Let's not forget the sensational reporting of kids holding its fumes in plastic bags over their heads to try to get 'high'. Many got severely sick that way; some died. Model airplane dope had much the same ghastly physical and chemical qualities.
Decades ago, my total failure with those old so-called 'flying' models amounted to painstakingly getting one together, more or less, then a test flight attempted, by winding the wretched rubber band from the kit, with my finger, against the grade-triple-Z prop...but again, how was I to know this was next-to-hopeless? The 'best' flight ever was but a 15-foot downhill careen from my hand to the ground in the backyard, where those overweight tissue-covered balsa parts,amalgamated with those dreadful model chemicals, smashed into irreparable wreckage.
That's why I fell back to only doing plastic static-display models for much of the intervening years. Later, I did learn to build larger and heavier flying sport planes... but they were better engineered, made of superior materials, were more reliably powered, with glow engines... and radio controlled... no more random unguided crashes!
Now, in my Advanced Age, I'm returning to those simple stick-and-tissue rubber-powered Free Flight models – but this time, making them from decent balsa weighing 7 to 11 pounds per square foot. Some parts I cut myself with that same #1 knife, others are from modern kits, elegantly, neatly – even perfectly! – laser-cut. I glue these parts together with yellow carpenter's glue, which is economical, simple to apply, non-toxic, nonflammable, cleans up with a little soap and water while wet, yet dries into joints stronger than the wood itself.
The tissue I'm using is on par with what used to be exceedingly expensive so-called 'Japanese tissue'. Now, even common gift-wrap tissue is much like it. I apply it with a glue stick, the permanent kind. Freshly applied, Elmer's or Avery's glue has enough 'give' that the tissue can be gently tugged and smoothed down into place without wrinkles. After brief drying, the tissue can be safely water-shrunk. The resulting smooth surface is then finished, stabilized, and strengthened with water-soluble clear acrylic paint, or lightly brushed (or airbrushed) with Johnson & Johnson 'Pledge' (a.k.a. 'Future') floor polish; cheap, waterproof when dry; seals great; looks fabulous!
Decent modern rubber is then stretched and wound with a 5-to-1 (or more) mechanical winder, and the substantial power thereby stored is released to drive a fine, modern, well-engineered plastic prop.
The results, infinitely superior to those I could get Way Back When, are largely due to this improvement in materials, adhesives, and finishes. I do like to think my skill and patience are also much better than they were...but must concede my ability to poke myself with that same #1 knife persists: more rarely, but it still occurs. That doesn't prevent me from urging all of you with memories of similar horrible experiences, balsa modeling Way Back Then, to try again! Some things HAVE gotten better. You may yet find making and flying balsa models fit into our philosophy of Build What You Want, The Way You Want To, And Above All Have Fun!