Internet Modeler : Features : Figures
RSS News Feed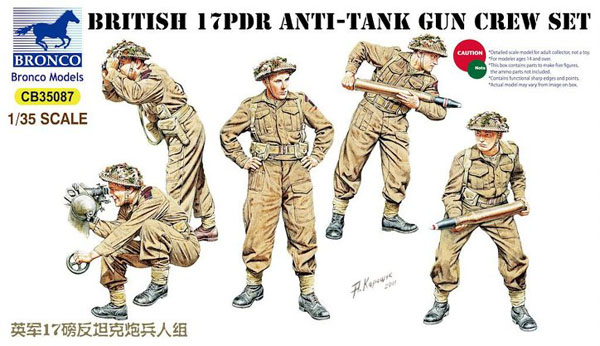 Bronco 1/35 Pheasant" 17/25 pounder Anti-tank gun crew set (Tunisia, Sicily, Italy)
Kit# CB 35135
MSRP $20.00 USD
This is a five figure set of British anti-tank gunners in standard tropical/sub-tropical/desert attire.  Three are in shorts, two in long pants.  All have sleeves rolled except the officer figure.  Set consists of gun commander, gunner (seated on gun), two loaders, and a figure with hands on hips (sergeant?).  They are designed to accompany Bronco's kit# CB 35071 "Pheasant Anti-Tank Gun, and ammunition set AB 3535.
Molded in medium grey styrene, 4 figures are on one sprue, while one loader is on its own, smaller one.  All figures exhibit very nice surface detail, with no flash, fine parting lines, and no sink marks or surface crazing.  Body parts are designed and molded to give quite positive positioning, with arms separated at the sleeve seam.  Open collared shirts mate to heads with long neck fronts to fill opening.  Helmet straps are molded onto the faces.  There is one option for headgear; the officer can have a helmet, or officer's cap.  No illustration of rank marking is included; this would have been handy for builders with limited uniform references.  Paint colors called out for Gunze Sangyo, Hobby Color, Humbrol, and Tamiya.  This is shown on the box back, along with assembly diagrams.
This kit built up into five very nice figures.  Great diorama possibilities exist using the gun and ammo sets shown on the box side.  No filler was used on any of the figures, painting consists of one base color, one wash, and a light drybrushing, so what you see is what you get.  Set is well recommended.  My sincere thanks to Stevens International for supplying this kit for review, and to Internet Modeler for allowing me to build and review it.  Happy modeling.