Internet Modeler : Features : Figures
RSS News Feed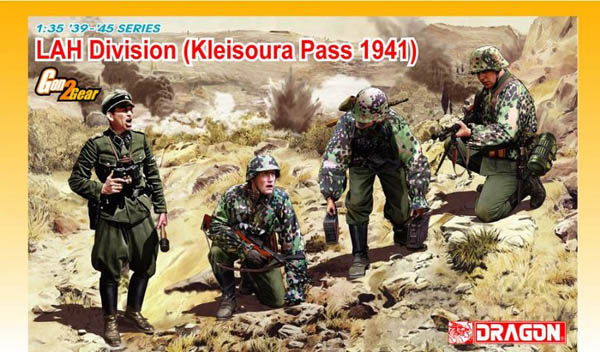 Dragon 1/35 "LAH Division Kleisoura Pass 1941"
Overview
This is a 4 figure set of Leibstandarte Adolph Hitler 1st SS Division soldiers in the Balkans campaign of 1941, specifically during the fighting to secure the Kleisoura Pass into Greece.  One figure purports to be Kurt Meyer, in a pose from a well publicized photo exhorting his men forward.  One figure is a section leader, followed by a 2-man machine gun team.  As is typical for SS soldiers of this time, they are armed with "leftovers" or second line weapons.  The section leader carriers a variant of the Bergmann sub-machine gun, and the MG team carries the Czech-made equivalent of the British Bren gun.  The Kurt Meyer figure is dressed in tunic and officer's riding breeches, the others in trousers and early pattern camouflaged smocks with elasticized waist and cuffs, and matching helmet covers.  A full sprue of Gen-2 gear is included, as well as a separate sprue with the unique weapons.
The Figures

All 4 figures went together flawlessly; no filler or alterations were needed to get a good, tight fit.  The arms of the machine gunner were glued with slower curing liquid cement to allow positioning adjustments to properly hold his weapon.  Period photos and contemporary references were used to replicate (to the best of my ability) the camouflage patterns on the smocks and helmet covers.  Two were painted wearing the first pattern "plane tree" smocks, while the ammunition carrier wears the first pattern "palm tree" pattern, my personal favorite, but a bear to paint.  I managed to break the binoculars on the Meyer figure after they were glued on, requiring me to grind out the portion still in his hand, resulting in a less than perfect fit of the replacement.
Overall, this reviewer is quite pleased with this figure set.  The three troopers form a ready-made vignette, and are so posed.  The Meyer figure will be more effective presented alone.  Uniform details are very nicely rendered, as is the choice of period weaponry.  The facial features could be a bit more crisply rendered; Dragon has produced better faces in past issues. The addition of the Gen-2 equipment is always a welcome accessory, lending plentiful extras for the spares box.
Conclusion
I would give this kit a "Well Recommended" rating.  As always, my sincere thanks go out to Dragon USA for supplying this review kit.  Happy modeling!