Internet Modeler : Features : Figures
RSS News Feed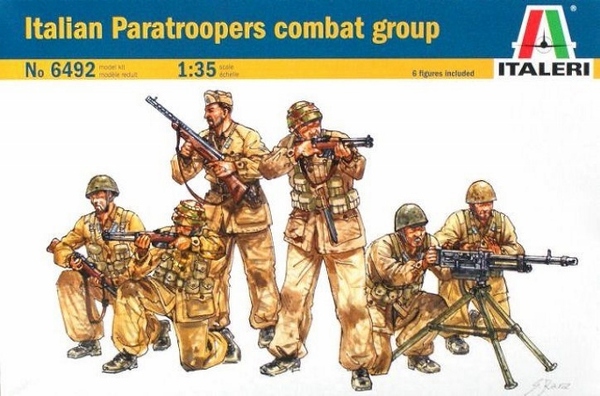 Italeri 1/35 Italian Paratroopers
Kit # 6492
MSRP:  $24.00 USD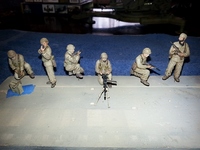 This kit consists of 6 figures, plus personal gear and weapons, contained on one sprue of medium grey styrene.  There are many ejector lugs to remove, but this does prevent the pins from marring the surfaces of the figures.  Very little flash is encountered, with no shrinkage marks or surface flaws.  Paint codes are given for Italieri acrylics.
The posing is very rigid, and in my opinion, very unimaginative.  Surface detail is soft, and seams in clothing are much exaggerated.  The feet on kneeling figures seem too sqyare, and over-bent.  The figures all scale out at about 5"9", but seem bulky.  Two of the figures are common to the previously released kit #6490, Cannone da 47/32.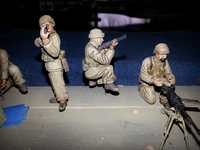 Assembly posed no real issues.  The two standing figures have a mold seam down the middle of their faces, as their heads are turned 90 degrees.  The arm and leg joints fit fairly tightly, as they are flat, requiring only minor sanding. The figures all have "mitten" hands, not curved enough to grip anything, and with little finger detail.  Only one ammunition strip is included, so if the loader is picking it up, there is none for the machine gun.  I cut a resin strip in half to remedy this.  The Carcano carbines are unique, but again suffer from lack of detail.  They resemble tube-feed, bolt action rifles, with a superfluous clip magazine.  The "tube" is actually a folding bayonet, but does not resemble one.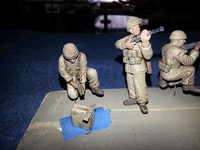 To this reviewer, these figures seem like over-priced grocery store "plastic army men, 50 to a bag".  Italieri has produced some excellently detailed kits of military vehicles; these figures are simply not up to that standard.   Perhaps they are being out-sourced to another company, or sculptor, but they are not on a par with other injection molded figures available today.  Not well recommended, except for their play value.
My sincere thanks to Stevens International for providing this review sample.  Please, Italieri, step up your game.