Internet Modeler : Features : Figures
RSS News Feed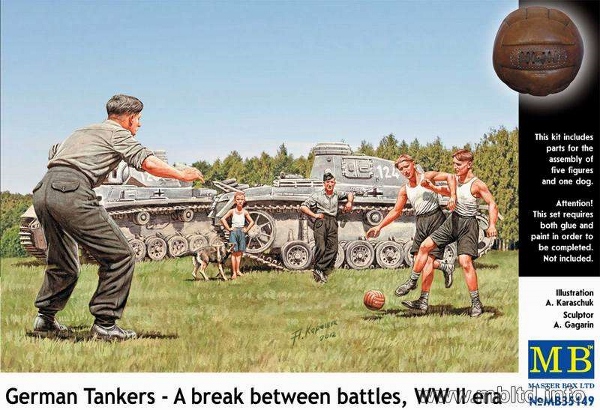 Master Box 1/35 German Tankers-A break between battles, WW II era
Kit# 35149
MSRP:  $19.95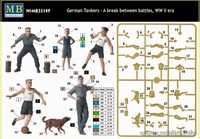 This kit consists of 33 parts on one sprue, molded in medium tan styrene, and builds into 5 figures, plus 1 dog, 2 log sections (goal), and 1 soccer ball.  Two figures are in shorts and strap t-shirts, tussling for the ball, one man acting as goalie in shirt and trousers, one observer leaning and smoking his pipe, and a skinny local youth watching with his dog.   Parts for each figure are grouped together on the sprue.  Assembly and painting directions are shown in color on the back of the box.  Paint codes are given for Vallejo and Life Color only.  No decals are provided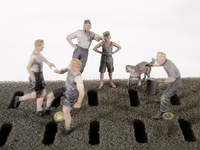 A little extra care in finishing is needed for the two players, as their head and arm joints are not covered by clothing.  Due to careful molding, this is not a problem, as quick a sanding  after assembly took care of any visible joint.  The poses of the players are well animated, and if posed a little off-balance, would look even better.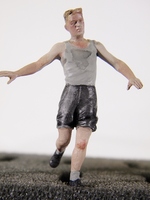 After assembly, I painted the fatigue uniforms in appropriate panzer corps colors, along with the shorts and T's as seen in several reference works.  The youth's clothing colors are entirely up to the builder's whim, as well as the dog's coloration.  On the players, I tried to show a "farmer's tan", with their legs and upper arms much lighter than lower arms and necks, as these opportunities for sport may not have come very often.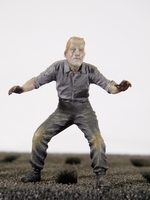 I found this set a welcome change of pace from strictly "duty" oriented figures, and they would make an interesting addition to any "at-rest" diorama or scene.  The set is also offered at an attractive price.  I give it a "Well Recommended" and am glad to have had the chance to build and review this set.  Many thanks to Stevens International for supplying this review sample.  Keep on building.