Internet Modeler : Features : Figures
RSS News Feed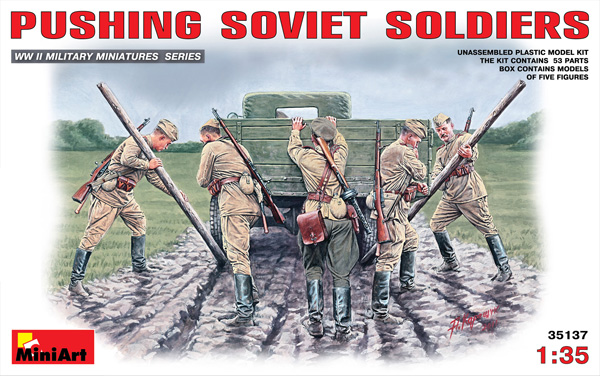 MiniArt 1/35 "Pushing Soviet Soldiers"
Overview
This is a five figure set of Soviet soldiers pushing a stuck vehicle.  From their posing, and the box art, it would be something relatively tall, such as a cargo truck, etc.  Three figures are pushing directly against the vehicle; the other two are trying to pry it forward with slender logs.  Four are kitted out with either fatigue caps or helmets and rifles; the fifth wears an officer's hat and is armed with a PPSH sub-machinegun and a pistol.  All have at least a somewhat straining expression, and all are leaning into their work.  Parts call-out and color painting guide are printed on the box back, with paint colors in English and Cyrillic Russian, referring to Tamiya, Humbrol, Testor's, Revell,  Mr. Color, and Life Color brands.  There is a small parts map sheet included, which does not have all parts numbered.  The un-numbered ones are not used, and are destined for the parts box.
The Figures
Referring to my sample kit, all parts have medium heavy parting lines requiring fairly extensive filing and scraping, as well as occasional light flash on some parts.  The hands are molded onto the logs, ensuring a solid gripping appearance.  Be careful, as the logs are quite similar, and are easily confused.  Also, there are no openings in the ends of the sleeves to accept the wrists, so the use of a slower curing cement is advisable to facilitate repositioning.  I used Tamiya super thin liquid cement, so the arm positions could be tweaked while fitting the logs.  This also allowed for adjustments to ensure a good contact between the figure and whatever vertical object you wish to use for reference.
There are also no neck openings for the heads due to collars being buttoned up, so check the fit all around before allowing cement to fully cure.  No filler was used on any figure, so the reader can see the fit as it comes from the box.  Extra equipment is limited to weapons, ammunition pouches, and canteens, but is not really missed.  The poses are well executed, the uniforms have a nice amount of wrinkling, indentations on the backs of the figures allow accurate positioning of weapons to the molded-on slings, and the three pushing soldiers are out of balance enough to suggest some effort.
These figures would make good diorama extras, and can help suggest modifications should the builder wish to convert other figures to similar poses.  They could also be used for something like bridge or pontoon launching, artillery movement, etc.  Pricing seems a bit high, considering what is included, but is not unreasonable.  I did add a bit more surface texture to one log by scraping with a fine-tooth saw; it may show up in the photos.  They are otherwise box stock.  Only a basic paint job was done, just to give a better idea of final appearance, rather than simply primer.
Conclusion
In my opinion, a well recommended set.  My sincere thanks go out to MRC for supplying my review sample.  Happy modeling to you all.