Internet Modeler : First Look : Armor
RSS News Feed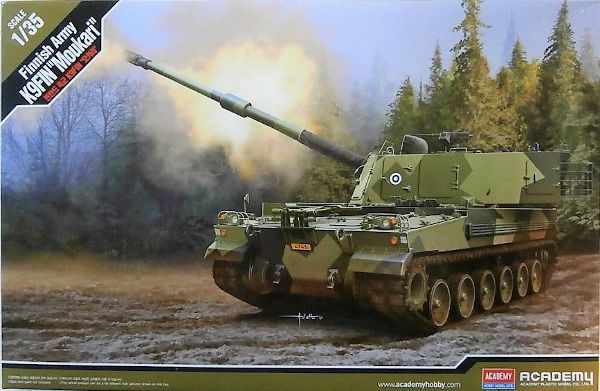 Academy 1/35 Finnish Army K9Fin "Moukari"
The K9
Samsung Techwin developed the K9 self-propelled 155mm howitzer for the Republic Korea Armed Forces. It replaced the K-55 self-propelled howitzer and it operates in groups with the K10 automatic ammunition resupply vehicle. The K9 has hydro pneumatic suspension and is powered by the MTU Friedrichshafen MT 881 Ka-500 1,000 horsepower water cooled diesel engine.
The all welded steel construction enables the K9 to withstand 14.5mm armor piercing rounds. The main armament consists of a 155mm/52 caliber gun with a maximum firing range of 40 kilometers.
Finland acquired 48 used K9s over a period of seven years starting in 2018, with conscript training starting in 2019.
The Kit
Academy's K9 kit comes in their customary stout box with a nice painting of a Finnish K9 firing off a round. It consists of 318 plastic parts on 5 sprues, plus 2 "rubber" tracks, 24 poly caps, a decal sheet and a piece of string. 35 of the parts are surplus and destined for your spares box.
The detail of the plastic parts is very good, with no flash to speak of, minimal sink marks, and well located sprue attachment points. It will be easy to remove the parts from the sprues without damage.
Academy has done a great job of capturing the chunky looks of the K9. The turret is a large, beefy molding. There are lots of doors, fuel cans, and pioneer tools to add to it. You use the supplied thread for the towing cable, which is stowed on the turret roof. Using thread for the towing cable is okay, especially if you coat the thread with thinned white glue but I think that a length of picture hanging wire will look more realistic.
There are stowage baskets on the turret rear for the crew's personal effects. These are reminiscent of the turret baskets of the Israeli Merkava tanks, and like the Merkava these baskets look best when filled with stowage. You will have to source these bits from the aftermarket because Academy didn't give you anything to put in them.
I am very impressed by the one piece, cylindrical muzzle brake; this is a very impressive bit of molding. Well done, Academy. The rest of the 155mm howitzer is also well done; some Grant Line bolts will add some useful detail to the base of the gun mount.
The hull looks pretty good. There are some molded-in place screens on the forward upper hull that might best be replaced with some after market photo etch screens. There is no upper decking texture to speak of and I think this is likely accurate.
The running gear is nicely executed. The idlers and drive sprockets and main wheels are well detailed. The tracks are the endless, rubber band type. These are easy for novice armor modelers to use, but they are not especially realistic; they will never convincingly "sag" under the vehicle's weight. Link-by-link tracks, which are admittedly fiddly to work with, are a more convincing approach.
There is a small decal sheet. It is very well printed and it has markings for a single option, for a K9Fin from the National Flag Day parade, June 2017. This tank is painted in "splinter" camouflage colors of Flat Black, Dark Green and Moss Green.
Academy's instructions are top notch. They are well illustrated with a logical, easy to follow build sequence. Color call outs are for Humbrol, GSI Creos (Gunze) Aqueous acrylics and Mr. Color lacquers, Testors/Modelmaster enamels and acrylics, Revell enamels and acrylics, And Vallejo Model Color and Model Air paints.
Conclusion
This is a nice kit. It needs a little help from the aftermarket in the interests of greater realism. A novice armor modeler will be happy with the kit right out of the box. I recommend this kit, and I would like to thank Model Rectifier Corporation for the review sample.
References
Wikipedia
https://en.wikipedia.org/wiki/K9_Thunder