Internet Modeler : First Look : Armor
RSS News Feed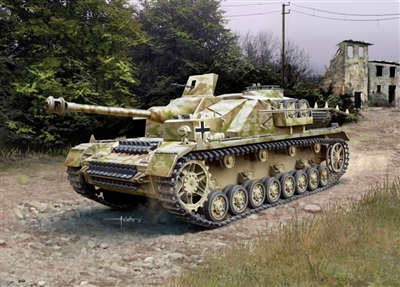 Academy 1/35 Sd.Kfz.167 "Sturmgeschutz IV Early Version"
Background
German forces utilized self-propelled armored infantry assault guns based on the chassis of the Panzer III, and known as Sturmgeschutz III, from the start of the Second World War. They were cheaper to produce than tanks, lacking as they did complex turret traverse mechanisms. These vehicles were produced in huge numbers such that the Stug III became the second most produced German armored fighting vehicle of the War behind the Sdkfz 251.
The firm Alkett produced the Stug III. Krupp wanted to get into the "Stug business" as the War progressed, but Krupp produced the Panzer IV, not the Panzer III. So Krupp took the upper superstructure of the Stug III and mated it to their Panzer IV chassis. In February 1943 Krupp produced an initial design, which mated a Stug III Ausf F superstructure with the chassis of their current production Panzer IV, the Ausf H. This was heavier than the Stug IIIs coming off the Alkett's production line, so the idea was dropped.
Following the Battle of Kursk (Operation Citadel) in July 1943, Adolph Hitler received reports concerning the superior effectiveness of the Stug III Ausf G model as compared to the Panzer IV tanks during the Battle. Hitler ordered Krupp, the Panzer IV's producer, to cease production and to instead produce the Panzerjager IV, a dedicated tank hunter. This new vehicle would utilize the chassis of the Panzer IV, mating it to the deadly gun of the Panther tank, the 7.5cm L/70.
Shortly after Hilter's order to Krupp, the firm of Vomag produced a prototype in October of 1943 for a Panzerjager IV armed with the 7.5cm L/70 and the vehicle soon entered mass production. However, the 7.5cm L/70 gun was in short supply, and therefore initial Panzerjager IV production utilized the 7.5cm L/48 gun as mounted on the Stug III Ausf G being produced at that time by Alkett.
In November/December of 1943, Allied bombing raids led to a drastic cutback at Alkett in Stug III production. To help solve the desperate shortage of Stug III vehicles, Krupp drew up plans that utilized their Panzer IV chassis mated with Alkett's superstructure from the Stug III Ausf G. Hitler gave his blessing to this Sturmgeschutz IV prototype in mid-December 1943, and mass production began almost immediately. Production lasted from December 1943 until May 1945, with a total of 1,139 vehicles produced.
What's in the Academy Box
8 sprues of injection molded tan colored plastic parts
1 set of "rubber band" type vinyl tracks
1 sheet of water slide decals with 4 marking options
A two-part instruction manual: Part One with 7 pages of black and white assembly drawings covering 13 assembly steps. Part Two is a color layout consisting of three additional pages of assembly drawings, a page of sprue layout diagrams, together with a 3-page color and marking diagram.
The kit parts are very well molded with a high level of surface detail. I found neither sink marks or visible ejection pin marks on the plastic parts. For modelers who have purchased Academy's recently released kit of the Panzer IV Ausf H (Kit #13516), you will notice a lot of the parts from that kit are included in this Stug IV kit. In fact, 7 out of the 8 sprues from the Panzer IV kit are in the Stug IV kit. This makes perfect sense since the Stug IV was after all built utilizing Krupp's Panzer IV Ausf H chassis! Oh, and before I forget, this Stug IV has nothing in common with the Stug IV Academy produced years ago (Kit 13235). This new kit is just that: newly tooled.
| | |
| --- | --- |
| | |
I have built a number of Academy's recently released kits, and all of them had a couple of things in common. Firstly, they were a breeze to assemble, utilizing Academy's very well illustrated instructions. The parts fit together very well, and without the need of any filler. Secondly, they are easier for the beginner and intermediate modeler to assemble, due to the lack of any photo etched parts.
The kit comes with a number of alternative parts, and at the end of your build of this kit, you will have ample additions to the "spare parts box". There are, for example, THREE separate sets of track return rollers: rubber rimmed, and two different types of all-steel rollers. The instructions only have the modeler using one of the all-steel types, but check your reference photos because it is possible that very early Stug IV's utilized the rubber rimmed rollers. My references state the other type of all-steel rollers were for "late version" Stug IVs. There are also two types of road wheel hubs, two types of drive sprockets, and two types of idler wheel.
| | |
| --- | --- |
| | |
The tracks included in this kit are the one piece "rubber band" variety, with solid track guide horns, and for this type of material, the detailing is acceptable. Some modelers prefer this type of track, and it certainly speeds up the construction time on a model. As mentioned, there are no photo etch parts that come with the kit, and again for some modelers, this is a BONUS, not a drawback. Looking over the PE set that comes in the equivalent Dragon Models kit of the Stug IV, I don't think the modeler is missing much detail at all with having no PE parts in the Academy kit. There are all the appropriate on-board maintenance tools that come with the Academy Stug IV, and they are nicely detailed.
You will have to check out reference photos of the Stug IV you wish to build with this kit. The Stug IV entered production in December 1943, so zimmerit would have been applied to many "early variant" vehicles. In fact, a careful study of Academy's color and markings diagrams for this kit indicate that all four of the vehicles depicted carried zimmerit.
In their recently released Panzer IV Ausf H kit, Academy provided the modeler with a nicely executed set of water slide "zimmerit" decals (produced for them by fellow South Korean firm DEF Models). Basically, raised resin "zimmerit" material was printed onto clear decal film. It worked a treat on the Panzer IV that I built. These zimmerit decals aren't included in this Stug IV kit, though they ARE available as an aftermarket set from DEF Models. Perhaps the inclusion of the sheets proved too expensive for Academy to include them. For those who want the option, the zimmerit decals are available, and for a very reasonable price.
Markings on Stug IVs were very simple, and thus the decal sheet provided by Academy is a small one, carrying markings for four different vehicles:
1/ 17th SS PanzerGrenadier Division, Normandy, France 1944
2/ 4th SS Polizei PanzerGrenadier Division, Eastern Front, Autumn 1944
3/ 4th SS Polizei PanzerGrenadier Division, Greece, Summer 1944
4/ Sturmgeschutz brigade 912, Kurland, May 1945
Academy includes color and marking diagrams that are printed nicely in color on glossy paper. The decals, if similar to the ones that came in the earlier Panzer IV Ausf H kit, should prove perfectly serviceable, and are well printed.
Conclusion
Academy's new Stug IV early variant kit is a very nice one. It features well molded detail and the parts should all fit together nicely, based on my experience of building the firm's recent kits. The lack of PE and the inclusion of rubber band style tracks will make it easier to build for beginning and moderately skilled modelers than if the kit came with PE and individual link tracks.
Yet the kit provides an excellent base on which to add extra detail for the more advanced modeler. I compared it to Tamiya's ancient Stug IV which was released in 1976 and Academy's new Stug IV wins hands down. It also supercedes Italeri's kit from the 1970's. Academy's kit compares nicely to Dragon Model's Stug IV Early Variant. It has fewer parts count than the Dragon version, but without sacrificing on the detail levels. The Dragon kit's suggested retail price however is more than $35 higher than the Academy kit, making Academy's Sturmgeschutz IV Early Variant hands down the best buy.
I would like to thank Model Rectifier Corporation, Academy Model's USA importer, for the opportunity to review this excellent model kit.