Internet Modeler : First Look : Armor
RSS News Feed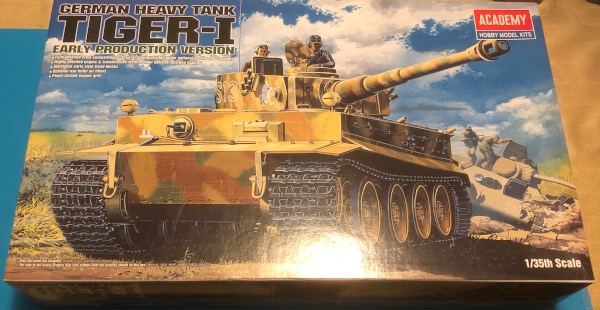 Academy 1/35 Tiger I Early Production Version
The Tiger Tank
The Tiger I is probably the most famous and feared tank of the Second World War. It was designed as a "breakthrough" weapon with thick armor and an 88mm cannon. For over 2 years there wasn't a single Allied tank able to match it on the battlefield. Its dimensions were impressive: it was over 27 feet long, more than 12 feet wide, and it weighed over 50 tons. The hull and superstructure armor were 100mm thick, the hull sides were 60mm thick and the superstructure sides and rear plate were 80mm thick. The Tiger I tank used interleaved road wheels on an overlapping torsion bar suspension, in order to achieve the proper ground pressure. A five man crew operated each Tiger I.
Henschel und Sohn of Kassel built 1,354 Tiger I tanks during its two year production run from July 1942 to August 1944. Maybach provided the 650 hp HL 210 P45 V-12 gasoline engine. The more powerful 700 hp HL 230 P45 motor replaced the HL 210 at the end of the 1943.
The Tiger I was subject to continuous running changes to components such as its turret, mantlet, commander's cupola, crew hatches, etc. which led to variant designations such as "Early," "Mid" and "Late." It's very important to have access to photographs of the tank you wish to model, when available, in order to confirm the detail differences from one tank to another.
The Kit
The kit comes in one of Academy's customary stout boxes with evocative artwork of a Tiger crew examining a destroyed T-34 tank. It includes a complete interior so it has a LOT of parts: 392 to be exact. 390 of these are plastic, on 13 sprues. There is also a single photo-etch fret containing a pair of screens. The injection molding quality is up to Academy's usual high standards. The parts are well detailed with minimal flash and sink marks and well located sprue attachment points.
This will be a complex build, starting with the hull's individually molded torsion suspension bars, interleaved rubber tired road wheels, and link-and-length tracks. You have your choice of Early or Late Feifel air filters, and the exhaust cooling shrouds are Standard Late Production. These are the Round Style without cooling slots. The link-and-length tracks look nice. They have greater detail than the "rubber band" tracks that come with some of Academy's other Tiger kits.
| | |
| --- | --- |
| | |
The Maybach HL-210/P45 engine and Olva-getribe transmission will look convincingly busy with an oil wash and dry brushing of the raised detail. There is a lot more detail to be added. There are the twin radiators flanking the engine, the busy driving compartment, bow gunner/radiator compartment, ammunition stowage racks, etc. The upper hull is cleverly designed for removal to display the completed interior. This is where the photo-etch screens included in the kit come into use on the rear end of the hull. The molded on towing cables are not that convincing in appearance, so I would replace them with picture wire.
| | |
| --- | --- |
| | |
Next we move on to the fully detailed turret, which like the hull has a removable top so you can see all of that detail. The turret has the correct pistol port, the "S" mine dischargers and the escape/loading hatch, gunner's hatch and the commander's cupola can be posed open. The massive 88mm KwK36 gun takes pride of place in the busy turret. There is lots of detail to add to the commander's station and the gunner's and loader's positions.
There's a very good decal sheet with 4 colorful options:
2nd SS Panzer Division "Das Reich", Kursk, Russia, 1943. This Tiger is overall Dark Yellow with bands of Red Brown and Dark Green.
1st SS Panzer Division "Leibstandarte Adolf Hitler", Commander Lt. Michael Wittman, Berdichev, Russia, January, 1944. This Tiger is also Dark Yellow with a white winter distemper over most of the hull and turret.
502 Heavy Tank Battalion, Leningrad, Russia 1942 and Lovetz, Russia, 1943, Commander Lt. Otto Carius. 2 version of Carius's Tiger. The first tank is Panzer Gray and the second is Dark Yellow.
504th Heavy Tank Battalion, Tunisia, Afrika Corp, 1943. This Tiger is overall Dark Yellow.
The decal sheet is well printed. It is legible with crisp bright colors although the red numbers are slightly out of register. The kit instructions are up to Academy's usual high standards, with a clear and logical build sequence, good illustrations, and a parts map.
Conclusion
This a good kit for the super detailers out there. If you are looking for an easy, simple build you should look elsewhere. This kit is for a skilled builder with the time and patience to lavish on it. It would be an excellent choice for in-service maintenance diorama. I recommend this kit and I would like to thank Model Rectifier Corporation for the review sample.
References
Tiger in action, Armor Number 27, by Bruce Culver, Squadron/Signal Publications, 1989