Internet Modeler : First Look : Armor
RSS News Feed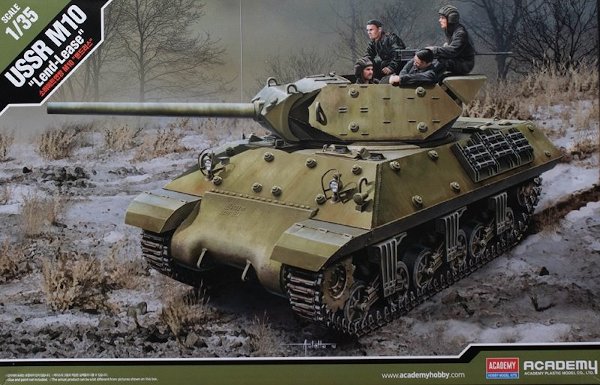 Academy 1/35 USSR M10 "Lend Lease"
This is Academy's 1/35th scale USSR M10 "Lend Lease". It consists of 542 parts on 11 sprues. 501 parts are for the tank kit including the rubber tracks, a length of string and 6 photo-etched pieces on a tiny fret. 64 of the parts are surplus to the build and are destined for your spares box. The rest of the parts make up the 5 figures.
The kit is well molded with moderate flash and minimal sink marks. The sprue attachment points are well located and the parts will be easily removed. The tank hull is nicely executed with an acceptable level of detail. There a lots of parts to add (tools, etc.) and it will look appropriately busy when you are finished.
You might also consider replacing the kit grab handles with self made wire handles for greater realism and more convincing scale thickness. The driver's compartment is busy and it includes the large transmission housing. There are lots of small parts to add to the compartment and it will look quite impressive when it's complete.
The vertical volute spring suspension bogies and wheels have a good level of detail. The drive sprockets are also well done. The rubber band tracks aren't bad but don't offer the convincing "sag" of plastic or metal link-and-length tracks.
The turret is nice. The hatches can be posed open or closed. The turret-mounted machine gun isn't bad, either. The 76mm gun isn't too bad, but given that the barrel is molded in halves you might consider an aftermarket turned metal one.
MB supplied the tank crew figures. They are highly detailed and they provide another opportunity to showcase your figure painting skills.
There is a small but excellent decal sheet. The images are crisp, the colors are bright and the printing is in register. It includes markings for a single tanks, with generic markings, including a pair of Soviet stars.
The instructions include a parts map, excellent illustrations, a color tank profile and figure painting guide and color call outs for Humbrol, GSI Creos (Gunze), Lifecolor, Testors/Modelmaster, Revell, Vallejo and AK Interactive paints.
I like Academy's M10 "Lend Lease" tank destroyer kit. It is well detailed and includes a great set of figures. A novice modeler can build it right from the box and should be pleased with the results.
A more skilled modeler would regard it as a good starting point for a highly detailed model. I suggest you fabricate your own grab handles and towing cable and substitute aftermarket parts like a turned metal barrel and link-and-length tracks.
I recommend this kit and I would like to thank Model Rectifier Corporation for the review sample.
References
Wikipedia:
https://en.wikipedia.org/wiki/M10_tank_destroyer