Internet Modeler : First Look : Armor
RSS News Feed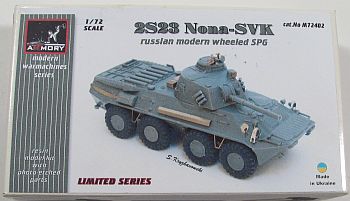 Armory 1/72 2S23 Nona-SVK
Introduction
The 2S23 Nona-SVK was developed on the BTR-80 chassis to keep its mobility. The Nona-SVK is distinctive in its mounting of the 120-mm 2A60 Rifled Semi-Automatic Gun on the turret. The gun is capable of delivering Russian-made 120MM HE rounds, as well as both Russian and NATO mines.
The Kit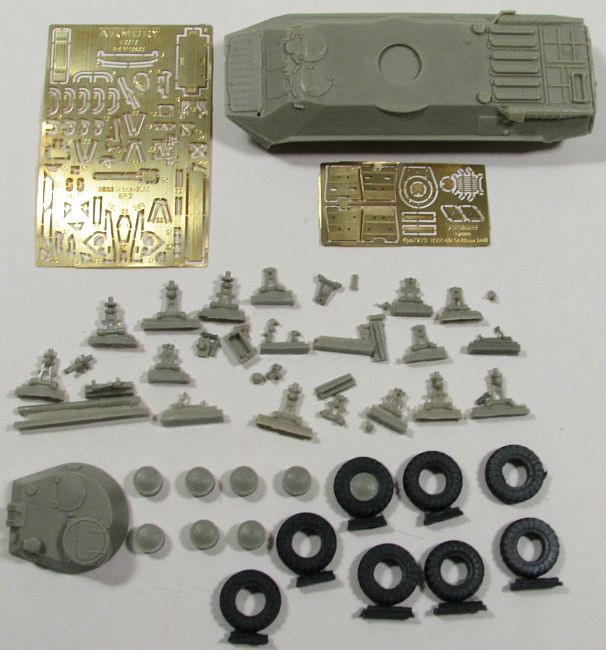 The Armory 1/72 2S23 Nona-SVK is a complete kit, consisting of 43 pieces of green-gray resin, eight black, resin tires, and two sets of photoetch frets. There are no decals in the kit and any markings wanted will need to come from other sources. The few Nona-SVK images I've seen on-line indicate not many vehicles have any markings aside from their camouflage.
While not mind bending, construction is best met with plenty of patience. Between the resin pieces and all the photoetch - including bending and placing that photoetch - there's plenty here to keep you busy building the model for awhile. However, aside from markings (if needed), there is nothing else you'll need with this kit. It is very complete out of the box
Conclusion
An excellent release of this armored car, the Armory 1/72 2S23 Nona-SVK will look remarkable when finished. Just be sure to take your time with all the parts provided and you'll have a stunning model when finished.
My thanks to Armory for sending their 2S23 Nona-SVK to review.