Internet Modeler : First Look : Armor
RSS News Feed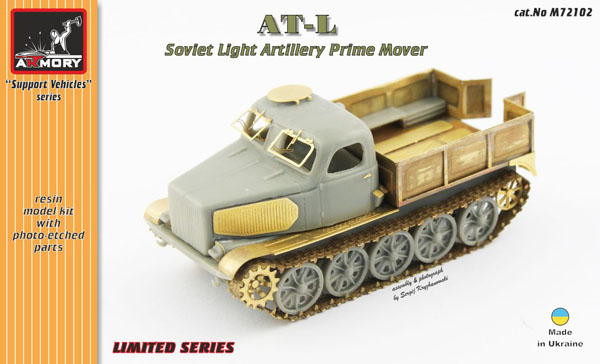 Armory 1/72 AT-L Soviet Light Artillery Prime Mover
Stock #AR M72102
MSRP: $39.87

Armory has added to their growing line of 1/72 Soviet armor kits with this little gem.  The AT-L Soviet prime mover is a fully tracked "truck" used to haul supplies for light artillery divisions. It is a rare subject in modeling, with I believe only one other kit ever produced, and that kit being 1/35 scale and all resin.  I must admit, when I got this sample, my first thoughts were "Wow, now that's a neat little truck".  As with most of Armory's kits, this is a fine offering with a few interesting details.

The kit comes in very well casted resin pieces. There is a bit of flash in the windows of my review sample, but don't worry, its easily removed with a No. 11 blade. Worthy of note are the resin road wheels.  These are some of the best castings I've seen in 1/72, and sadly, my camera just could not take a clear picture of the detail.  The kit also come with several fret of photo-etched parts.  These make up the fenders, cargo bed, and several other details including the drive sprockets and idler wheels.  Now, when I first opened the box, I started to panic as I could not find the tracks. [I hadn't paid close enough attention to the box art.] Armory has produced the tracks in PE. This is something I have never seen done, and to be honest, the parts look very good.  Once folded over, the etched detail is very convincing, and these tracks have the added benefit of holding any curve/sag applied to them. Also included in the kit as a bonus, was one of Armory's Mini series kits, the 14.5mm KPVT Soviet machine gun. Now, I'm not sure if this is part of the standard AT-L kit, but it is a nice piece and will look good either in the cargo bed or on the weapons ring of the AT-L.

Overall, I have to say this is the finest Armory kit I have seen so far.  This is a company that continues to amaze me with their kits. They have set the bar high with this offering, and I cannot wait to see what they produce next. My thanks to Armory for sending us this pre-release sample kit.  Happy Modeling.