Internet Modeler : First Look : Armor
RSS News Feed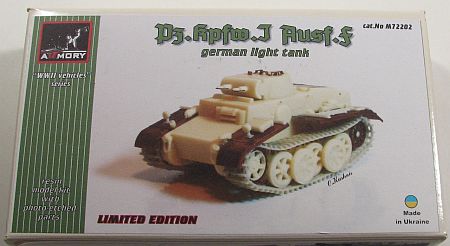 Armory 1/72 PzKpfw I Ausf F
Introduction
The Panzer I Ausf F was developed as an infantry support vehicle. While only thirty were made, they were powered by a more powerful engine than the Panzer I Ausf A and B (a 150 hp Maybach HL45 Otto) had an armor thickness of 80mm and were armed with two 7.92mm MG-24s. However, only eight saw action in the Battle of Kursk, the rest being relegated to training units.
The Kit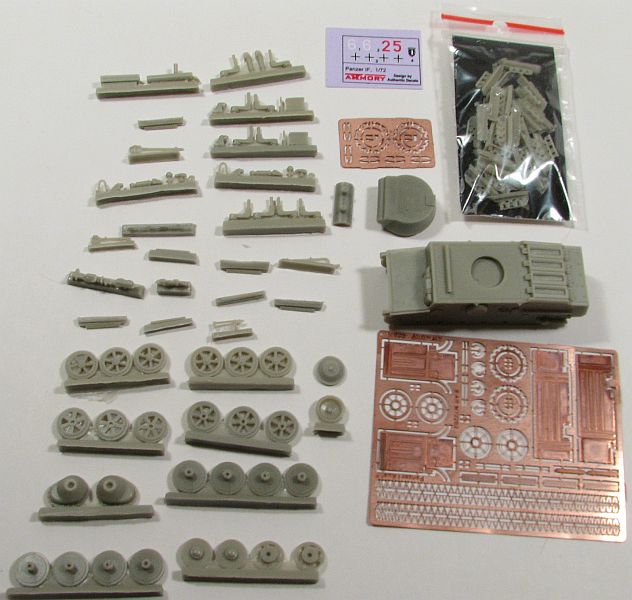 The Armory 1/72 Pz.Kpfw.I Ausf.F consists of approximately 88 resin pieces (approximately, because there are a lot of single tracks, and I kept loosing count, counting them) and two frets of photoetch that have a total of 37 pieces of both frets. There are also decals supplied, the markings are for two specific vehicles: White "6" – 1.Kompanie Pz.Abt. z.B.V66 (Fall 1942) finished in overall Panzer grey; and Red "25" – Kubinka Tank Museum finished in Dunkelgelb+Rotbtaun+Grun camouflage. Decals are finished flat, but otherwise look good.
Instructions consist of photos of a finished model (not painted) showing where the parts go on the finished tank. My suggestion is go to go to the Armory site and download the full-color photos you can find there. Those are at a much higher-resolution and in color, so you can easily tell where the photoetch goes versus the resin. There are a lot of pieces to put in place and having everything that helps with construction is a must.
Conclusion
All in all a very nice model. While there is a lot to it – all the resin pieces coupled with the photoetch – it will look excellent when finished. Be sure to have work with resin and photoetch under your belt before you tackle this one.
My thanks to Armory for supplying the review kit.