Internet Modeler : First Look : Armor
RSS News Feed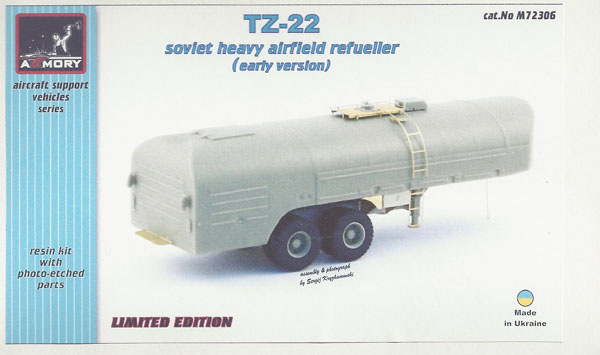 Armory 1/72 TZ-22 Soviet Heavy Airfield Refueler
Stock # AR M72306
MSRP: $39.87

In addition to Armory's TZ-8-255B Soviet refueler, they have also released the TZ-22 heavy fuel trailer. This is another fine conversion kit to be used with the KrAZ-255B [or the KrAZ-258] Soviet truck. The TZ-22 is a semi-trailer fuel tanker based on the Soviet AAPT-4 Airfield firefighting tanker. The notable differences between the two trailers are along the rear bumper and the firefighting trailer has a water cannon platform. 

The TZ-22 kit features Armory's fine casted resin parts, high quality photo-etched parts, and a large [for Armory] decal sheet.  The kit comes in 4 large resin parts, several smaller parts, and separately casted black resin tires and dual wheel hubs. The main fuel tank is cast as a single piece, hollow on the underside, which is free of defects and casting marks. The PE parts include ladder and re-filling platform as well as several smaller details.  As with several other Armory kits I have seen, the tires are cast from black resin, and feature very fine tread detail.

Again, it looks like Armory has out-done themselves with another fine offering. This fuel trailer, with a 255B or 258 tractor, would look great next to a 1/72 Tu-95 Bear.  My thanks to Armory for providing a great review kit.  Happy Modeling.