Internet Modeler : First Look : Armor
RSS News Feed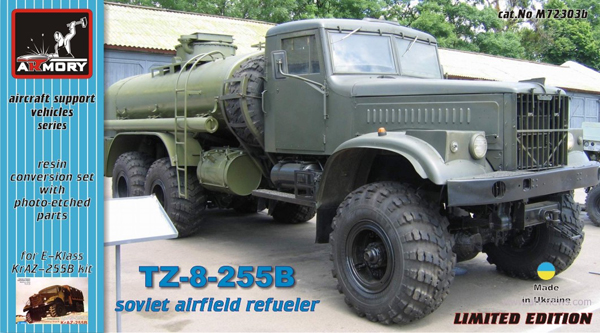 Armory 1/72 TZ-8-255B Soviet Airfield Refueler
Stock #AR M72303b
MSRP: $30.90

The Ukraine has been a hotspot in the modeling world, producing limited edition kits on rare subjects, and often out of resin. This latest offering from Armory is no exception. The TZ-8-255B is an airfield refueler based on the KrAZ-255B military truck. Armory has offered it as a conversion kit, featuring finely casted resin parts and Photo-etched detail.  

The set comes as five "sprues" of resin parts, 11 loose resin parts, a decal sheet, and a single fret of PE parts. As with all of the previous Armory kits I've worked with, the parts are well casted, with little to no flash or imperfections in the resin. The main fuel tank is cast as a single piece, with the pour plug on one end [the end that will be hidden by the pump housing]. Likewise, the pump housing is cast in the same manner. This is the only part of the kit that, in my opinion, should have been cast a bit different. If possibly, these two parts should be cut from their plugs using a chop saw to keep the cut straight. Ladders, frames, and various detail parts come on the PE fret, and are very well etched.

My overall view is that this is another fine kit from the folks at Armory. The instructions are easy to read, the parts are well made and detailed, and it's a unique subject matter, which would look great in any Russian airfield diorama. My thanks to Armory for providing this great review item.  Happy Modeling!