Internet Modeler : First Look : Armor
RSS News Feed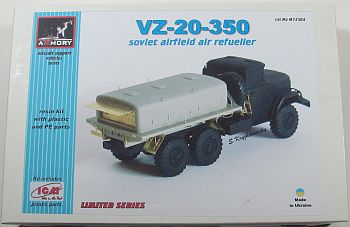 Armory 1/72 VZ-20-350 Soviet Modern Airfield Air Refueler
Introduction
There aren't a lot of airfield support vehicles available in 1/72, so this release from Armory, for the VZ-20-350 Modern Airfield Air Refueler is very welcome.
The Kit
The Armory 1/72 VZ-20-350 consists of not only Armory's excellent resin and photoetch, but also comes complete with the ICM ZiL-131 which is the truck the Refueler is based on. When building the ICM kit, you'll notice that Armory grayed out the instruction steps you don't need to follow. Primarily those steps are for the assembly of the ICM kit's bed, as well as the area between the refueler and the cab. This entire area is replaced by Armory.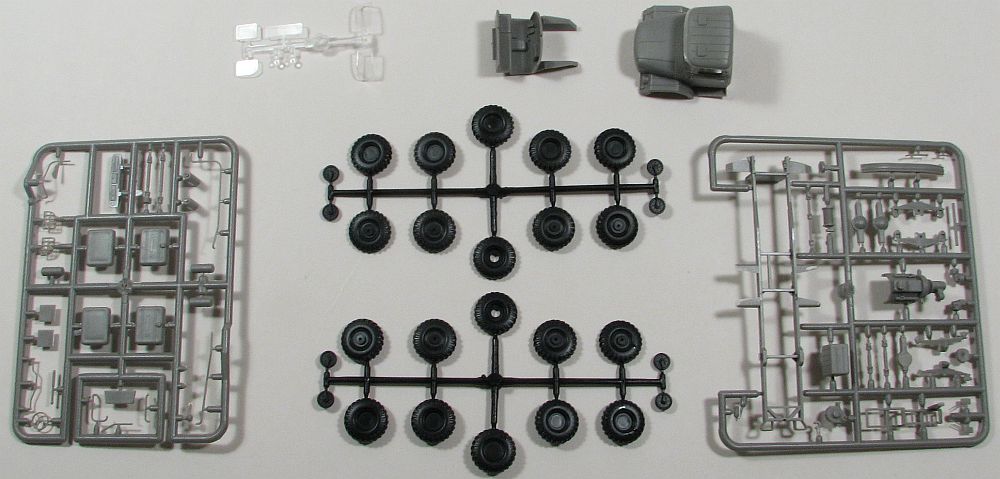 Once the standard ZiL-131 is built - remembering to not build the areas Armory has grayed out - then construction continues with the specific Armory items. First the area directly behind the cab is added, which includes the replacement spare tire. Most of this area is built-up using the provided photoetch. Once that is accomplished, then you can start construction on the tanker. There are a lot of pieces to this, so not only study the instructions a lot, but also look to Armory's site with their
built-up (but not painted) kit
to help you figure out where some of the brass goes. The on-line pictures are crystal-clear which will help immensely with the construction of the tank portion.
Once it's all together then you can paint. The instructions - and decals - contain markings for four specific vehicles. First, a VZ-20-350 from the Ivano-Frankivs'k airfield of the Ukrainian AF finished in dark gray for the chassis and dark green for the cab and tank. The second truck is another from the same Ukrainian airfield, but this time a lighter green is mottled over dark green on the cab. The third truck is a Russian, unidentified machine that appears to be finished with the gray chassis, but the rest of the truck is yellow, including the wheel hubs. The last truck is another unidentified Russian vehicle finished with a gray chassis, dark green cab and lighter green tank and tank-bed. All four have decals to apply and the instructions show where those decals go.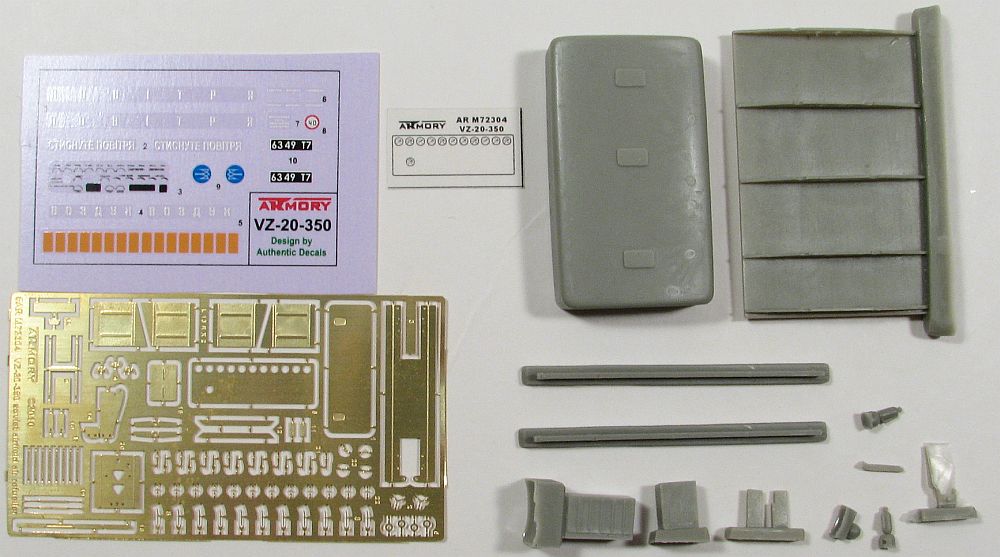 Unfortunately there are no color/paint call-outs in the instructions, and I'm only guessing on the colors based on the color profiles included in the instructions. Hopefully I have those colors correct.
Conclusion
If you're looking for a modern Russian tanker to use on your CIS airfield, then you need to pick up the Armory 1/72 VS-20-350 Soviet modern airfield air refueler. It will take all your modeling skills to finish, but it will look great once complete.
Many thanks to Armory for supplying this kit to review.