Internet Modeler : First Look : Armor
RSS News Feed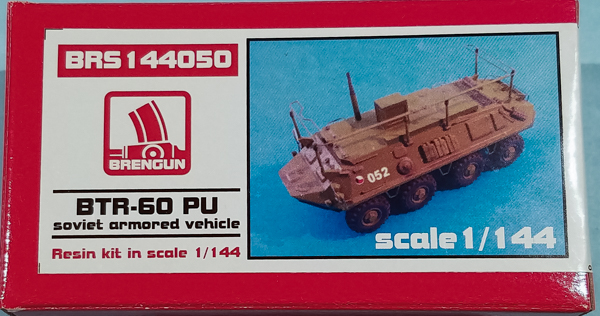 Brengun 1/144 BTR-60 PU
Introduction
From Wikipedia:
"BTR-60PU-12 (9S482) (punkt upravleniya) (1972) – BTR-60PB converted into an air defense command vehicle and used by units equipped with ZSU-23-4, SA-9 or SA-13. The turret was removed and the vehicle was fitted with the AMU telescope mast on the right side of the front hull roof and the AB1-P/30 1 kW generator on top of the blanking plate. The vehicle is equipped with the 1G13 gyroscope, the KP-4 navigation apparatus and the ASPD-12 computer. Often, the PU-12 is connected to a radar and the radar image is directly visible on the vehicle's IT-45 monitor. BTR-60PU-12 can process up to 12 targets.
"BTR-60PU-12M (9S482M) – Modernized model developed in the 1980s for units equipped with more modern SAM systems. This model is equipped with the more modern ASPD-U computer instead of the ASPD-12 and with the S 23-1 data processing unit connected to the MP-21, MP-22, Strela-10M, Osa-AK etc. BTR-60PU-12M can process up to 99 targets instead of only 12."
The Kit
The Brengun 1/144 BTR-60 PU consists of 22 pieces of gray resin and a photoetch fret with 28 pieces of brass on it. A generic decal sheet is also included with Czech, Polish and East German markings, along with a number of various, white "hull numbers".
Construction of the resin pieces won't take long, once they're removed from their pour blocks. The biggest hurdle will be removing the one-piece hull from its pour block because the pour block runs through the entire underside. I'm still trying to figure out how to remove these Brengun pour blocks. I'm thinking either orbital or such-type of sander, removing most of the block, then finishing with a less evasive method to finish it off. Of course wearing a mask because once you breath in resin dust, it won't leave your lungs.
But as I mentioned, once the parts are removed from their pour blocks construction will go quickly. The slowest part to this build will be the addition of the photoetch, especially the longer antennas on top of the hull. There are folds to be made in the brass before assembly so it will definitely be a delicate affair. The grab handles are also supplied in flat photoetch, so it you want better accuracy you may want to replace these with wire.
Conclusion
Once built you'll have a unique piece of armor to your 1/144 collection. Brengun's BTR-60 PU shouldn't take too long to build, once all the photoetch pieces are added.
My thanks to Brengun for the review model.