Internet Modeler : First Look : Armor
RSS News Feed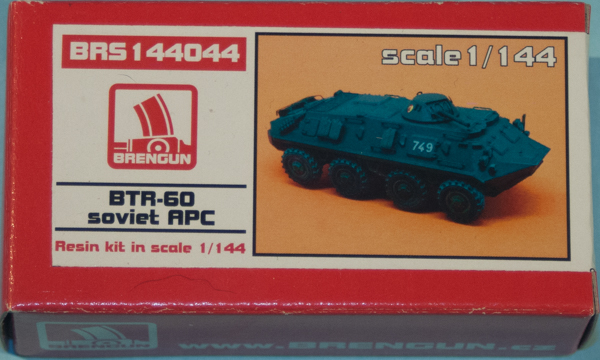 Brengun 1/144 BTR-60
Brengun continues their line of modern, Soviet armored-type vehicles in 1/144 with this release of the BTR-60. The kit consists of 23 pieces of gray resin; one photoetch fret; and a generic decal sheet, which contains emblems for Czechoslovakia, Poland and East Germany, along with separte hull numbers. The photoetch fret has parts for rear view mirrors, a spare parts rack and other items such as grab handles, etc.
As with the rest of Brengun's 1/144 armor, the main body is attached to its pour block on the underside, and that pour block runs the entire length of the body. In one aspect this is great, because the upper hull detail is superb, but removing that pour block will be a chore. Not sure the best way to accomplish that (if anyone has any ideas, please email me) but I'm thinking one of two ways: try to cut the majority of it away and then sand, or use some type of "powered" sander, like an orbital sander, to remove the pour block. Once that's figured out and accomplished then construction will be simple.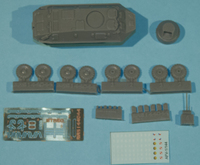 The eight wheels/tires will need to be added to the one-piece hull (before or after painting is your preference) and the gun-and-mantlet needs to be added to the turret, then the turret can be added to the hull. What appear to be lights also need to be added to the front of the hull and now you have a built 1/144 BTR-60. Brengun includes six "jerry cans" but doesn't show where they're to be placed. Either use your imagination or photos to source where these could go.
Conclusion
Since most BTR-60s were single-color, finishing this kit wouldn't take very long. The "long-pole" is the photoetch pieces given their size and number but again, just use patience and in no time you'll have a great looking BTR-60 to add to your 1/144 armor collection.
I definitely thank Brengun for sending this to review.