Internet Modeler : First Look : Armor
RSS News Feed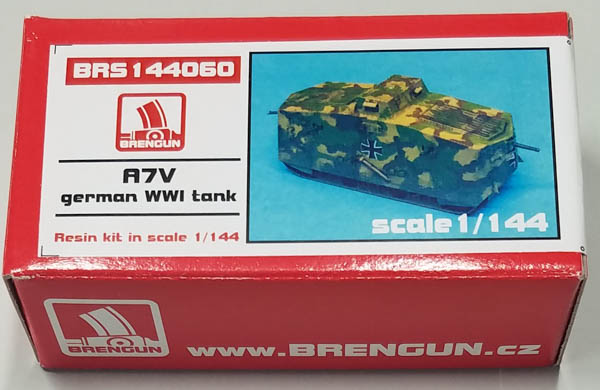 Brengun 1/144 German A7V Tank
Introduction
Taken from Wikipedia:
"The A7V was a heavy tank introduced by Germany in 1918 during World War I. One hundred chassis were ordered in early 1917, ten to be finished as fighting vehicles with armoured bodies, and the remainder as Überlandwagen cargo carriers. The number to be armoured was later increased to 20. They were used in action from March to October 1918, and were the only tanks produced by Germany in World War I to be used in combat."
The Kit
The Brengun 1/144 German A7V Tank consists of eleven pieces of gray resin and a photoetch fret with 24 parts. The decal sheet allows finishing the model in two schemes:
A7V-Sturmpanzerwagen 506 "Mephisto", Stuka 3, Marchienne-au-Pont (Belgium), April 1918 (finished in a three-color camouflage of Brown, Green and Ochre)
A7V-Sturmpanzerwagen 505 "Baden I", Stuka 3, Marchienne-au-Pont (Belgium), April 1918 (finished in a four-color camouflage of Brown, Field Gray, Green and Ochre)
Decals are nicely finished and appear in register. Paint call-outs are for Akan and MIG only.
Construction is extremely easy, minus the photoetch. Once parts are removed from their pour blocks, then glue the half-tracks (with bogies) to the one-piece body and glue on all guns. That's it for the resin parts.
The photoetch pieces are another matter, though.Those consist of grab handles; protective covering for the drive sprockets and return rollers; and hatches for the upper cupula, which can be displayed either open or closed (but be aware there is no internal detail).
Like I typed above, an easy model to build, aside from the photoetch and that will just take time as there aren't many pieces. The resin is cast nicely and I can't find any air bubbles.
Conclusion
If you enjoy building WWI armor in 1/144 then this one will definitely not disappoint. Know that Brengun's 1/144 A7V is a very nice model.
Many thanks to Brengun for the Doodlebug to review.