Internet Modeler : First Look : Armor
RSS News Feed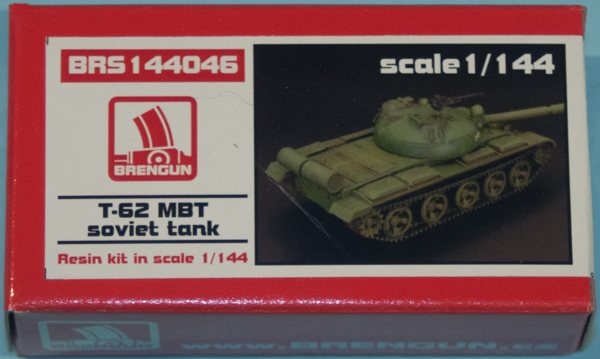 Brengun 1/144 T-62 MBT Soviet Tank
The Brengun 1/144 T-62 consists of 19 pieces of grey resin, a photoetch fret with 14 pieces (some not used with this release) and a generic decal sheet consisting of various numbers and badges for Czech, Soviet, Polish and NVA tanks.
Construction won't be too difficult; the actual difficulty lies in removing some of the pieces from their pour blocks. For example the hull is a single piece of resin and its pour block is attached to the bottom of the hull, encompassing the entire hull. So first you'll need to decide how to remove the bulk of the pour block prior to sanding the rest away to leave a (hopefully) level bottom to the tank. Maybe use some sort of powered jigsaw first, followed by block sanding? Or maybe even use an orbital sander, taking care to put a mask over your face (resin particles, once inhaled, do not come out of your system at all) and maybe even some sort of vacuum machine to suck up all the dust. But whichever way you decide to handle it, the most difficult part to this model is the removal of these blocks.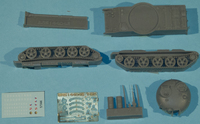 The parts consist of a single-piece hull (as previously mentioned), a single-piece turret with separate barrel and upper turret machine gun (with separate ammo boxes), separate tracks/wheels/fender pieces (one for each side, but again, with a very large pour block running off the back side of the pieces), separate fuel tanks with their mounts and a separate, front glacis plate. The photoetch pieces consist of a picee that mounts to the turret and the gun, tow hooks for the rear and light guards up front.
The back of the instructions contain painting information but don't mention specific paints, just giving general colors.
Conclusion
If you're looking for a well-detailed and easy-to-assemble T-62 in 1/144, then by all means pick up this kit. It could be on your shelf in no time and will look great if placed in some sort of diorama or display. Once I figure out how to take care of the pour blocks then I shall start on it in earnest.
My thanks to Brengun for the review sample.