Internet Modeler : First Look : Armor
RSS News Feed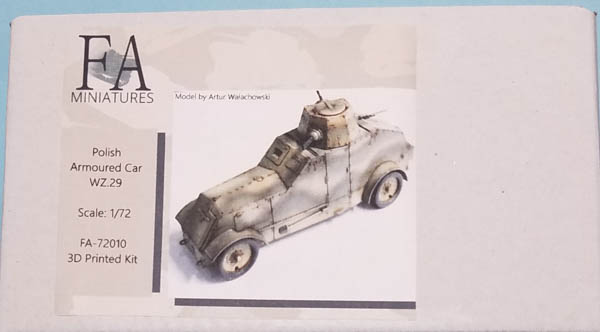 F&A Miniatures 1/72 Polish Armoured Car WZ.29
Introduction
In 1929, the Polish general staff, not satisfied with the wz.28 light half tracks, ordered the Wojskowy Instytut Badan Inzynierii (Institute of Military Engineers) to design a new model. The team was led by the famous engineer Lt. Rudolf Gundlach, who invented and sold the licence of the reversible tank periscope to Vickers, a worldwide instant success. A sturdy basis was chosen, the licence-built Ursus two ton truck, based on the Italian SPA 25C, already in production at "Ursus" Mechanical Works of Warsaw. The heavier, higher, stronger and more powerful vehicle was officially designated samochod pancerny wzor 29. (contracted as wz.29 and often simply called "Ursus").
A more comprehensive history can be found on the Tanks Encyclopedia site.
The Kit
The F&A Miniatures 1/72 Polish Armoured Car WZ.29 consists of ten pieces of cream-colored 3D printed resin: the main, one-piece body; four machine guns; two doubled rear-wheels; two front wheels; and the turret.
There are no instructions nor decals, but they aren't truly needed. After parts clean up then glue the doubled-wheel rear sets to the one-piece body, along with the front wheels. Add the turret (it appears it's meant to be slotted into the body, so it's moveable) and the machine guns to the turret and you're done with construction. Now the fun begins, painting.
There are some "striations", or print lines visible, but hopefully they'll disappear under a coat of paint. There is a lot of delicate detail printed on to the body so be careful. With just handling the body out of the box, I managed to break off one of the delicate tow hooks on the back. Care is definitely needed.
Conclusion
The printing on this WZ.29 is first rate. There is a lot of great detail that F&A Miniatures put into their print. I'm looking forward to finishing this one, even if it means taking awhile to paint the complex pattern.
I definitely want to thank F&A Minatures for sending this in for review..