Internet Modeler : First Look : Armor
RSS News Feed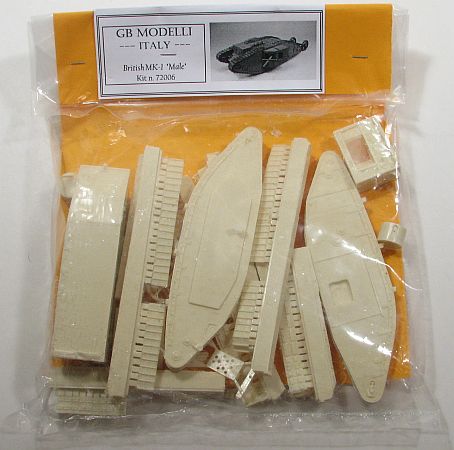 GB Modelli 1/72 British Mk. I (Male)
Introduction
The British Mk.I tank of WW1 was one of the first operational tanks ever. It entered service in August of 1916 and saw action that September. While originally called a "landship" it was the first to be named "tank" to hide its true use. The difference between a "Male" and a "Female" resides only in the guns used within the sponsons. The "Male" used one 6 pounder gun per sponson, while the "Female" used two Vickers machine guns per sponson instead (for a total of four machine guns in the sponsons).
The Kit
The GB Modelli 1/72 Mk.I Male resin tank consists of 32 pieces of cream-colored resin. There are no decals so nothing to worry about there. With very few parts construction should be simple.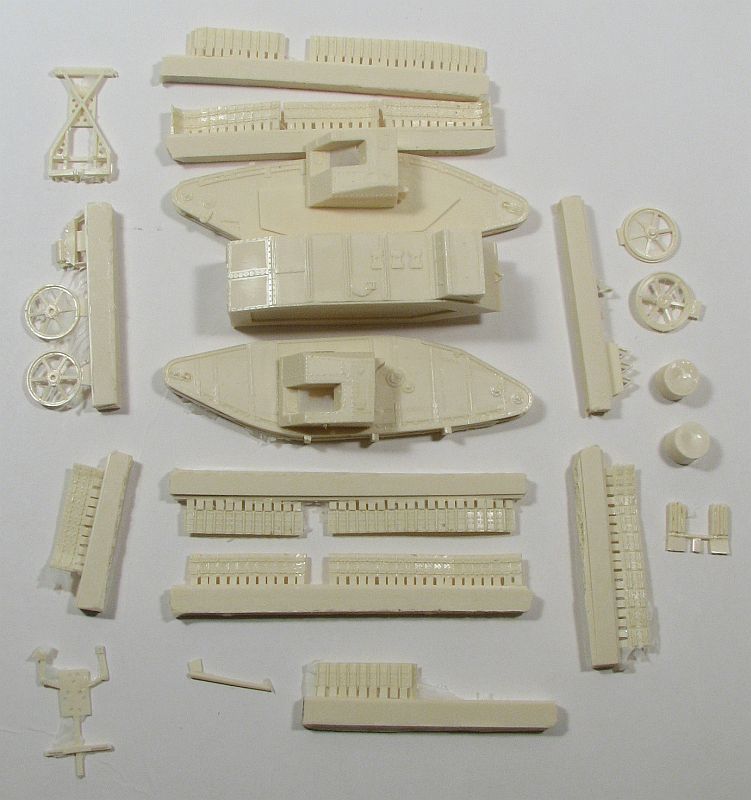 Add the sides of the tank to the main, center structure, and then build up some of the smaller details including the side sponsons with guns, and exhaust deflectors on top. You can either paint the tracks off the main body and then add, or paint them once glued to the tank. I'm not sure the route I'll take – probably paint prior to adding to the body. In addition, you can either paint the stabilizing "tail" prior to painting, or afterwards. Again, I will probably add it after painting each assembly separate.
While the instructions contain photos of a built-up model, as well as photos of the real tank, there are no color call-outs at all. Most Mk.Is were finished either in khaki brown, olive or gray - there were also a few that were camouflaged in multiple colors. It's best to do research on a specific Mk.I you want to model.
Conclusion
Another winner from GB Modelli, and another that shouldn't take long to finish. In addition, I think it's the only available Mk.I in 1/72 scale, since the Airfix Mk.I/Mk.II is in 1/76. If you're a scale purist, this is good. If not, it's still better than the Airfix kit and will build into a Mk.I with no modification (there are a number of corrections needed on the Airfix kit to make it an accurate Mk.I).
We definitely want to thank GB Modelli for sending this tank it to review.