Internet Modeler : First Look : Armor
RSS News Feed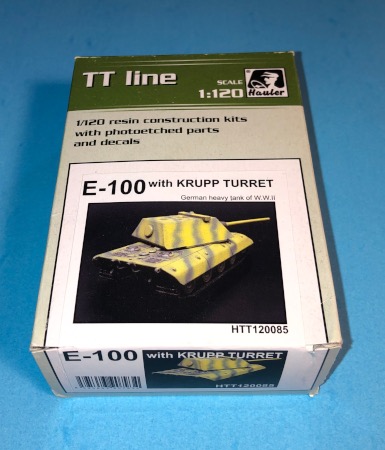 Hauler 1/120 E-100 Tank with Krupp Turret
The E-100 Tank with Krupp Turret
The E-100 (Entwicklung = development) Tank was a 100 tonne main battle tank that never advanced beyond the prototype stage. Ernst Kniekampf of the Panzer Commission assigned the Adler firm of Frieburg the design and construction of a prototype.
The E-100 had impressive specifications. The hull featured 200mm of armor angled at 60 degrees on the glacis front with 120mm thick armor on the hull sides and 150mm thick armor on the hull rear, angled at 30 degrees. The turret was a lightened "cast-off" variant from the abandoned, equally ill-fated 130 tonne "Maus" tank project. The turret would have been fitted with the 7.5 cm Kw.K. L/24 over the 12.8 cm Kw.K. L/55 guns stacked, one above the other.
The E100 would have used the 700 hp Maybach HL 230 P30 engine, the 8-speed Maybach Olvargetriebe OG 40 20 16 B transmission and the Henschel L801 steering system. All was for naught, however, when the Allies captured the prototype in May of 1945.
The Kit
Hauler's 1/144th scale E-100 kit is made entirely of resin. It consists of 14 highly detailed parts. They have minimal flash. The tank is molded in subassemblies. You attach the suspension, 1 "set" per side, to the hull, attach the wheels to the suspension and then the one-piece tracks to the wheels. The hull has optional armored skirts and you'll have to remove the mounts molded onto the hull sides to use them. The turret only has 2 pieces (the guns and the turret itself) and you should be able to build the entire tank in an evening. The instructions are well illustrated and easy to follow.
Conclusion
The E-100 heavy tank was an evolutionary dead-end but it is a GREAT modeling subject! There are only 14 parts so much of the "fun" will be in the painting and weathering stages. This is a cool kit and I highly recommend it. I would like to thank Hauler for the review sample.
References