Internet Modeler : First Look : Armor
RSS News Feed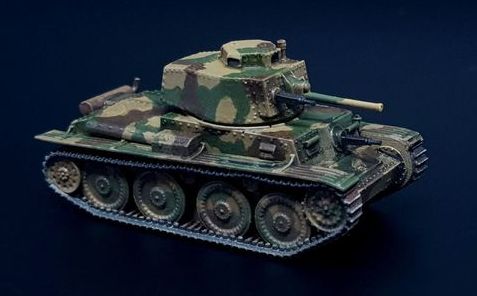 Hauler 1/120 Praga Lt.38 Pz.Kpfw 38(t) ausf.A
This is Hauler's 1/120th scale Panzerkampfwagen 38(t) ausf. The kit consists of 10 finely cast pieces- a 1 piece hull, 2 sets of tracks with integrally molded wheels, turret, jack, Notek light, the main gun, etc. The tiny rivets on the main hull have to be seen to be believed. The wheels and tracks are also highly detailed. ALL of the parts are highly detailed.
You have 2 color schemes to choose from, the 3 tone (earth yellow/green/brown) 1938 Czech version or the Panzer Gray 1939-1943 German tank. A sheet containing the smallest decals I have ever seen includes national insignia and individual tanks numbers in white, yellow, red and black.
I'm a miniaturist at heart and I love the thought of making a model small enough to fit in the palm of my hand. The small part count shouldn't obscure the fact that Hauler's 1/120th scale Pz.Kpfw 38 (t) ausf. A builds into an impressive model. I recommend this kit and I would like to thank Brengun for the review sample.
Wikipedia:
https://en.wikipedia.org/wiki/Panzer_38(t)