Internet Modeler : First Look : Armor
RSS News Feed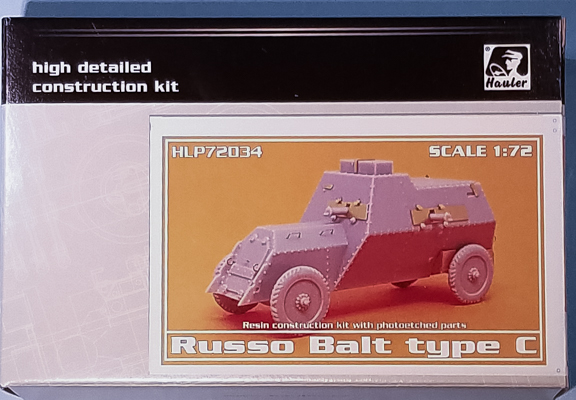 Hauler 1/72 Russo-Balt Type C
Introduction
Taken from Tanks Encyclopedia:
"The only proper Russian major manufacturer, car maker and, later, warplane-maker, was Russo-Balt (or Russo-Baltique), founded in 1903 at Riga, then the industrial center of Imperial Russia, with German and Russian private funds. This was at first a subsidiary of the German Company Van der Zypen & Charlier based in Cologne and known in 1874 as the "Russo-Baltic wagon Factory". Cars were built from 1909 at the railway car factory RBVZ, until 1915 when the company was evacuated near Moscow (after the revolution taking the name of BTAZ.). By 1909 the company launched the 24-30 and later the Type C, which was declined in many variants. This was a reliable model which was chosen, due to its availability, to create one of the first Russian armored cars before the war, in 1912."
The Kit
The Hauler 1/72 Russo-Balt Type C consists of 27 pieces of gray resin and a photoetch fret with 33 pieces. There are no decals as most pictures show an un-adorned armored car.
Once the parts are removed from their pour blocks, construction could be quick although you may want to use either a slow-setting CA or epoxy to assemble the model to ensure pieces are in their correct place.
First the chassis is glued to the main, one-piece body along with the semi-hollowed exhaust, followed by adding the suspension pieces. You'll want to glue the drive shaft on at the same time as the rear differential. Next, the photoetch front tie-rod is added.
The next steps consists of adding pieces to the main body, some resin, some photoetch. The final two steps of construction have you add the guns, tow-hooks and wheels/tires, plus other parts.
Note that you can either add the guns or not, showing the armored car in a transport-type mode.
Conclusion
This won't be a difficult build. The most time-consuming part will be parts removal from the pour blocks and adding - and some folding of - the photoetch. In no time you'll have a model of the Russo-Balt Type C adorning your modeling shelf.
My thanks to Brengun for sending the car to review.