Internet Modeler : First Look : Armor
RSS News Feed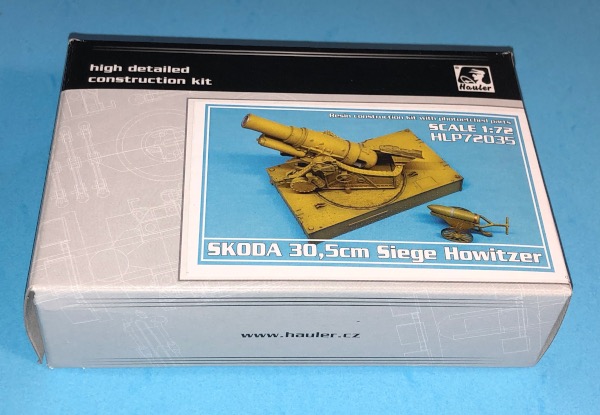 Hauler 1/72 Skoda 30.5cm Siege Howitzer
The Škoda 30.5cm Siege Howitzer
The Škoda 30.5cm Mörser M.11 was a siege howitzer produced by the Škoda Works and it was used by the Austro-Hungarian Army during World War I and by Nazi Germany in World War II. The Austrian High Command requested that Škoda develop the howitzer to penetrate the walls of concrete fortresses under construction in Belgium and Italy. The weapon was able to penetrate 2 meters (6ft 7in) of reinforced concrete with its 384 kg (847 lb.) armour-piercing shell. It could also fire a lighter 287 kg shell fitted with an impact fuse. This shell could create a crater 8 meters wide and 8 meters deep, and kill exposed infantry up to 400 meters (440 yds.) away. The weapon required a crew of 15 to 17 soldiers and could fire 10 to 12 rounds an hour. It automatically returned to the horizontal loading position after firing.
The howitzer was engineered to be transported in 3 sections transported by the 100 hp 15 ton Austro-Daimler M 12 artillery tractor. It broke down into barrel, carriage and firing platform loads, each of which had its own trailer. It could be assembled and readied to fire in approximately 50 minutes. Today, four weapons survive; in Rovereto, Italy (Museo Storico Italiano della Guerra), in Belgrade, Yugoslavia's Military Museum and 2 in Romania's National Military Museum.
The Kit
Hauler's 1/72nd scale kit is made almost entirely of resin. It consists of 28 parts. 23 of them are cast in resin, plus there are 5 photo-etched pieces on a single fret. The resin parts have great detail and minimal flash. The largest piece is the howitzer's platform which would look great set into a diorama base. The model accurately captures the hefty appearance and presence of the real thing. You can paint it in Khaki (Czechoslovak Army, 1939), Panzer Grey (Wehrmacht, 1939-1942) or Dark Yellow (Wehrmacht, 1942-1945). The solid colors give you a fantastic opportunity to practice your weathering techniques and skills. Hauler's instructions are well illustrated and feature 10 simple steps.
Conclusion
The Skoda 30.5cm Siege Howitzer was an historically important and formidable weapon. Hauler's kit is exciting and well detailed. It screams out to be included in a diorama; it would look equally impressive broken into its 3 transport sections. This is a cool kit and I highly recommend it. I would like to thank Hauler for the review sample.
References