Internet Modeler : First Look : Armor
RSS News Feed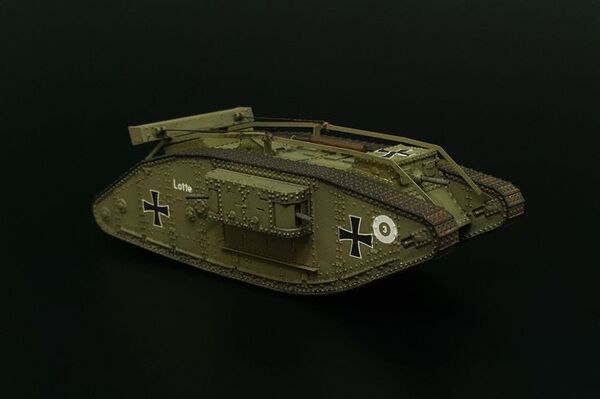 Hauler 1/87 Mark IV Female Tank
This is Hauler's new 1/87th scale multimedia kit of the World War I Mark IV Female Tank. The kit consists of 25 parts. 9 parts are finely cast resin and there are 15 small pieces on a photo-etch fret plus a tiny decal sheet.
This kit will be an easy build. The main hull is a single piece and the tracks as part of the hull sides. The gun sponsons attach to the hull sides, and the 4 machine gun barrels are glued to the sponsons. The resin quality is first class. The tracks are finely detailed and will look quite convincing with appropriate weathering. The hull and sides both have subtle in-scale rivet detail. The tiny gun barrels are superbly done.
The PE fret includes the rails and chains for the ditching beam, detail parts for the hull sides, etc. Some of the parts are tiny so have your preferred magnifier and photo-etch tools close at hand.
The small decal sheet is well printed and in-register. It includes 2 options, both of which are painted Khaki:
"Flirt II" of F Company, Cambrai 1917
"Lotte", Captured Mark IV, Abteilung 14, destroyed near Fort de la Pompelle, 1918
The simplicity of the model makes this a perfect candidate for a inclusion in a diorama. And it will be a perfect contest entry all by itself.
This is a first class kit and it's an excellent introduction to multimedia models. The only caution pertains to the tiny PE parts; just take your time and you'll be happy with the results. It's an historically important subject and it has great detail. It's a worthy addition to your collection. I recommend the Mk.IV Female Tank and I would like to Hauler for the review sample.
References