Internet Modeler : First Look : Armor
RSS News Feed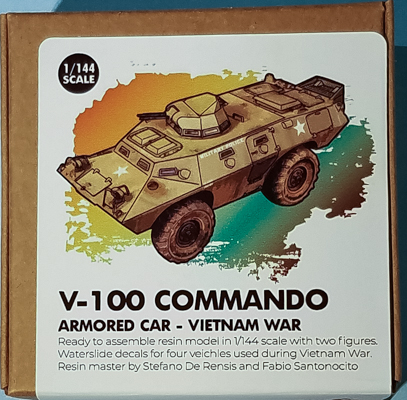 Heroes Models 1/144 V-100 Commando Armored Car
Introduction
From Wikipedia:
"The Cadillac Gage Commando, frequently denoted as the M706 in U.S. military service, is an American armored car designed to be amphibious. It was engineered by Cadillac Gage specifically for the United States Military Police Corps during the Vietnam War as an armed convoy escort vehicle.The Commando was one of the first vehicles to combine the traditionally separate roles of an armored personnel carrier and a conventional armored car, much like the Soviet BTR-40. Its notable height, amphibious capability, and waterproofed engine allowed American crews to fight effectively in the jungles of Vietnam by observing their opponents over thick vegetation and fording the country's deep rivers.
"The Commando was eventually produced in three distinct marks: the V-100, V-150, and V-200, all of which were modified for a number of diverse battlefield roles. An unlicensed variant of the Commando series, the Bravia Chaimite, was also manufactured in Portugal. After the American military disengagement from Vietnam, the Commando series was gradually retired from active U.S. service. It was superseded in the Military Police Corps by the derivative M1117 Armored Security Vehicle during the 1990s."
The Kit
The Heroes Models 1/144 V-100 Commando Armored Car consists of 11 pieces of gray resin, a set of masks for the tires, and decals for four specific Commandos:
"Budweiser", 720th Militar Police Battallion, 18th Brigade, A Company
"Dragon", 504th Military Police Battallion, 16th Military Police Group, A Company
"Catch 22", 504th Military Police Battallion, 16th Military Police Group, A Company
"War Wagon", 560th Military Police Battallion, 16th Military Police Group
Decals appear to be in register and are nicely printed and are doubled-up, "just in case". All four Commandos are finished in an overall U.S. Olive Drab.
Construction is super simple. Once all parts are removed from their pour blocks, then attach the wheels to the axles (paying attention to the direction of the tire treads) and the axles to the body. (I may actually see if it's better to mount the axles to the body first, and paint the wheels/tires off the main model.) Decide if you want the main hatch opened or closed because Heroes Models includes an insert that has two soldiers poking their heads and upper bodies out of the opened hatches. Glue on the turret and your 1/144 V-11 Commando is finished, aside from painting, weathering and decaling. Remember Heroes Models include tire masks which will definitely help in painting.
Conclusion
Some of the V-100s were painted a shade of blue, so check your references to ensure you have the correct color. Once this is built then mounting it to a base or putting it into a diorama will really make the model "pop". I'm looking forward to building it.
I definitely thank Heroes Models for the review V-100.